News
Chinatown and Love Story Producer Robert Evans Dies at 89
The kid who stayed in pictures dies after a long life worthy of a movie of its own. Robert Evans brought film into a new era.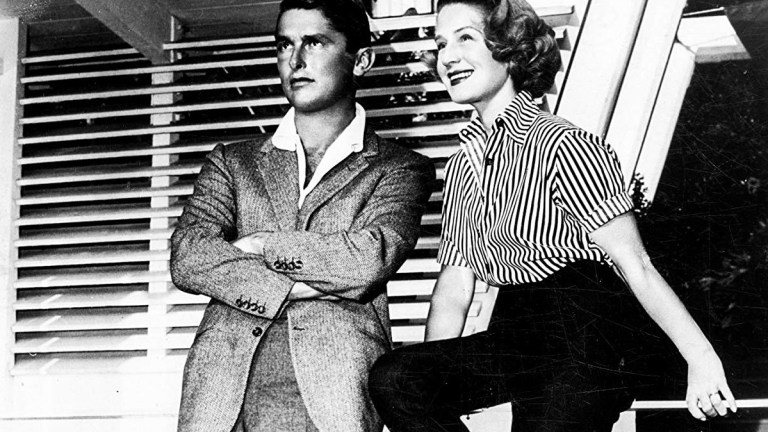 Robert Evans, actor-turned-producer-turned-Paramount Pictures president, who made films like Chinatown, Marathon Man, Love Story, Rosemary's Baby, The Godfather and The Godfather Part II possible, died Saturday, October 26, according to Variety. He was 89. No cause of death was announced.
Evans' movies were not intended to be blockbusters. He didn't even care if they were commercial. He wanted his films to be original. The Godfather got made because Evans thought Hollywood presented a false depiction of the mob. He had a friend get the rights to Mario Puzo's as-yet-incomplete novel and persuaded Francis Ford Coppola to direct the film. His life was as original as any of the films he was responsible for. Evans' third wife Ali MacGraw was stolen from him like a hotwired car by Steve McQueen during the making the film The Getaway. He candidly spoke about his addiction to cocaine in his memoir. He was a murder suspect after making the gangster film Cotton Club. He is legendary.
Evans was born Robert J. Shapera on June 29, 1930, in New York. He began his show business career shortly after high school, voice acting for over 300 radio shows by the time he was 18, including the lead on the comedy The Aldrich Family. He made his film acting debut in Lydia Bailey (1952). Evans sold women's apparel for his brother's clothing company when he was discovered by actress Norma Shearer. She thought he would be right to play the role of her late husband, MGM head Irving Thalberg in Man of a Thousand Faces. The film starred James Cagney as horror legend and make-up artist pioneer Lon Chaney. It came out in 1956.
Evans was cast as a bullfighter in an adaptation of Ernest Hemingway's The Sun Also Rises, even though star Ava Gardner and Hemingway himself didn't want him in the film. Producer Darryl Zanuck sent the production telegram proclaiming "The kid stays in the picture." This became the title his 1994 memoir, and a 2002 documentary on Evans. He also appeared in The Fiend Who Walked the West (1958), and Twentieth Century Fox's The Best of Everything (1959), which starred Hope Lange, Diane Baker and Joan Crawford.
Evans was the head of production at Paramount from 1966 and 1974. During that period, the studio changed cinema with films like Love Story, True Grit, Rosemary's Baby, The Great Gatsby, Harold and Maude,  Sidney Lumet's Serpico, and The Godfather films. Evans was nominated for an Oscar for producing Roman Polanski's neo noir classic Chinatown. He produced Urban Cowboy and Popeye, which both came out in 1980.
According to his memoir, Evans became heavily addicted to cocaine, and in 1980 he pled guilty to cocaine possession, along with his brother, Charles, and his brother-in-law, Michael Shure. He was convicted on federal selling and distribution charges. While he steadfastly denied dealing coke, Evans he filmed an anti-drug TV commercial as part of his plea bargain.  During the production of Francis Ford Coppola's 1983 love story to gangster movies Cotton Club, Evans was implicated in the murder of one of its investors, Roy Radin. Evans was never charged with a crime, a former girlfriend and three of her associates were convicted. But the scandal made him a Hollywood outsider. He didn't produce another film until The Two Jakes, the Jack Nicholson-directed sequel to Chinatown, which came out in 1990.
Evans produced the films Sliver (1993), Jade (1995), The Phantom (1996) and The Saint (1997) before Dustin Hoffman modeled his Hollywood producer character on him in the 1997 political satire Wag the Dog.
Evans was married Sharon Hugueny from 1961 to 1962; Camilla Sparv from 1964 to 1967; Ali MacGraw from 1969–1973; Phyllis George from 1977 to 1978, Catherine Oxenberg for nine days in 1998; Leslie Ann Woodward from 2002 to 2004; and Victoria White from 2005 to 2006. Evans has one son, the producer Josh Evans, from his marriage to MacGraw, and one grandson, Jackson.
Culture Editor Tony Sokol cut his teeth on the wire services and also wrote and produced New York City's Vampyr Theatre and the rock opera AssassiNation: We Killed JFK. Read more of his work here or find him on Twitter @tsokol.