News
RiffTrax Live's Night of the Living Dead Returns to Theaters
The guys from MST3K riffed on George Romero's classic a few years ago and this October, it'll be broadcast in theaters once more.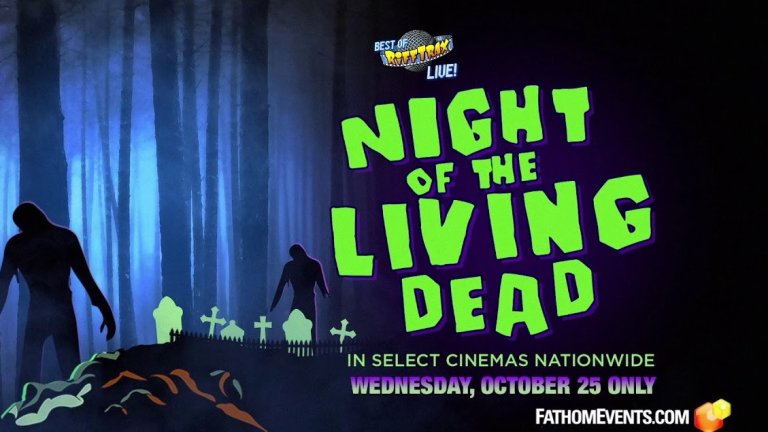 RiffTrax Live is one of those things you can always count on for a good time. RiffTrax, a follow-up to the classic days of Mystery Science Theater 300 that stars Mike Nelson, Bill Corbett, and Kevin Murphy, tends to put together live performances that are broadcasted across the country by Fathom Events. As of now, there have been twenty-five of these shows over the course of eight years, from Plan 9 From Outer Space to Dr. Who: The Five Doctors with a whole lot of schlock in-between.
The bad news is that this year's batch of new shows ended back in August. The good news is that one of the older RiffTrax Live events will be getting a much-needed rerelease in theaters this Halloween season. On Wednesday October 25, RiffTrax Live will be replaying their take on Night of the Living Dead.
The ninth installment of RiffTrax Live, this one originally aired back in 2013. Showing that it doesn't need to be a bad movie to be riffable (RiffTrax has taken on Casablanca, after all), Mike and the rest crack jokes at everyone from the catatonic Barbara to the angry dad to that one naked zombie lady.
The replay will also feature a new intro to pay homage to late director George Romero.
Oh! And to add to the horror, there's a Norman short before the film. Norman's like Mr. Bean only American and far more depressing. Have fun with that!
Gavin Jasper thinks it's great that RiffTrax Live can thrive after the MST3K movie got so badly handled years back. Follow Gavin on Twitter!