News
RiffTrax Live to Take on Samurai Cop this April
Mike, Bill, and Kevin will be back in theaters in a couple months to verbally brutalize one of the silliest movies to come out of the 90s.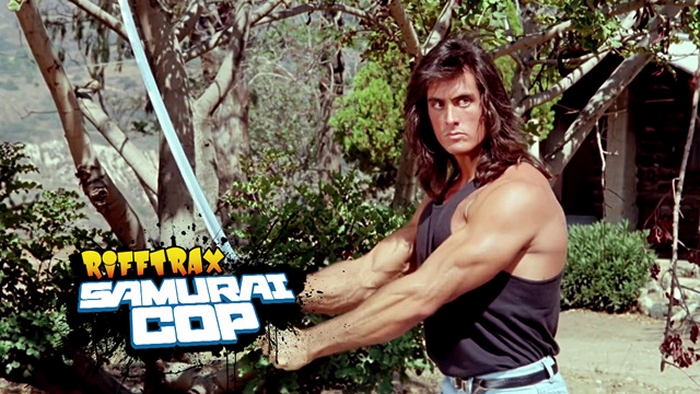 Fans of Mystery Science Theater 3000 are pumped about the series' upcoming return within the next few months, but one shouldn't ignore the folks at RiffTrax, who have carried the torch for over ten years and have lambasted movies that MST3K could never tackle for one reason or another. Thanks to their popularity, they've been able to sprinkle each year with a handful of live movie riffings broadcasted across the country thanks to Fathom Events.
The first RiffTrax Live came in 2009 and since then, they've had over 20 of them. For the past couple of years, the live shows would be preceded a Kickstarter page to fund it, especially if the movie in question was a major box office release. This time, they might not be doing that at all as Fandango's website has spilled the beans on what's next.
On Thursday April 13, we're getting a RiffTrax Live presentation of Amir Shervan's Samurai Cop. The 1991 schlock classic stars Matt Hannon as a police officer trained in the art of the samurai…while looking like a hybrid of Stallone and Fabio. One of his rivals in the movie is played by Robert Z'Dar, the big-jawed, B-movie legend who acted in such MST3K classics as SoulTaker and Future War.
Samurai Cop became available on the RiffTrax site last March, but it was such a long-awaited cinematic target that it makes sense we'd see a live version.
If you can't make the April 13 showing, they'll be replaying it on Tuesday April 18. No word on what else those RiffTrax guys have ready for us in 2017. Fingers crossed for FoodFight.
Years ago, Gavin Jasper once gave his girlfriend a signed, framed photo of Robert Z'Dar for Christmas. She broke up with him shortly after. True story. Follow Gavin on Twitter!