News
RiffTrax Live Returns in 2018 with Space Mutiny and Krull
Mike, Bill, and Kevin have yet another Kickstarter out there to fund a year of making fun of cheesy movies via Fathom Events.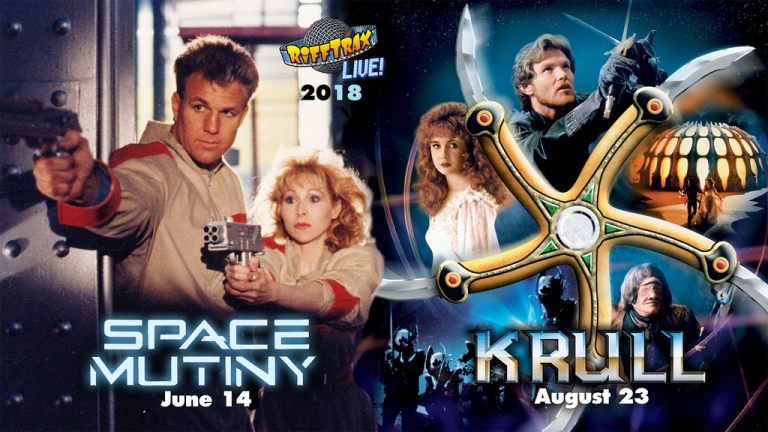 RiffTrax is returning to theaters another couple of times this year. As they've done many times before, Mike Nelson, Bill Corbett, and Kevin Murphy will watch some bad movies live in front of an audience and Fathom Events will broadcast it across the country. With the return of RiffTrax Live, it means a return of their annual Kickstarter.
While earlier years have included four shows and last year dropped down to three, sadly, there are only two RiffTrax Live shows announced this year. Still, they are doozies. They will be reprising the Mystery Science Theater 3000 classic target Space Mutiny, a film about a meathead protagonist trying to prevent an uprising on a massive spaceship, alongside his love interest, who looks like 30 years older than she really is. That show will take place on June 14.
Space Mutiny is known as the MST3K episode with the running gag where the riffers would exclaim generic action names for the main character, such as, "Big McLargeHuge," "Rip SteakFace," and, "Splint ChestHair." For those with the cash on them to donate $500, you get to add your own silly nickname for Dave Ryder that they'll include on the show.
The other movie this go-around is Krull, the early-80s sci-fi cult classic with the neat spinny blade weapon that's surprisingly yet to be touched by RiffTrax yet. Then again, the rights issues appear to be a bit pricier than the usual RiffTrax fare, as this looks to be one of those RiffTrax Live installments that will only be available to see in theaters. Otherwise, only the mp3 of the jokes will be available for fans to sync up to the movie itself while the Space Mutiny show will be completely available for download and DVD. In the meantime, the RiffTrax Live for Krull will be on August 23.
The Kickstarter needs $250,000 and it's already well on its way. This is more reason to chip in as the stretch goals for these are usually pretty sweet with a lot of bang for your buck the further it goes. We might even get an extra show this year if it does well enough. It just doesn't feel right now to have a Halloween or Christmas-themed RiffTrax Live on the way.
The RiffTrax Live 2018 Kickstarter has until the end of March 24.
Gavin Jasper still holds a candle for RiffTrax covering No Holds Barred. One day… Follow him on Twitter!