News
RiffTrax Live 2015 Schedule Announced: The Crappening
The guys behind Mystery Science Theater 3000 have announced the 2015 RiffTrax Live schedule. The list is tearing me apart!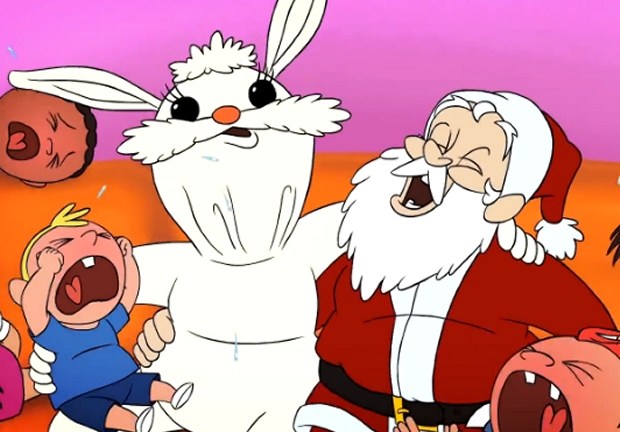 Last year, RiffTrax gave us a great run of live shows. From July to December, RiffTrax Live took on Sharknado, the 1998 Godzilla, Anaconda, and the old Mystery Science Theater 3000 classic Santa Claus. Usually, Mike Nelson, Kevin Murphy, and Bill Corbett tell us about the upcoming shows one at a time, but this year they've decided to give us the four cinematic victims in one go. They're calling this "The Crappening."
RiffTrax Live is a special one-time show (with the occasional replay a few days after) where the three riffers watch a bad movie in front of a live audience while making fun of it as they usually do. The whole thing is broadcast across the country thanks to Fathom Events. The shows tend to also feature shorts and other surprises, making them a must see for RiffTrax/MST3K fans.
Here's what we have to look forward to:

MAY 6: THE ROOM
You're on the internet. If you don't know what The Room is, then please let me know how much rent you have to pay for living under that rock because I'm currently looking for a new place. The 2003 disasterpiece is the brainchild of Tommy Wiseau (who appears to be a sentient wax sculpture of Keanu Reeves that had been left in the sun for too long) and presumably only makes sense to him.
The story details the strained relationship between Johnny and his girlfriend Lisa, who is vindictively sleeping with Johnny's best friend Mark. The movie's ineptitude has made it this generation's Rocky Horror Picture Show to the point that people watch it in movie theaters on a regular basis despite it being 12 years old.
RiffTrax tackled The Room back in 2009. It's a great watch, though does get its criticism for being redundant. The Room is so fascinatingly bad in itself that you don't need added commentary. Still, it doesn't hurt.
JULY 9: SHARKNADO 2: THE SECOND ONE
Last July, RiffTrax covered Sharknado, which had a lot of people feeling cautious going in. Sharknado is a movie meant to be bad. Doesn't that defeat the point? It didn't matter as it was an incredibly funny showing from Mike and the guys. It also happened to be a bit of cross-promotion, since Sharknado 2 was on the horizon and this was a great stage to advertise it.
Now it all comes full circle. Sharknado 2 tries a bit too hard to be schlock and that might work against it, but we'll let time be the judge of that.
OCTOBER 1: MIAMI CONNECTION
Miami Connection is widely known as being the pinnacle of cheesy '80s movies. A martial arts rock band made up of high school students takes on some mafia ninjas in order to rid Miami of drugs. Everything about it is over-the-top and couldn't have possibly come from any other decade. Shockingly, this will be RiffTrax's first time watching this movie. It's a long time coming and it might be the one I'm most looking forward to.
DECEMBER 3: SANTA AND THE ICE CREAM BUNNY
Oh, man. This movie. Literally the worst movie I have ever seen, RiffTrax brought Santa and the Ice Cream Bunny to light back in 2010. A low-budget nightmare, the film is about Santa Claus getting stranded in Florida without his reindeer, before getting assistance from a pack of kids. Somehow, this becomes a framing device for Thumbelina, a completely separate film with better production values that is far longer than all the Santa segments.
I've discussed the movie a bit more here, along with all the other Christmas-related RiffTrax movies.
BUT! This isn't the same, old Santa and the Ice Cream Bunny. Months back, I interviewed Kevin Murphy and discussed how there was a second version of this movie where instead of Thumbelina, it told the story of Jack and the Beanstalk. Kevin was open to the idea of doing this alternate version and according to this tweet, that's exactly what we're getting. So get ready for some new horrors, boys and girls, but with the same Ice Cream Bunny fire truck segment we know and fear.
To help with the costs of these shows, RiffTrax has put up a Kickstarter page. Already, it's climbing to the goal, but you should still support them. By doing so, you get all sorts of nice goodies, like the digital download of the Santa and the Ice Cream Bunny show, exclusive short films, and so on.
At the very least, you should ask for these days off from work because RiffTrax Live is an amazing experience. The Crappening is going to be a good time.
Gavin Jasper still needs RiffTrax to cover No Holds Barred. Follow him on Twitter, brother!