News
Ridley Scott Will Produce Norwegian Black Metal Murder Movie
Ridley Scott will bring Norwegian satanic metal murder movie to the screen and the band's co-founder is not pleased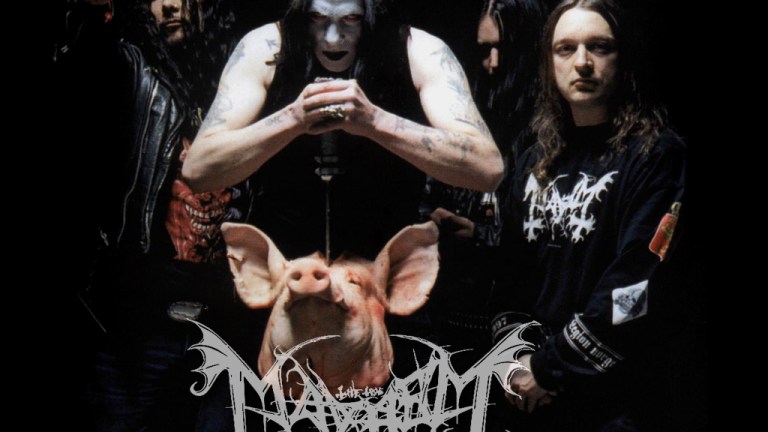 Ridley Scott is going to produce a movie about the black metal church burnings that shocked Norway in the early 90s.  The film, Lords of Chaos,  will be directed by filmmaker Jonas Åkerlund, who is no rookie when it comes to music and visuals. He directed music videos for Madonna, Beyoncé, Christina Aguilera and Metallica. He also directed the films Spun and Horseman. Åkerlund he played drums on the songs "Sacrifice" and "The Return of Darkness and Evil" with the Swedish black-metal band Bathory in 1984.
Lords of Chaos will star Rory Culkin (Scream 4, Signs) and Caleb Landry Jones (X-Men: First Class). The film will be based on the 1998 book Lords of Chaos. Åkerlund co-wrote the picture with the book's authors, Michael Moynihan and Didrik Søderlind, while Variety names Dennis Magnusson as a co-writer.
Euronymous co-founded the satanic-themed band in Oslo in the mid-Eighties. One of the singers who was nicknamed Dead, killed himself.
"This book Lords of Chaos is fucking crap and that some stupid Swedes are gonna make a movie out of it is not OK," Mayhem co-founder and bassist Necrobutcher told Rolling Stone. "I will do everything I can to stop this film…. Tell the Swedes and the Hollywood people to go fuck themselves."
Necrobutcher also told Rolling Stone that the rights to his story are owned by a Norwegian company called Motion Blur.
I remember in the bad and heady days of Vampyr Theatre a magnificently macabre story that everyone was talking about after hours. The Norwegian Satanic Metal murder. I had friends in both the satanic and the metal community and was also writing and editing at Wicked Mystic, the second largest independent original horror magazine in print at the time.
The indie press wrote all sorts of in-depth investigations into every conceivable angle on the left hand side. A lot of them applauded it. One copy printed that Varg 'Count Grishnackh' Vikernes cut the head off Øystein  'Euronymous' Aarseth, the co-founder of the Norwegian black metal band Mayhem. Euronymous was 25.
Vikernes went to jail for 15 years. Norway suffered a wave of an estimated 50 church burnings for the next four years.
This was reviled, revered and totally cool. There was, if not a revolution going on, then a series of serious strikes. Now we're in the state of The State of Islam and every reference to terror has a different meaning, but at the time, the Norwegian church burnings terrorized that region. But some really fucking cool music was coming out of it and you couldn't get enough of the stories.
You couldn't get enough of them because it was never covered correctly over here and we got horrible translations of Norwegian press.
Filming on Lords of Chaos will begin in Norway in the fall.