News
Ridley Scott Teases Another Alien Movie That Focuses on Dangers of AI
Ridley Scott says he is still planning another Alien prequel that focuses more on AI than chest-bursting monsters.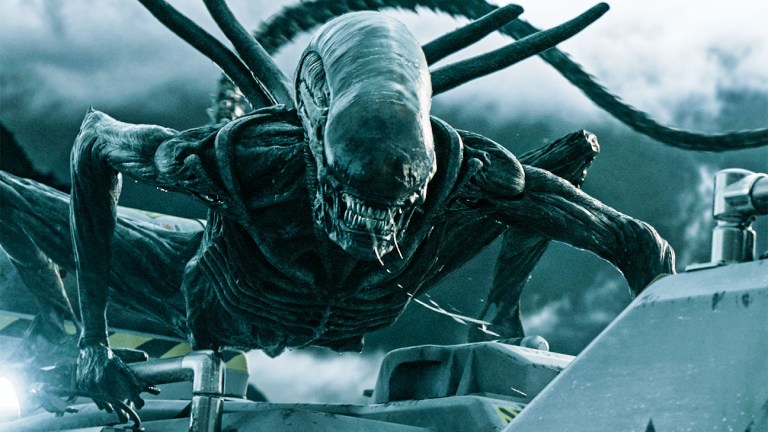 Ridley Scott has certainly been prodigious in recent years. After making one of the better science fiction movies of the decade with The Martian, he returned to the franchise he invented and continues to rework: Alien. This past summer's Alien: Covenant was divisive amongst fans (and didn't really set the box office on fire either), however it was received well critically and still cleared over $240 million worldwide. It also did not slow Scott down, as he rather infamously is now reshooting a sizeable portion of his latest movie, All the Money in the World.
An Oscar hopeful based on the real story of the Getty family kidnapping saga in the early 1970s, All the Money in the World now has the world's attention on Scott, as he rushes to replace all the scenes in the film with Kevin Spacey as J. Paul Getty with Christopher Plummer. Even so, he is still taking time out to speak with EW about the hell or high water approach of meeting Money's Dec. 22 release date… and Alien.
Indeed, a diminished box office has not diminished Scott's interests in the slightest. In fact, he tells the entertainment magazine that he is already committed to making at least one more Alien prequel that completely pivots away from chest-bursters and face-huggers and embraces what we consider the best aspects of these prequels: the insidiousness of artificial intelligence. Presumably this means Michael Fassbender as David too.
"We are [going to make another], we are," Scott told EW from the set of All the Money in the World. "I think what we have to do is gradually drift away from the alien stuff… People say, 'You need more alien, you need more face pulling, need more chest bursting,' so I put a lot of that in Covenant and it fitted nicely. But I think if you go again you need to start finding another solution that's more interesting. I think AI is becoming much more dangerous and therefore more interesting."
This is a curious concession by Scott considering that Alien: Covenant doubled down on the face-huggers and monstrous iconography from his 1979 film. Indeed, we wrote extensively about how disappointed we were that Alien: Covenant mostly jettisoned the original and intriguing science fiction questions raised by the flawed (yet we'd argue superior) Prometheus. Scott likewise seems to have had a change of heart about the pivot toward reworking his past steps, for the best elements in Alien: Covenant were when he let Prometheus' David robot interact with his double, an android called Walter who was also played by Fassbender.
"Fassbender was an AI," Scott added. "Ian Holm [from Alien] was an AI; Roy Batty [from Blade Runner] was an AI; so was Rachael [from Blade Runner]."
That they were, and if Scott wants to explore further the cybernetic world of his better science fiction films, it does sound more persuasive than another movie about someone slowly sticking their face into a translucent egg.