News
Riddick 4: Furya Script Revealed by Vin Diesel
Vin Diesel is not done with Riddick yet, with the reveal that creator David Twohy has completed the script for a fourth film.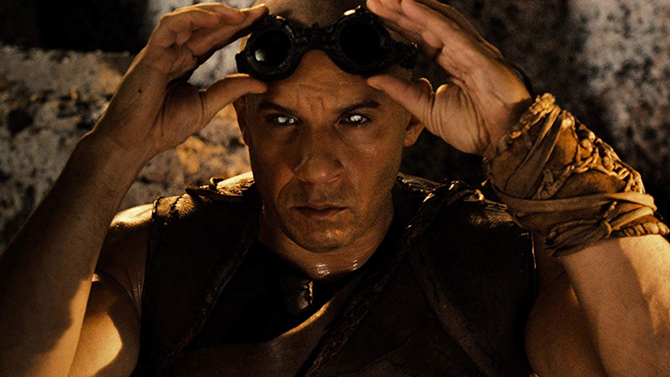 Vin Diesel still has a hand firmly on the wheel of his Fast & Furious film franchise, which, having earned $5.1 billion across its eight entries, has put the pedal to the metal for two more (main series) movies, set to end with a tenth film in 2021. However, the franchise that first brought Diesel to prominence, the dark sci-fi action of the Riddick films, appears to have more in the tank as well. Indeed, the star has revealed that the script for Riddick 4 is done.
In an Instagram video commemorating his recent birthday, Vin Diesel revealed that Riddick franchise mastermind David Twohy sent him a most auspicious present: the completed script for a new sequel, titled Riddick 4: Furya. While Diesel isn't exactly dishing on its contents, the script does reveal a cover-showcased tag line, which states: "Everyone wants to be a beast until it's time to do what real beasts do."
The post represents the first real update on the Riddick franchise since November of 2015, when Twohy was teasing his intentions of writing the fourth film in question, though also touted plans for a television spinoff series focused on the mercenary characters featured in 2013 sequel Riddick; small screen plans that gained some momentum, propelled by Diesel himself in late 2016, but ultimately bore no fruit.
The Riddick franchise focuses on its eponymous character, Richard B. Riddick, who hails from the planet, Furya. He's depicted as a badass intergalactic antihero, known for his signature attribute of white-shining eyes; the result of a procedure that allows him to see in the dark, but makes him sensitive to light. The brand launched with the release of 2000's Pitch Black, which, directed and co-written by Twohy (with Jim and Ken Wheat), manifested as a micro-budgeted (at $28 million), small-studio-distributed, sci-fi actioner that became a buzz-generating dark horse hit. It earned $58 million worldwide, and turned Vin Diesel into a star.
However, the momentum-riding franchise overreached with its 2004 sequel, The Chronicles of Riddick, which was accompanied by an array of canonical other-media tie-in offerings like animated films and, most notably, Xbox video game prequel The Chronicles of Riddick: Escape from Butcher Bay. While the film tentpole itself nearly quadrupled the first film's budget at a whopping $105 million, it only took in $115 million worldwide, making it a dud – albeit a beautiful-looking dud. That failure led to a nine-year dormancy, during which Diesel's Fast & Furious films flourished. Eventually, Twohy returned with a scaled-back approach for the 2013 third entry, simply titled Riddick, which was more profitable, having earned $98 million on its significantly reduced $38 million budget.
We'll keep you updated on Riddick 4: Furya as things develop!
Read and download the Den of Geek SDCC 2019 Special Edition Magazine right here!
Joseph Baxter is a contributor for Den of Geek and Syfy Wire. You can find his work here. Follow him on Twitter @josbaxter.