News
Reversing Roe: Trailer for Abortion Documentary Coming to Netflix
Netflix documentary offers a historical look at the abortion rights issue in Reversing Roe.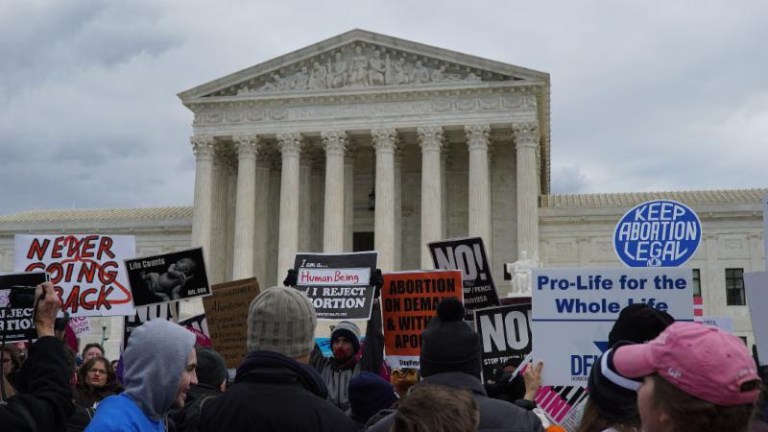 "If doctors can't perform procedures or leave their doors open, what are we left with," a woman's voice asks in the Reversing Roe trailer. Netflix's upcoming documentary on abortion rights will launch globally on Sept. 13, 2018, as the scales of justice feel the weight of the upcoming governing decisions.
Midterm elections and Supreme Court hearings will be held this fall and Reversing Roe offers a look at the how the wheels of justice turn on the ground level. Drawing from a historical footage, the documentary hopes to explain "the motivations behind both keeping and reversing this landmark court decision – and what's at stake for both sides," reads the official press statement.
Produced by Ricki Stern and Annie Sundberg, the Oscar-nominated filmmaking team behind The Devil Came On Horseback and Marathon: The Patriot's Day Bombing, Reversing Roe looks at the issue from a historical perspective, highlighting the abortion debate from various points along the ideological spectrum in a winding story of abortion in America. The documentary charts the period leading up to the Roe decision-and documents the opposition that has followed ever since.
In the Roe v Wade case, the court ruled that the  Due Process Clause of the 14th Amendment extended to a woman's decision to have an abortion. The court said the right must be balanced against the state's interests protecting women's health and protecting the potentiality of human life. Roe v. Wade divided national politics into pro-life and pro-choice camps. Grassroots movements grew on both sides. The debate fueled violence as abortion clinics became targets.
"Forty-five years after it revolutionized abortion law in America, the landmark 1973 U.S. Supreme Court case Roe v. Wade is once again at a crossroads," reads the official synopsis. The film includes candid interviews with key figures from both sides of the divide, among them doctors Colleen McNicholas and Curtis Boyd; feminist icon Gloria Steinem; Operation Rescue president Troy Newman; and National Right to Life president Carol Tobias.
You can watch the trailer here:
Reversing Roe was executive produced by Eva Longoria. It made its world premiere at the Telluride Film Festival.
Reversing Roe launches globally on Netflix and in select theaters in New York and Los Angeles on September 13, 2018.
Culture Editor Tony Sokol cut his teeth on the wire services and also wrote and produced New York City's Vampyr Theatre and the rock opera AssassiNation: We Killed JFK. Read more of his work here or find him on Twitter @tsokol.