News
Revenge Trailer: A Subversive Vengeance Thriller
Coralie Fargeat's visually-stunning directorial debut stars Matilda Lutz as a woman out for vengeance.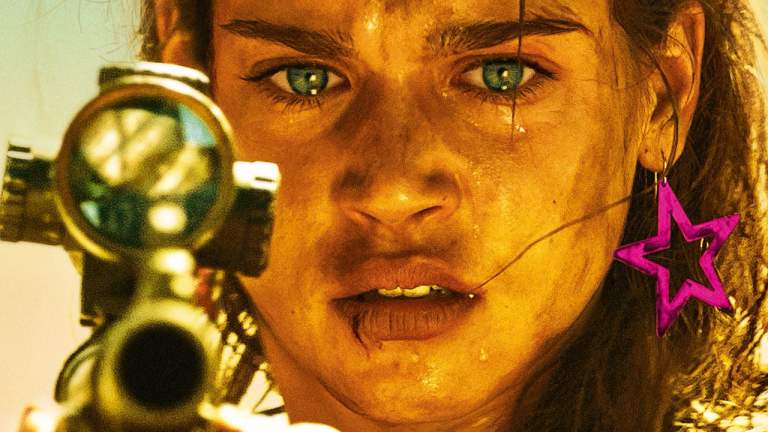 Shudder and Neon just released a new, NSFW trailer for Revenge, an upcoming thriller that looks seriously gorgeous, impressively bloody, and refreshingly subversive.
The debut feature from director Coralie Fargeat stars Matilda Lutz (Rings) as Jen, a woman who is on a romantic getaway with her boyfriend when his sleazy friends show up and things go horribly wrong. Rather than following the familiar, insidious tropes of woman-as-passive-victim that are so wrife in horror and other genres, Revenge sees Jen coming back from the dead and seeking vengeance against the men who have wronged her.
Check out the trailer…
Here's the full, official synopsis:
Debut director Coralie Fargeat announces her stunning arrival, painting a crimson canvas of hypnotic beauty and bloody retribution in this razor-sharp feminist subversion of the revenge-thriller. Jen (fearlessly embodied by Matilda Lutz, Rings) is enjoying a romantic getaway with her wealthy boyfriend which is suddenly disrupted when his sleazy friends arrive for an unannounced hunting trip. Tension mounts in the house until the situation abruptly––and viciously––intensifies, culminating in a shocking act that leaves Jen left for dead. Unfortunately for her assailants, Jen survives and reemerges with a relentless, wrathful intent: revenge. A white-knuckle tale of transgression and transformation, REVENGE gloriously blurs the lines of vengeance and survival while simultaneously delivering a ferocious dissection of gender and genre.
Revenge hits theaters and on demand on May 11th, and will be available on the Shudder streaming service in the fall.