Features
Remembering Myrna Loy
A big star in the 1930s, Myrna Loy blazed a trail for Hollywood actresses. Aliya takes a look back at Loy's life and finest movies...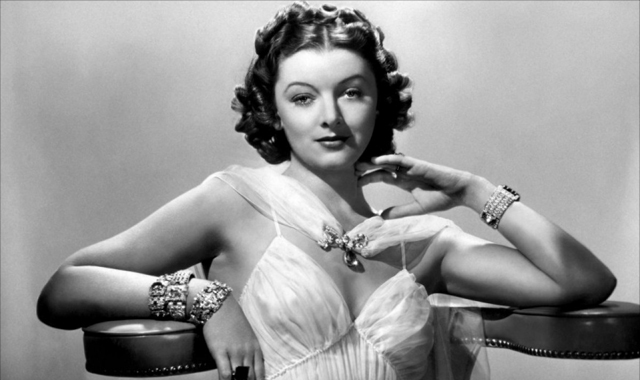 Even if you have no idea who she is, you've probably seen Myrna Loy. Or, at least, a statue of her. In the opening shots of Grease, there's a white statue of a girl outside Rydell High – filmed at Venice High School, California, where Myrna Loy was a student. She posed for it when she was 16, before she became one of the most popular screen stars of the 1930s. The statue was vandalised many times, but was eventually rebuilt in bronze, and remains there today.
Loy was graceful and elegant, with hooded eyes and long, sweeping eyebrows. She had a strength of character on screen that was unflappable, and her best roles were often when she got to verbally spar with actors who could hold their own, such as William Powell, Clark Gable, and Cary Grant. Her body language suggested that her leading men needed her more than she needed them – any show of affection would be greeted with a raised eyebrow, and an ironic acceptance of a passionate embrace.
She was always an intellectual equal in her on-screen relationships, and had a great gift for comic timing. But she could also convey a lot of dramatic meaning with a small gesture, and brought empathy to challenging roles later in her career.
A brief biography
Myrna Loy was born on 2 August 1905 as Myrna Adele Williams. She was a keen dancer at an early age, and when she left school she went to work for Grauman's Egyptian Theatre. Photographs of her caught the attention of Rudolph Valentino, and soon she was working as an extra in movies. Her striking looks led to early casting as exotics or femme fatales in silent films.
In 1924, she was the first woman to appear on screen wearing trousers as an article of feminine clothing, in What Price Beauty? But her trendsetting style and wit wasn't really appreciated until The Thin Man films (the first one was released in 1934) which enjoyed a huge popularity. In talking roles she had a great voice, clear and genteel, with a steely quality. She was voted one of the top ten most bankable movie stars in 1937 and 1938 but gave it all up during World War Two to work closely with the Red Cross. After the war she returned to Hollywood and gave measured, detailed performances.
She appeared in few roles after 1950, but maintained an involvement in campaigning against discrimination, and wrote an autobiography, entitled Being And Becoming, that was published in 1987. She fought breast cancer for many years, and received an honorary academy award in 1991. It was her last appearance on screen. She died on 14 December 1993.
Five of her best films:
After The Thin Man (1936)
Myrna Loy and William Powell made a marvellous screen couple. They made 14 films together, and the public never tired of seeing them spark off each other. All of the Thin Man films are brilliant, but my personal favourite is the second in the series, After The Thin Man.
Nick and Nora Charles, private detectives, have just got married when Nora's cousin asks them to track down her wayward husband. They find him easily enough – and soon afterwards, he gets killed. The body count grows and events become more and more confusing, but we have no doubt that together Nick and Nora will sort things out. They are a rare thing in Hollywood – a happily married couple. Suave, cool under pressure, and very funny, they are the template for crime-fighting duos on film and television, such as Hart To Hart, Moonlighting, and Murder By Death. Still, the original is the best.
James Stewart has a small but important role in After The Thin Man, before he became the all-American leading man, and he's great in it. And there's a very endearing sub-plot involving the Charles' beloved dog Asta, Mrs Asta (also a dog) and the black dog next door who appears to be hanging around Mrs Asta's kennel late at night…
Mr Blandings Builds His Dream House (1948)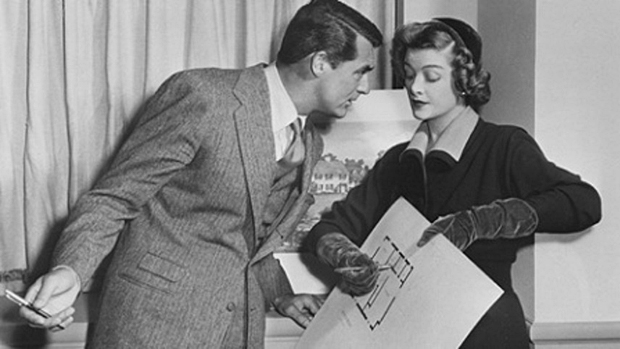 Mr Blandings (Cary Grant) lives in a New York apartment with his wife (Myrna Loy) and two daughters. There's one bathroom and no closet space, so he decides to buy a big house in Connecticut. Unfortunately the house is rotten. It has to be knocked down, and a new house built. The cost mounts up, and throughout it all Mr Blandings discovers that life in the country is not so idyllic as he imagined.
Cary Grant is so good in screwball comedies, but he needed a strong leading lady to make a film really work. Throughout his career he worked with Mae West, Katharine Hepburn, even Audrey Hepburn, with whom he had great chemistry. But with Myrna Loy he found an actor who could ground a film, and leave him to give a huge performance that bordered on slapstick without losing that touch of reality. In this film he rages against so many things: bad workmen, dishonest estate agents, unhelpful lawyers, and Myrna Loy looks on with bemused disinterest. She's no help when it comes to calming him down or making him see sense – neither of them have a pragmatic outlook in the least. It's their mutual naïveté that makes the film work, and keeps it relevant today. Who does really understand architectural drawings and by-laws? Not the Blandings, and not us.
I should add that this film was based on a novel of the same name. The novel was also adapted into a 1986 movie with Tom Hanks called The Money Pit. I prefer Cary Grant's version though.
The Animal Kingdom (1932)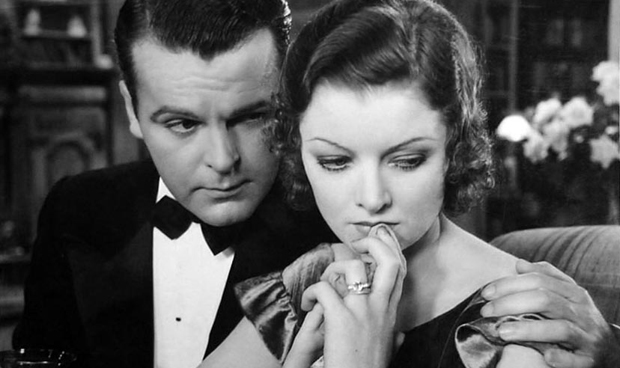 This is a surprising film. Based on a Broadway stage play, it deals in a straightforward manner with prostitution and extra-marital sex, and comes to some unusual conclusions. Leslie Howard plays Tom Collier, a writer and publisher who asks Cecilia (Myrna Loy) to marry him. He admits that he had been living with his artist girlfriend, Daisy Sage (Ann Harding), but that relationship has ended.
After the marriage Daisy makes a reappearance, and there follows a battle between the women for Tom's attention and affection. Daisy wants Tom to continue to write artistic books that will never sell, but Cecilia wants him to sell his publishing business and write more commercially successful novels. This is where Myrna Loy does a brilliant job – she makes Cecilia so practical and reasonable that we believe in her point of view. It's only at the very end of the movie that the true colours of both women are revealed.
There are some shocking lines in this film. My favourite is when Daisy says, "A foolish virgin, me. Well, foolish, anyway." That's quite an admission for 1932. And The Animal Kingdom has a great comedy butler as well.
Midnight Lace (1960)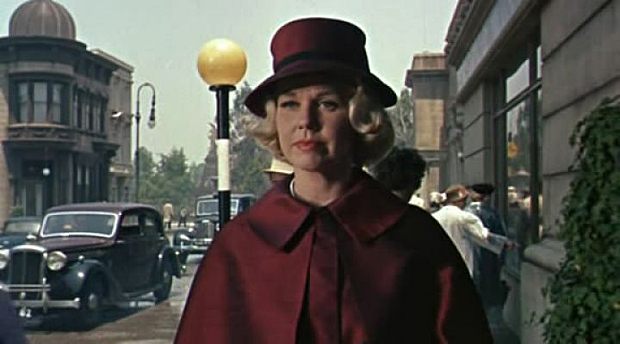 Kit Preston (Doris Day) is newly married to Tony (Rex Harrison) and enjoying London life when she starts hearing a voice in the fog threatening to kill her. Then the abusive telephone calls start. But is there a real threat, or is Kit going crazy? Tony is very supportive, but even he starts to wonder why he never hears the voice. Okay, so the ending isn't really a big surprise, but there are high production values to help you along the way.
Midnight Lace is a 'woman in peril' type of movie to the core. Like Gaslight, The Lady Vanishes and So Long At The Fair, we get caught up in the vulnerability of a lone woman in what seems to be an impossible situation. This may not be the best of those films, but it does have a real sense of menace about it.
After making this film Doris Day never signed up for another thriller, and you can see why. It must have been gruelling to perform such fear. Her emotions make it quite a difficult film to watch at times, particularly when we tend to associate Doris Day with much happier roles. She's really great at making you feel her terror, and there's a strong emotion of dread that the London fog exacerbates. You have to be thankful for the presence of Myrna Loy as good old Aunt Bea, who lends moral support and steals all the best lines.
The Best Years Of Our Lives (1946)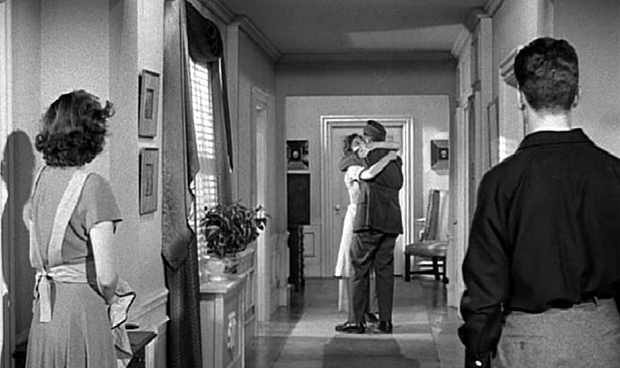 Myrna Loy named her performance in this film as her best. There is something very quiet and collected about her character, housewife Milly Stephenson, who has been waiting for the return of her husband from World War Two. It's just one of three stories that document the difficulties for returning servicemen, and Loy's acceptance of her husband's problems and burgeoning alcoholism feels very realistic.
There's no histrionics, just small gestures by which she tries to control the situation. She unobtrusively takes away his drinks, and at one point softly marks on the tablecloth with a fork every time he tops up his wine. She brings a depth of feeling to the film, and keeps it from falling into melodrama.
There are so many great performances in The Best Years Of Our Lives, but perhaps the stand-out is by non-actor Harold Russell, who plays veteran Homer Parrish, a navy soldier who has lost both his hands and uses hooked prosthetic hands instead. There's a great scene where he invites his childhood sweetheart up to his room to see what it involves to get him ready for bed. When he takes off his hooks he is so vulnerable, and she realises what it will mean to marry him. She will always have to take care of him. It's a true and touching moment.
The cinematographer was Gregg Toland, and his deep-focus technique is used so well here. The final moments of the film manage to show the intensity of relationships without cutting, and directs our attention, tying all three strands of plot together. But the cinematography is far from the only reason to see the film. It remains meaningful and moving, and it shows what a great actress Myrna Loy was.
Would have made a great:
Carol Connelly in As Good As It Gets (1997)
Maude Lebowski in The Big Lebowski (1998)
Margaret Tate in The Proposal (2009)
Kitty Fane in The Painted Veil (2006)