Features
Remembering Leslie Howard
Aliya celebrates the life and work of a Hollywood great - Leslie Howard, star of Gone With The Wind, Pygmalion and many, many more...
Leslie Howard is best known for playing Ashley Wilkes in Gone With The Wind, noble and yet ineffectual against the machinations of Vivien Leigh's Scarlett. It was a great role, but not one of his best performances; he could be funny, charming, wise, driven, intense, comedic, tragic – take your pick. He had a pale, thin face with a high forehead and a pointed jaw, giving him an intelligent look over which directors loved to throw shadows.
I always thought he was one of those actors that black and white suited better than colour; he looked more handsome, more interesting that way. I was mesmerised by the old movies of his that appeared on television on a Sunday afternoon, where he would suffer torments with that high forehead wrinkling, or slip away in a cloud of smoke from those who chased after him. There was something indefinable about him – perhaps that's a quality that's lacking in modern Hollywood, where, as Jodie Foster pointed out at the Golden Globes recently, privacy has become an outdated concept.
The best reason to revisit Howard's movies nowadays is for that sense of mystery, and for what could be labelled as British reserve. The past is indeed a foreign country; Howard lives there very differently, and with a quiet brilliance.
A brief biography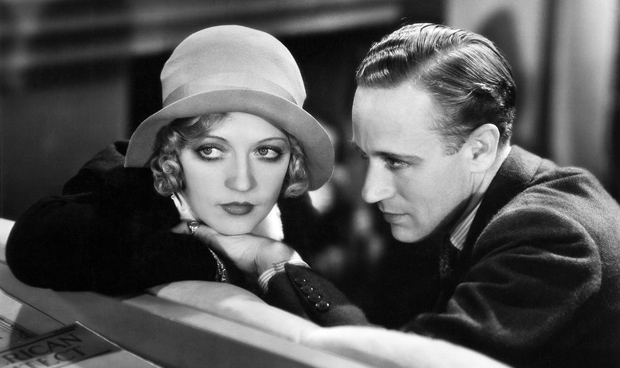 Born in London in 1893, Howard fought in World War One as a Junior Officer and suffered from shell-shock, after which he took up acting. He scored stage successes before turning to the screen, but throughout his life he continued to work in the theatre, and had a love of Shakespeare which led to roles as Hamlet and Romeo; he even played Romeo onscreen in 1936, doing a solid job of a role that he was 20 years too old for, if we're honest.
When World War Two started Howard became involved in anti-Nazi propaganda, and travelled through Europe to support the war effort. He was killed in 1943, when his plane was shot down by the Luftwaffe over the Bay of Biscay, and his death continues to hold a mystery, as does his role in the fight against the Nazis. Some believe he was working as a spy; others that he knew the Germans were targeting his plane, yet chose to sacrifice himself to keep the efficacy of British code-breakers from being discovered. He was 50 years old.
Five of his best movies:
Intermezzo (1939)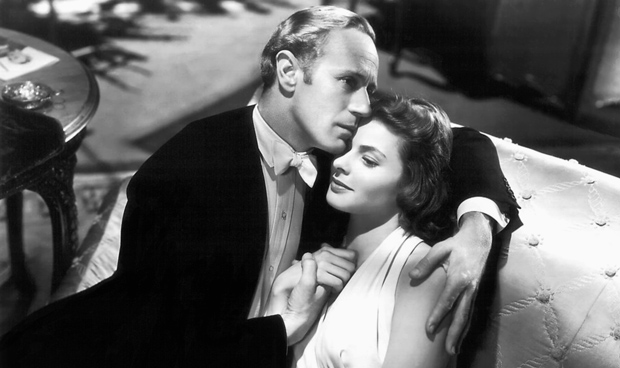 This story of an extra-marital affair between a world-renowned violinist (Howard) and an up and coming pianist (Ingrid Bergman, in her first US film role) has a soapy feel that can make your teeth grind nowadays. The close ups of the child actress playing Howard's daughter and her pet dog don't suit modern sentiment, but if you can get past that there are three amazing, moving performances at the heart of Intermezzo.
Howard is great as Holger Brandt, obsessed with music, recognising an equally talented soul in Bergman's Anita Hoffman, who plays Grieg's Piano Concerto in A Minor with an unleashed passion that gives way to shyness away from the keyboard. The scenes where they play together are very exciting, and really believable. Bergman did the fingering for the piano herself, doing a mean job of it, and Howard is doubled at the violin very effectively. But the overlooked performance is Edna Best as Margit Brandt, Holger's loving wife who puts up with his career and his affair with a strange kind of suffering grace, giving the film a real sadness at its heart that might have been swamped under the melodrama. Best was a great theatre actor who never found a cinema role that was worthy of her; perhaps the closest one was in Intermezzo.
The Scarlet Pimpernel (1934)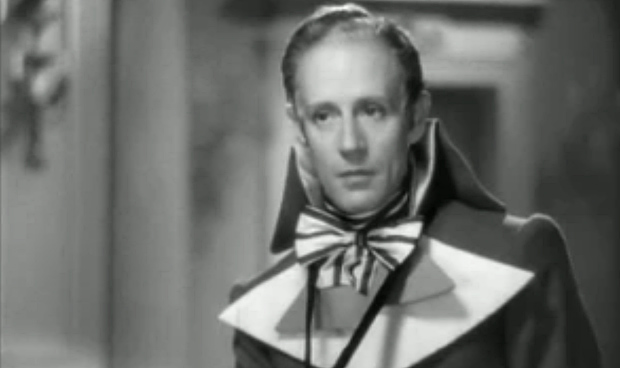 The greatest stories keep getting remade, but my favourite version of Baroness Orczy's novel is this – Howard's Pimpernel switching from annoying idiot to hero in a moment in order to rescue French aristocrats from the guillotine, and ostracising his wife (Merle Oberon) in the process.
This has impressively large-scale production values, particularly the ballroom and the execution scenes, and these are juxtaposed with claustrophobic close-ups as the aristocrats preparing for their fates, applying make-up, holding hands. It's very effective at bringing home the importance of the Pimpernel's mission, and Merle Oberon does a great job of giving it an added emotional level. It's an action romance blockbuster of a movie, and it's easy to root for Howard even when he manages to be totally ridiculous when his cover demands it. We always see the hero behind the frock coats. Incidentally, a stunning purple silk tail coat from the film, bearing the label "L. Howard Scarlet Pimpernel" recently came up for auction in Hollywood and went for a mere $640. What a bargain.
Pimpernel Smith (1941)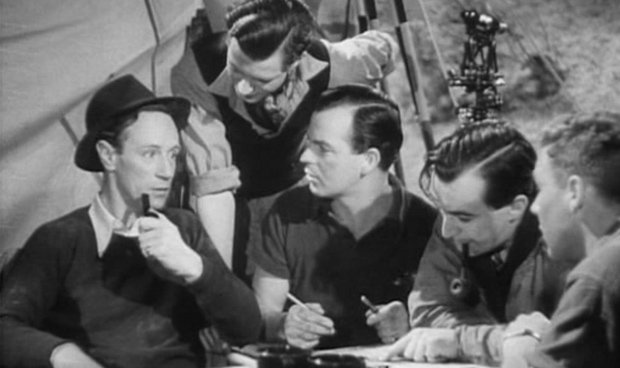 I told you great stories keep getting remade. This time the Pimpernel is smuggling notable people out of concentration camps in Nazi Germany, using the persona of a bumbling archaeology professor as a cover. This version is faster and funnier, and the dialogue is fabulous, particularly the scenes where the Germans try to dissect the British sense of humour by quoting limericks and Lewis Carroll. A great war film, it's heroic and inspiring, with Shakespearean quotes peppering the movie. The last few minutes are wonderful.
Pimpernel Smith may not be the most famous movie to have an archaeologist as an action hero, but it sets the template of the professor who gets his hands dirty. It was directed and produced by Howard, and he makes a great job of it. Also (movie trivia alert) it features an early role as an enthusiastic student for David Tomlinson, who became, totally unrelatedly, Mr Banks in Mary Poppins over 20 years later.
Of Human Bondage (1934)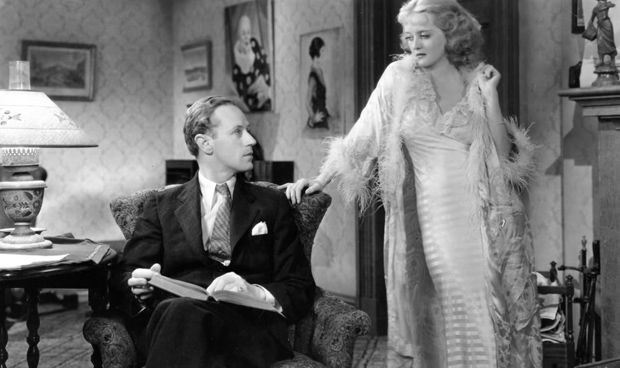 Howard was at his best when teamed with strong female actors, and he made a number of early films with the great Bette Davis. Of Human Bondage is perhaps the most challenging of these. She plays a lower-class waitress, calculating and grasping, with whom club-footed Philip Carey (Howard) falls helplessly in love. She uses him and discards him time and again – he is in bondage to her, just as other women fall in love with him and are unable to escape him, even when he rejects them.
There's some great editing throughout, particularly when dealing with Carey's club foot, the focus of his feelings of inferiority; he walks through the streets in time to emotional music, the camera closing in on his shoes, his limp. It's an unusual portrayal of disability for the time.
Based on the great novel by Somerset Maugham, this movie is on the histrionic side, filled with shouting and fainting, and a deeply odd, mesmerising Bette Davis performance, all rolling eyes and Cockney accent, exerting her influence on a sweating Leslie Howard. It's widely regarded as the film that made her a star. At times it's a repellent performance, but you can't take your eyes from the screen.
Pygmalion (1938)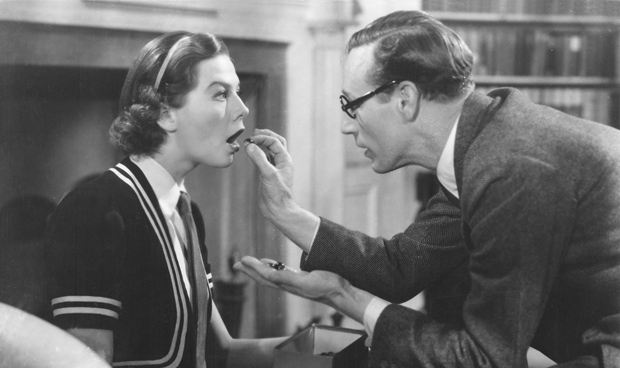 In case there's anybody out there who doesn't know the plot – Professor Henry Higgins and his friend Colonel Pickering make a bet. Higgins believes he can turn a common flower girl into a jewel of society simply through the study of phonetics. But changing the way she speaks runs deep, and once her language is altered, so too is her sensibility, and her expectations for her own life.
When Rex Harrison played Higgins in 1964's musical extravaganza My Fair Lady he apparently told journalist Earl Wilson that he was not playing the character, but playing Leslie Howard's version of Higgins. Maybe this was Howard's best performance; it's certainly one of the most involving. But then, Pygmalion is a deeper, darker piece of work than My Fair Lady, and that's reflected in the way both Howard and his Eliza (Wendy Hillier) play their parts. That makes it sound like hard work, but it's a delightful movie throughout, filled with great moments and perfect dialogue. Perhaps this is what he should be remembered for, rather than pasty-faced Ashley Wilkes; I prefer to watch him ask Eliza to find his slippers than to cry over the deep South any day.