Features
Remembering Jean Simmons
One of the UK's finest actresses, Jean Simmons starred in some classic movies. Aliya looks back at her life and work...
Traditionally Hollywood thrives on the young and pretty, and it would be harder to get much younger and prettier than Jean Simmons in the late 1940s. By her 20th birthday she had appeared in two all-time classic movies and been nominated for a Best Supporting Actress Oscar. She was graceful and had a spectacularly innocent face that didn't quite match with the spark of mischief in her eyes.
When she's remembered nowadays, it's as the proper English actress, immaculate in appearance, performing in Shakespeare or Dickens. But she didn't really belong with that tradition. She took surprising roles when she got the chance, and brought a quiet understanding to them. From psychopath to Himalayan beggar girl, she had a marvellous versatility that often gets overlooked.
Towards the end of her career she took on television work and appeared in Star Trek TNG and Murder, She Wrote, and also put her wonderful voice to good use in voice-overs. She retained that self-effacing, yet tongue-in-cheek filmic persona throughout her career.
A brief biography
Jean Simmons was born in London in 1929. She attended dance school, and was spotted by director Val Guest (The Quatermass Xperiment, The Day The Earth Caught Fire) who cast her in a Margaret Lockwood film. This led to other roles in British productions, and experiences of working with great directors such as Laurence Olivier and David Lean. She only decided to take acting seriously after an Oscar nomination, and signed with the Rank organisation, who sold her contract to Howard Hughes in 1950.
Simmons moved to the US with her new husband, actor Stewart Granger, and found that Hughes was a controlling figure who wanted her for himself. She resisted his advances and her career choices were stymied for two years until she managed to free herself of the contract. She then appeared in some of the biggest films of the 1950s before turning her attention to theatre and television.
She divorced Granger in 1960 and married director Richard Brooks soon after. That marriage also ended in divorce in 1977, and during the late 70s and the 80s Simmons struggled with alcoholism. She defeated her problems and became the patron of UK charity Release in 2003.
She died from lung cancer in 2010. She was 80 years old.
Five of her best movies:
Angel Face (1952)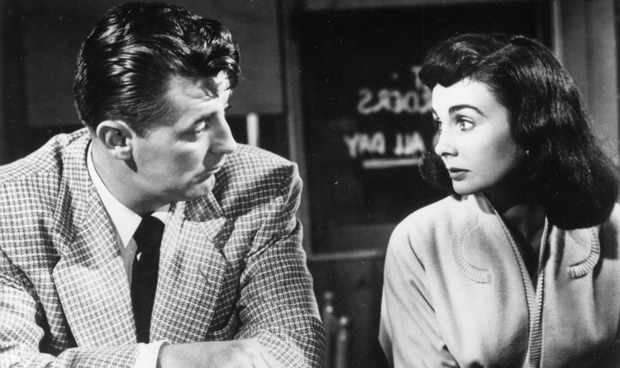 Jean Simmons and Robert Mitchum were a great screen combination. They made three films together; two comedies, The Grass Is Greener (1960), the underrated She Couldn't Say No (1954), and Angel Face. She Couldn't Say No is a small-town romantic comedy with charm to it. Otto Preminger's Angel Face is not romantic, not charming, and definitely not a comedy.
Angel Face deserves to be described as shocking. Mitchum plays a Beverley Hills ambulance driver who attends an emergency call at a mansion and meets the manipulative step-daughter of the house (Jean Simmons). Has she just attempted to kill her step-mother? It doesn't take Mitchum long to work out that she's a sandwich short of a picnic, but the extent of her psychopathy doesn't become clear until the final horrible moments of the movie.
Mitchum is so laid back in the film that you could use him as a chaise-longue. He barely seems to blink; a cigarette hangs from the corner of his mouth and he drives his car one-handed, barely bothering to look at the road. Maybe that's why Simmons is such a great foil for him. She's sharp, and quick, and so amoral that you want to shout at the screen and get Mitchum to watch his back. But all the way through he treats her with a playful condescension, just stopping short of patting her on the head and telling her she's a good girl. Which she very definitely isn't.
Black Narcissus (1947)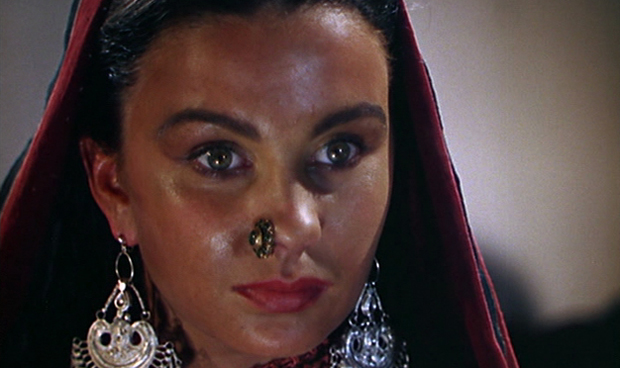 In dubious historical fiction movie Young Bess (1953) Simmons played Princess Elizabeth, and Deborah Kerr was the smaller role of Catherine Parr. In Black Narcissus the roles were reversed. Kerr took the lead, as the focussed Sister Superior struggling to set up a mission in an old brothel in the Himalayas and finding only hardship and madness. It's a slow-burning psychological horror that grows to a terrible climax.
From the period of 1946 to 1949 Michael Powell and Emeric Pressburger made three of the greatest films of all time: A Matter Of Life And Death, The Red Shoes, and Black Narcissus. Each is like a painting, with an incredible attention to detail and spectacular use of light and colour. Black Narcissus is like a moving Vermeer – the way the nuns' clothes flap in the constant wind that blows over the mountains, casting shadows, and the sudden and intense patches of blue, the colour of local life against the white garments of the nuns – it takes your breath away.
Simmons doesn't have a big part. She plays Kanchi, a local girl who is coming into her femininity and is sent to the nuns in the hope of keeping her out of trouble with men. When she appears in the film she looks so mischievous, so colourful, that she provides the counterpoint to the repression of the nuns' lives. It's exactly what the film needs to lift it to greatness – the vital appearance of a seductive, emotive life, like a beacon to those who don't possess it. Simmons embodies happiness itself.
Hamlet (1948)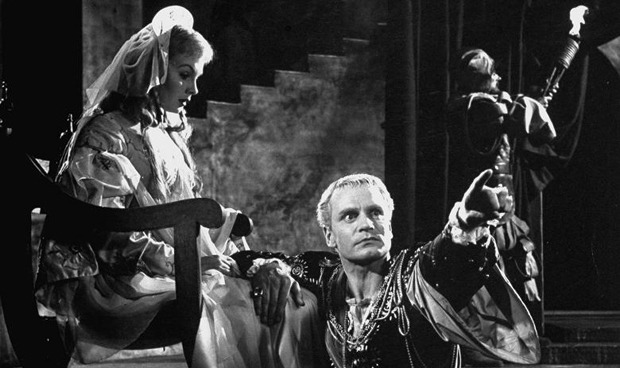 Simmons was nominated for the Best Supporting Actress Oscar for her performance as Ophelia in Laurence Olivier's love-letter to Shakespeare. In fact, she had no formal training as an actor and hadn't played a Shakespearian role before. Perhaps that's why she works here; in a cast of great theatrical actors, she comes across as natural and fresh, almost a relief from the orations of Olivier.
Ophelia is an interesting role. She represents the sidelined, the truly helpless. Her father Polonius wants to marry her off to Prince Hamlet, and she doesn't get a say in it. Hamlet is too obsessed with the murder of his own father to realise how precarious her situation is. When he breaks off their relationship and famously tells her, "Get thee to a nunnery!" he's too self-centred to realise to what fate he is condemning her. Between Polonuis and Hamlet, Ophelia is driven to insanity; Simmons plays up the vulnerability of the character so well, giving us a relief from Hamlet's internal struggle, providing consequences to his actions.
Olivier was a great physical actor, but in this film that boisterousness is, for me, offputting. It's not the best film of the great play (try Russian avant-garde director Kosintzev's 1964 version for a really different take from Olivier's) but Simmons is a wonderful, touching Ophelia.
Also, I'll just mention that the spear carriers and uncredited parts in this movie make it worth watching for buffs: blink and you'll miss Christopher Lee, Desmond Llewellyn, and Patrick Macnee.
So Long At The Fair (1950)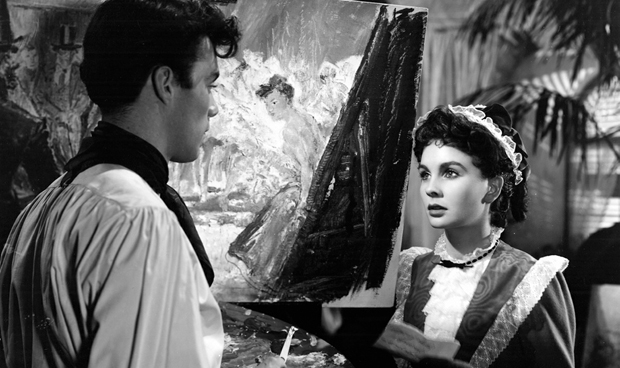 It's really hard to find a mystery film that, on first viewing, you have absolutely no idea how it's going to resolve. For me, So Long At The Fair was confounding, and utterly suspenseful.
Simmons plays rich young Englishwoman Vicky Barton, taking a holiday in Paris to see the World's Fair with her older brother (played by David Tomlinson). They are staying in a classy hotel and hanging out at wonderful restaurants. It's a brilliant holiday. Until Vicky wakes up one morning and discovers her brother has disappeared. Along with all of his possessions. And the room he was sleeping in, which apparently never existed. And nobody has any memory of her brother ever having come to Paris with her in the first place.
A really young Dirk Bogarde, at the beginning of his career, plays the man who comes to Vicky's aid, and he's perfect in it. He looks utterly confused most of the time, but he believes her, and genuinely wants to help, and she leans on him greatly in her desperation. She's so utterly vulnerable that you just want to give her a hug.
But my favourite moments of the film are when Vicky has to face up to the hotelier, Madame Hervé (played by Cathleen Nesbit), on her own. Nesbit gives such an intimidating performance that you can understand why Vicky's lips are trembling. You feel her fear, and cheer for her when she manages to get her answers.
Partly directed by Terence Fisher, who later went on to direct some of the best Hammer films including Dracula, The Curse Of Frankenstein, and The Mummy, So Long At The Fair has a tense, macabre feeling to it. It's a lot of fun, and if you can guess the ending, you've got a more devious mind than I have.
Howl's Moving Castle (2004)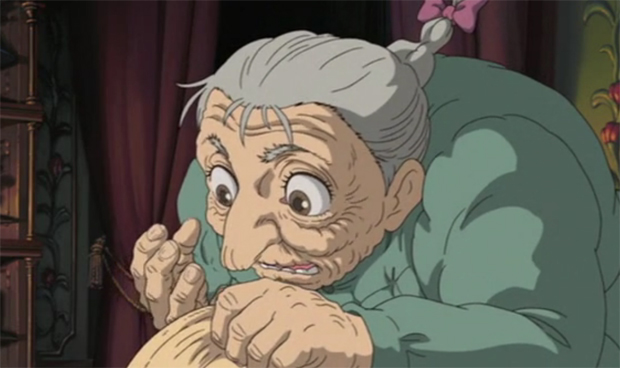 At the end of her career Simmons took on voice-over work, and provided one of her finest performances as Grandma Sophie in the English dubbed version of Miyazaki's brilliant and delightful animated film. She was in great company: other voices were provided by Christian Bale, Lauren Bacall, Emily Mortimer, and Billy Crystal. It makes Howl's Moving Castle completely entertaining for those who don't relish subtitles.
Young Sophie is a shy girl who's cursed by the Witch of the Waste, and turned into an old woman. Her only hope of reversing the curse is to work for the strange wizard Howl in his castle on legs. There ensues some weird and wonderful scenes as Grandma Sophie and Howl come to have feelings for each other, and help each other to stop an outbreak of war.
This is one of Jean Simmon's last cinematic roles. She did a great job of bringing a wondering, youthful quality to Grandma Sophie, combining an innocence with the tired, cracked tones of an old woman. Howl's Moving Castle is a fantasy adventure and a love story, but it's also a meditation on the nature of time. Perhaps that's a fitting end to a career that spanned 60 years and took in the changes from black and white to colour, from small budget to huge sets, from the UK to Hollywood. She had seen it all, and still retained the quality of amazed and exuberant youth.
Would Have Made a Great:
Amélie Poulain in Amélie
Sookie Stackhouse in True Blood
Cosette in Les Miserables
Holly Golightly in Breakfast At Tiffany's
Other Notable Films:
Great Expectations (1946)
Adam And Evelynne (1949)
The Clouded Yellow (1951)
She Couldn't Say No (1954)
Guys And Dolls (1955)
Home Before Dark (1958)
Elmer Gantry (1960)
Spartacus (1960)