Features
Remembering Carole Lombard
Carole Lombard's comic timing paved the way for the likes of Goldie Hawn and Meg Ryan. Aliya salutes the actress's life and work...
In the film Twentieth Century (1934) John Barrymore pins a star to the door of Carole Lombard's dressing room and calls it, "the golden mark that henceforth sets you apart from the world…" Lombard was exactly that – so talented, so funny, so beautiful, that she seemed apart from the rest of us. At the birth of the talkies, and at the height of the screwball comedy, she did, undoubtedly, carry the golden mark of stardom.
Lombard was the original ditzy comedienne, with perfect timing for a good line and explosive chemistry with her co-stars. She had a wonderful speaking voice, clear and warm, and a vital presence as she strode through fast-paced scenes. Equally at home with physical and verbal comedy, she often played extreme characters such as women on the edge of society, looking in at normality and wondering at it, and then making up her own rules as she went along. She cranked up every emotion to crazy heights, and took the bemused, enthralled, and entertained audience with her. When you watch Goldie Hawn or Meg Ryan, you're looking at the legacy left by Lombard.
A Brief Biography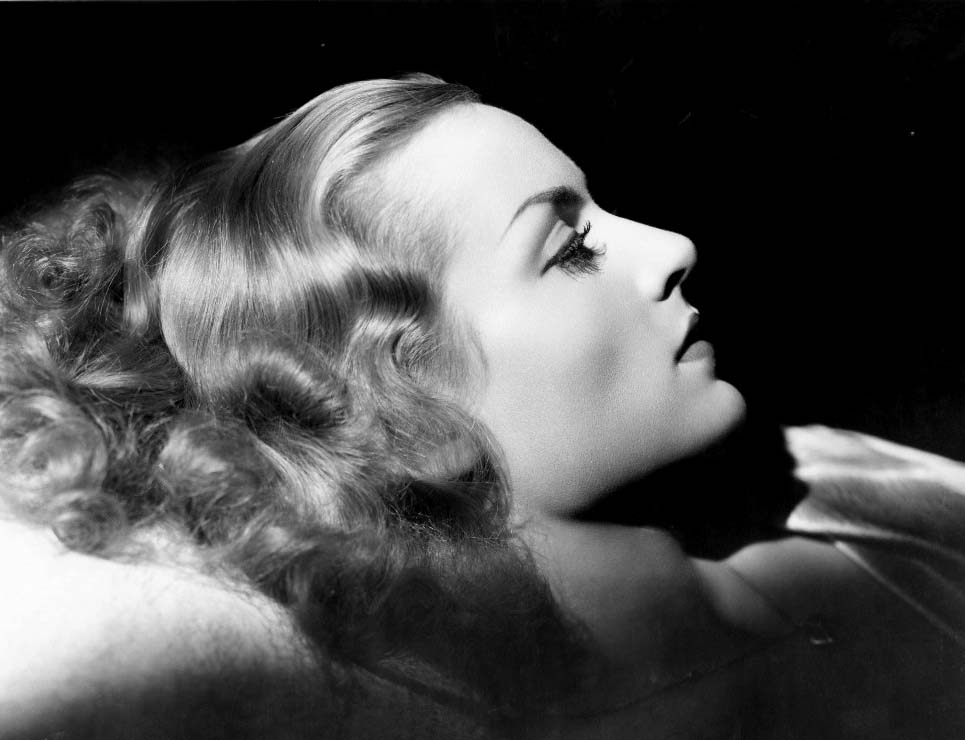 Lombard was born as Jane Alice Peters on 6 October 1908, in Indiana. After moving to Los Angeles she was spotted playing baseball in the street at the age of 13, and cast by director Allan Dwan in her first film, A Perfect Crime, where she played a tomboy. Jane Peters became Carol Lombard during the first talkies, where she used her clear, strong voice to her advantage in an arena where many other popular actresses of the time ran into difficulties. Her name changed to Carole Lombard (with the e) later in her career, when she made a run of successful films that cemented her reputation as a comic actress. She became the highest paid star in Hollywood by the end of the 1930s.
Early in the 1940s she took dramatic roles which were less popular with audiences, but she was still a huge star at the time that she undertook a war bond rally at the end of 1941 in her home state of Indiana. It was a great success, earning over $2 million in one evening. She caught a flight back to Los Angeles on the evening of 16 January 1942. The plane crashed into Potosi Mountain, Nevada, and everyone on board was killed.
Carole Lombard was married twice – first to actor William Powell, who was sixteen years her senior, and then to Clark Gable. They married in 1939, and after her death Gable flew to Las Vegas to claim her body. He was said to be devastated by her death; when he died many years later he chose to be interred beside her.
Five of her Best Roles
My Man Godfrey (1936)
Although they'd been divorced for three years at the time of casting, William Powell insisted that Lombard play the part of head-in-the-clouds socialite Irene Bullock opposite his turn as knowing butler Godfrey Park in My Man Godfrey. It's difficult to see how the film could have worked with any other actress – it relies so heavily on the unspoken chemistry between them. They are perfectly matched as clever, witty actors.
This is the story of the highest and lowest echelons of society. Irene lives in a cloud of parties and games, and has no concept of the reality of the Great Depression. But then she takes part in a scavenger hunt, and must locate a 'forgotten man'. She finds destitute Godfrey living in the town dump, and he wins the scavenger hunt for her. In return, she gives him a job – as her butler. Nothing beats Godfrey's face as he reacts to the excesses and sillinesses of the high-society lifestyle; his expression beats a thousand words. The film has a great script, but still, it's the unsaid that makes it so memorable.
As an aside, if you like My Man Godfrey then find the outtakes and enjoy watching Lombard and Powell fluff their lines and then swear until the air turns blue. It's brilliant.
Mr And Mrs Smith (1941)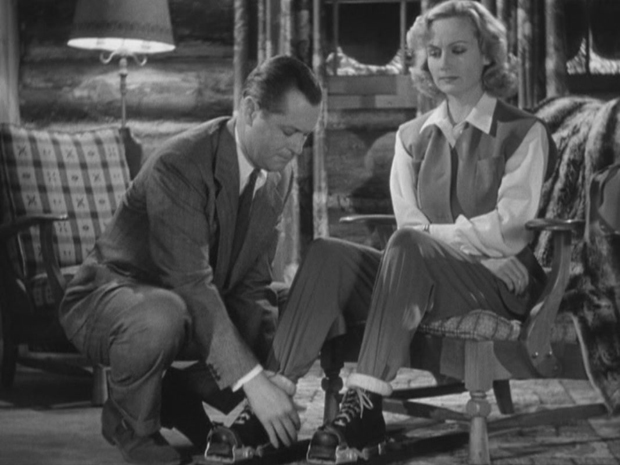 Hitchcock made this film in the same year he made Suspicion. When you compare the two, Suspicion is much more recognisable as a Hitchcock film in terms of plot, suspense and characterisation. Mr And Mrs Smith is a much lighter film – a comedy about a marriage that turns out to be not legally binding, leaving both sides to reconsider if they do want to be married to each other after all.
Ann Smith (Lombard) is seriously high-maintenance in this film. She demands the total attention of David (Robert Montgomery), and everything has to be exactly the way she wants it, making this quite a painful comedy of miscommunication and contrived circumstances. It's a good thing Hitchcock's eye for the cool blonde extends to Lombard – look at the first time the camera alights on her, hiding under the bedclothes after an argument, her face peeping out. He frames her perfectly as a desirable woman, and so we accept that David will put up with her horrible temper tantrums.
There are other touches of Hitchcock magic. When Ann shaves her husband with a cutthroat razor whilst holding the kind of conversation about fidelity that demands extremely careful answers, you get that unpleasant, crawling sensation that makes for very interesting cinema.
Nothing Sacred (1937)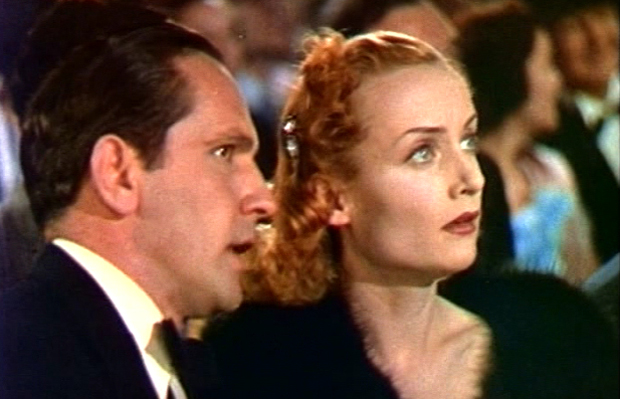 Small town girl Hazel Flagg (Lombard) has been diagnosed with radium poisoning, and she is dying. With weeks to live, her story gets picked up by a New York newspaper, and keen reporter Wally Cook (Fredric March) flies her to the city to tick some experiences off her bucket list. She soon becomes an icon of brave suffering, and Wally falls in love with her, which is all very difficult for Hazel to deal with because she knows she's not dying at all. Although she's beginning to wish that she was.
There's a lot of physical humour in Nothing Sacred. Lombard and March even trade punches at one point, and there's a scene where Lombard gets drunk in a nightclub and collapses, only for everyone to think it's the radium poisoning; they crowd around her, waiting for her to die. Instead she gets carried home and wakes up the next morning with a hangover and an appointment to listen to a class of schoolchildren sing to her about what an inspiration she is. It's a great film of juxtapositions, and very timely. Newspapers and politicians lie to us. We're all fairly used to that concept nowadays. I wonder how hard-hitting this comedy of punches felt back in 1937?
To Be Or Not To Be (1942)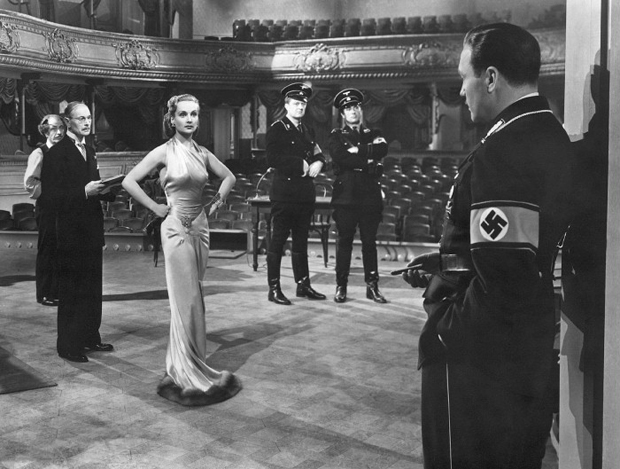 This was Lombard's last film, released two months after her death. It was a critical failure and a box-office flop. Perhaps the situation was too real, the humour too sharp, too deadpan. It's definitely black comedy at the extreme edge – set in Poland in 1939, it follows the antics of a troupe of actors who become embroiled in the resistance and use their performance skills to escape from the Nazis. Lombard plays actress Maria Tura, the unfaithful wife of Josef Tura (Jack Benny). Whenever he's busy delivering the famous soliloquy from Hamlet, she's off canoodling with Polish officer Sobinski (Robert Stack), who will involve her in a plot to prevent secret information being given to the Nazis.
I think Mel Brooks must have been heavily influenced by the mood of Ernst Lubitsch's To Be Or Not To Be when he made The Producers. (He did, in fact, direct and star in a remake of this film in 1983 with Anne Bancroft in Lombard's role.) The Producers is a brilliant film, but I think To Be Or Not To Be just beats it for the funniest dialogue. After all, this 1942 classic gives us this line, delivered by a Nazi Colonel about Josef Tura's acting skills – "What he did to Shakespeare we are now doing to Poland. "
Twentieth Century (1934)
Mildred Plotka (Lombard) is a lingerie model until theatre impresario Oscar Jaffe (John Barrymore) discovers her, changes her name to Lily Garland, and makes her a star. This happens in the first ten minutes of the film. Then Mavis believes the hype, becomes Lily, and can no longer bear to be upstaged by Jaffe's histrionics and threats of suicide every time she wants to go to a nightclub. She leaves him and heads for Hollywood. When we next catch up with her, she is a movie superstar, and Jaffe has a string of flops behind him and mounting debts. They are both as bad as each other – fake, self-centred, egotistical. When they're in a room together they don't communicate at all, because they're never really listening to each other.
The lengths they go to in order to protect their own interests provide the comedy in this film. Barrymore is so good as Jaffe; he was the embodiment of theatrical prowess, a mighty figure of film and theatre in reality. But Lombard holds her own against his wild eyes and hair, and overblown declamations. She wails and screeches and looks every inch a screen Goddess when she's Lily Garland. But her ability as an actress is shown here at the beginning of the film, when the shy Mildred Plotke steps into the limelight for the first time, and shows an awe for Jaffe and for the empty seats of the theatre. Her transformation from one extreme to the other displays just what a talented actress she was. We were always going to buy Lombard as a star, but here we understand her as a human being. Those first minutes of Twentieth Century show her at her very best.
She would have made a good:
Judy Benjamin in Private Benjamin (1980)
Anna Scott in Notting Hill (1999)
Sally Albright in When Harry Met Sally (1989)
Tiffany in Silver Linings Playbook (2012)