News
Reign of the Supermen to Hold Bicoastal Premiere Event
Fans can catch an early glimpse of DC's animated Reign of the Superman feature at premiere events in NYC and LA.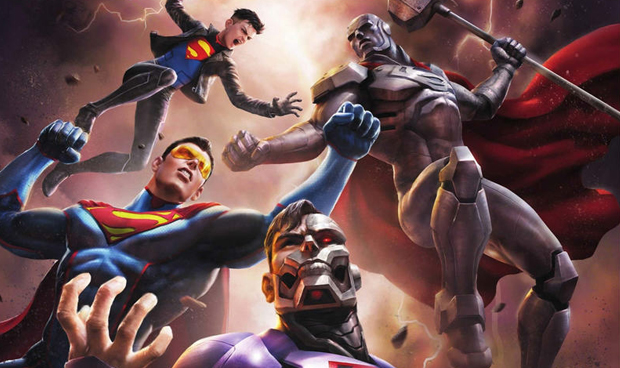 Reign of the Supermen will please an enthusiastic fandom with whom this past summer's DC animated epic, The Death of Superman, resonated, having captured the original pop-culture-proliferating 1992 comic book storyline to a poignant tee. Indeed, Reign, adapting DC's follow-up storyline that – after less than a year – built up to the resurrection of the martyred Man of Steel, will similarly put a classic comic through a modernized lens; one that certain proactive fans will be able to watch early at a bicoastal premiere screening event!
That's right, Reign of the Supermen will hold premiere screening event at The Paley Center for Media in Beverly Hills, CA on January 10, 2019 and at the Directors Guild of America in New York City, NY on January 28, 2019. Fans will be able to attend the event with free tickets now being offered – on a first come, first served basis – for the festivities, which not only include an advance screening, but will feature red carpet media interviews and post-screening discussion panels with the filmmakers and members of the star-studded voice cast.
Those who wish to attend the events, which will each be held at 7:00 pm local time, need to RSVP immediately at ReignSupermenNY@gmail.com for the New York screening and ReignSupermenLA@gmail.com for Los Angeles. Your email needs to stick to the following format:
Subject:Location (NY or LA)Body:NameNumber of tickets (limited to 4 per request)Your email address
Both premieres will include executive producer James Tucker, director/producer Sam Liu, character designer Phil Bourassa, writers Jim Krieg and Tim Sheridan and members of the all-star voice cast. However, the released information did not specify which cast members would be present.
The Reign of the Supermen cast is led by returning Death of Superman personnel in Jerry O'Connell (Superman), Rebecca Romijn (Lois Lane) and Rainn Wilson (Lex Luthor), joined by Jason O'Mara (Batman), Rosario Dawson (Wonder Woman), Shemar Moore (Cyborg) Nathan Filion (Green Lantern/Hal Jordan), Christopher Gorham (The Flash) and Nyambi Nyambi (Martian Manhunter).
They will be joined by cast newcomers in Cress Williams (Steel), Cameron Monaghan (Superboy), Patrick Fabian (Hank Henshaw), Tony Todd (Darkseid), Charles Halford (Bibbo Bibbowski and The Eradicator), Rocky Carroll (Perry White), Toks Olagundoye (Cat Grant), Max Mittleman (Justice League Action) as Jimmy Olsen, Paul Eiding (Jonathan Kent), Jennifer Hale (Martha Kent), Trevor Devall (Dabney Donovan) and Erica Luttrell (Mercy Graves).
As the official description of the 75-minute feature explains of the story:
Reign of the Supermen finds Earth's citizens – and the Man of Steel's heroic contemporaries – dealing with a world without Superman. But the aftermath of Superman's death, and the subsequent disappearance of his body, leads to a new mystery – is Superman still alive? The question is further complicated when four new super-powered individuals – Steel, Cyborg Superman, Superboy and the Eradicator – emerge to proclaim themselves as the ultimate hero. In the end, only one will be able to proclaim himself the world's true Superman.
Those unable to attend the events, fear not. Reign of the Supermen will be released on digital on January 15, after which it hits store shelves in the form of an Ultra HD Blu-ray Combo Pack and Blu-ray Combo Pack on January 29.
Joseph Baxter is a contributor for Den of Geek and Syfy Wire. You can find his work here. Follow him on Twitter @josbaxter.