News
Recast Your Franchise
If the star of your franchise is knocking on a bit, or has disgraced themselves in front of the tabloids, it's not a problem - just recast them!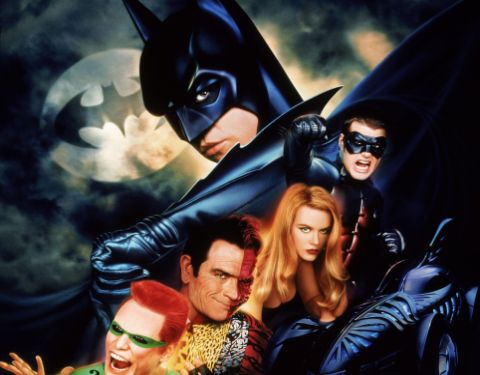 If the star of a certain franchise isn't putting the requisite number of bums on seats, the new plan in Hollywood is to simply recast them. It's worked with Batman. It's worked with Jack Ryan. Heck, they're making a Terminator movie without Arnie in it next. So here are a few more franchises that may be about to rest on someone else's shoulders, as well as one or two that just should…
JACK RYAN
Currently: Ben Affleck Linked: Ryan Gosling, Harrison Ford
Harrison Ford's Jack Ryan films, particularly Clear and Present Danger, get a bit of a raw deal. But the recent word linking him with a return to the Ryan franchise threw a spanner in the potential works. For with Ben Affleck unlikely to return, in spite of The Sum Of All Fears being really very good, the strong rumour was linking Ryan Gosling to the role, and that's something we'd pay good money to see. Now, however, off the back of Indiana Jones riding to the top of the box office charts, Ford has expressed an interest in doing Ryan again, arguing – quite rightly – that the age issue can easily be addressed by just joining the character in his later career. A bit of a no-lose in a way, but we'd still love to see Gosling given a crack at the role.
SPIDER-MAN
Currently: Tobey Maguire Linked: Michael Angarano, Patrick Fugit
An odd one this, because the casting of Spider-man, in our view, doesn't actually need addressing. Even throughout the worst indulgences of the third Spider-man movie, which wasn't too bad anyway, Tobey Maguire was more than up to the job. However, with Sam Raimi likely to vacate the director's chair for Spider-man 4, there's now a growing rumour that Maguire's days as the webslinger could too be numbered. Linked in his place are Almost Famous alumni Michael Angarano and Patrick Fugit.
BEVERLY HILLS COP
Currently: Eddie Murphy Linked: Eddie Murphy
A bit distressing, this. Give us back the old Eddie Murphy from the 1980s, the one we only hear doing voiceovers for animated films, and our cash would be on the counter already for a fourth Beverly Hills Cop. But Murphy so rarely tickles the funnybone these days that this is one franchise that should, in our view, be recast. How about Chris Rock, a man who hasn't forgotten how to make us laugh as his star has risen?
INDIANA JONES
Currently: Harrison Ford Linked: Shia LaBoeuf
They're not going to do this to us, are they? Kingdom of the Crystal Skull opened up a way to pass the franchise on to a younger character, in the shape of Mr LaBoeuf, and already rumours are circling that a fifth film could find its way into production where he takes centre stage, rather than Harrison Ford. As anyone who sat through Crystal Skull can surely testify, Harrison Ford's gruff asides were the best thing in it. Mr LaBoeuf was not.
MISSION: IMPOSSIBLE
Currently: Tom Cruise Linked: Brad Pitt, Tom Cruise
Now this is one franchise where surely anyone can take top billing. Cruise has played Ethan Hunt in the first three films, but the slightly underwhelming performance of MI3 has placed his position in the franchise in jeopardy. As a result, early indications were that MI4 would be based around a different character, perhaps played by Brad Pitt, although recent rumours suggest that Cruise may want to return to the one cashcow franchise he has in his locker. We suspect Cruise may win out, but surely hunting towards a Matt Damon-esque lead would be the better bet?
DOCTOR WHO
Currently: David Tennant Linked: James Nesbitt, Robert Carlyle, any British actor with a pulse
It's fair to say that a large number of working British actors have been linked with Doctor Who at some stage in their careers, and the speculation as to who will replace David Tennant as the next Doctor Who has thrown the likes of Nesbitt and Carlyle into the mix. The thing here though is that Tennant may well choose to carry the role into 2010, when Steven Moffat will be guiding the series, rather than dropping out across the three specials that are being broadcast in 2009. Our guess is that Tennant will appear in the 2010 series, but might not make it to the end of it. And we've no idea whatsoever as to who's likely to replace him…
FANTASTIC FOUR
Currently: Michael Chiklis, Jessica Alba, Chris Evans, Ioan Gruffudd Linked: Nobody…
Back in March, Chris Evans gave an interview to MTV where he revealed that he thought the Fantastic Four franchise had run its course. However, the problem there is that the two films – while not without major problems – have made a lot of money for Fox, who is unlikely to pull the plug just yet. This leaves the possibility open that the franchise may be 'rebooted', with a whole new cast – and hopefully director – put into place. Don't expect this to happen for a few years yet, though…
ROBIN (BATMAN)
Was: Chris O'Donnell Linked: Nobody.
Here's hoping that this rumour proves not to be true. Batman Forever is often given a pass simply because Batman & Robin was such a disaster. But for this writer at least, Forever is as much of a shambles, and one of the reasons is the pissing away of the character of Robin. He's redundant in the films, primarily, becoming unnecessary company and support to a loner. Now there's a rumour that the character of Robin may make it into the follow-up to The Dark Knight, the mere thought of which brings us out into a cold sweat. Expect, if true, lots of twentysomethings who think Batman Forever is a great film to audition. Sigh.