News
Ready or Not: Cast, Trailer, Release Date, Plot, and News
Bill & Ted 3's Samara Weaving stars in Ready or Not, a horror film that puts a deadly spin on meeting the in-laws.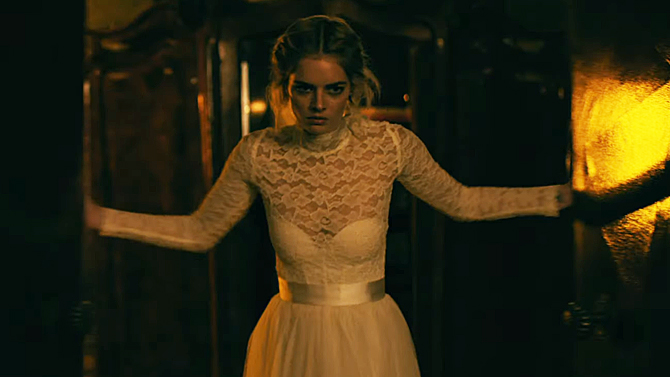 Ready or Not is, apropos to its plot, counting down to the appropriate moment to unleash a mix of horror and comedy tropes on the moviegoing public. Indeed, for one bride, the typically tense scenario of meeting one's in-laws gets put through the lens of a deadly sport that – besides being set inside the fancy-mansion atmosphere of a whodunnit – plays out more like The Running Man.
The film is headlined by a rising star in Samara Weaving, who, amongst recent highlights, just nabbed a co-starring role in the long-awaited threequel, Bill & Ted Face the Music.
Ready or Not Cast
Samara Weaving, having starred in the 2017 Netflix horror film, The Babysitter, has been seen on TV runs on Showtime's SMILF, Amazon's Picnic at Hanging Rock, films Mayhem and Monster Trucks, and, before those, a run on Starz's Ash vs. Evil Dead. As mentioned, she'll be one of the newcomers in Bill & Ted Face the Music, in which she'll play Bill's daughter, joined by fellow newcomer Brigette Lundy-Paine, who will play Ted's daughter.
Joining Weaving in the main cast are Mark O'Brien (Halt and Catch Fire), Adam Brody (The O.C.), Andie McDowell (Four Weddings and a Funeral and its upcoming Hulu TV revival) and Henry Czerny (Sharp Objects). Additionally, fans of Syfy's Wynonna Earp will get a kick out of the prominent presence of that show's star, Melanie Scrofano – even if it serves as a reminder about the frustrating state of inertia for Season 4.
Ready or Not was directed by the duo of Tyler Gillett and Matt Bettinelli-Olpin (who both worked on the "10/31/98" segment of 2012 horror film V/H/S) and written by up-and-comers Guy Busick and R. Christopher Murphy. They are joined by producers James Vanderbilt, Tripp Vinson, William Sherak and Bradley J. Fischer, as well as executive producers Tara Farney, Chad Villella, Daniel Bekerman and Tracey Nyberg.  
Ready or Not Trailer
The trailer for Ready or Not has arrived, revealing an intriguingly chaotic, levity-infused horror genre mishmash.
Unfortunately, Grace (Weaving) – like another famous woe-riddled bride in the Kill Bill films – will be forced to absorb crimson stains from some murder-happy-people (which is not a lost R.E.M. song,) onto her white dress, seeing as said murder-happy-people happen to be her husband's (Mark O'Brien) family – the wealthy owners of a board game empire. Indeed, Grace's new in-laws have decided, per some mysterious tradition, to cap off their fancy dinner by trying to make a ritual killing out of her. – Well, at least they're not trying to take over her body via brain-swap.
Ready or Not Release Date
Ready or Not will be set loose at theaters on Aug. 23.
Ready or Not Story
The trailer sums it up pretty well: a young new bride (Samara Weaving) must survive her wedding night while her husband's wealthy family hunts her throughout a sprawling estate due to some kind of ritualistic sacrifice. Below is the official synopsis.
A bride's wedding night takes a sinister turn when her eccentric new in-laws force her to take part in a terrifying game.
Joseph Baxter is a contributor for Den of Geek and Syfy Wire. You can find his work here. Follow him on Twitter @josbaxter.