News
Rattlesnake Trailer: Carmen Ejogo Stars in Netflix Horror Thriller
Carmen Ejogo headlines Netflix horror movie Rattlesnake, playing a mother who makes a dubious deal to save her snake-bit daughter.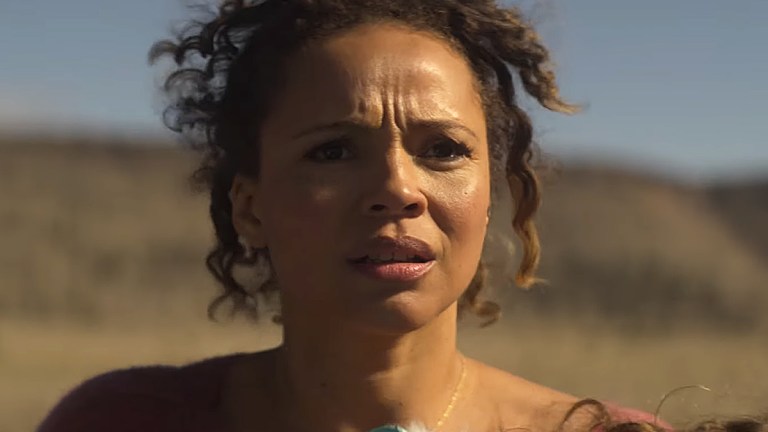 Rattlesnake is one entry amongst a sizable slate of fall season horror offerings over at Netflix.
A psychological horror tale brandishing a tinge of supernatural themes, Rattlesnake – a title that's simultaneously literal and metaphorical – is mainly a performance showcase for star Carmen Ejogo, who plays a single mother who unwittingly makes a Faustian bargain of sorts with a mysterious woman who wields the power to save her daughter, who was bit by a rattlesnake in a remote, cell-signal-deprived desert location. However, as expected, said bargain comes with a colossal cost, one for which a diverse array of seemingly-demonic individuals are coming to collect.
Zak Hilditch wrote and directed Rattlesnake, directly following up his 2017 Netflix Stephen King adaptation horror film, 1922.
Rattlesnake Trailer
The trailer for Rattlesnake has arrived, presenting a pathological potpourri of desperation, curiosity and terror.
Rattlesnake Release Date
Rattlesnake will coil itself up on Netflix on Friday, October 25.
Further Reading: Every New Netflix Horror Movie and TV Series Coming This Fall
Rattlesnake Details
Writer/director Zak Hilditch continues his work with Netflix after the aforementioned 1922. Amongst an array of short films, he's also directed 2012 short Transmission, 2010 dramedy film The Toll and 2007 drama Plum Role. He is joined by producer Ross Dinerstein, with whom he worked on 1922.
Carmen Ejogo headlines here, bringing momentum from her TV run on this year's third season of HBO's True Detective, Starz's The Girlfriend Experience, along with films Alien: Covenant, Selma and, most notably, a recurring Potterverse role as Seraphina Picquery, seen in 2016's Fantastic Beasts and Where to Find Them and 2018 sequel Fantastic Beasts: The Crimes of Grindelwald. Besides a voice role in January's The Voyage of Doctor Doolittle, she'll make a quick Netflix turnaround as part of the cast of the streaming giant's 2020-scheduled TV series, Madam C.J. Walker.
She is joined by a main cast consisting of newcomer child actress Apollonia Pratt, Theo Rossi (Luke Cage, Sons of Anarchy) and Emma Greenwell (The Rook, The Path).
Joseph Baxter is a contributor for Den of Geek and Syfy Wire. You can find his work here. Follow him on Twitter @josbaxter.