News
Rashomon TV Series in the Works at Amblin, Adapting Kurosawa Movie
Amblin Television is developing a TV series based on Akira Kurosawa's bellwether samurai classic, Rashomon.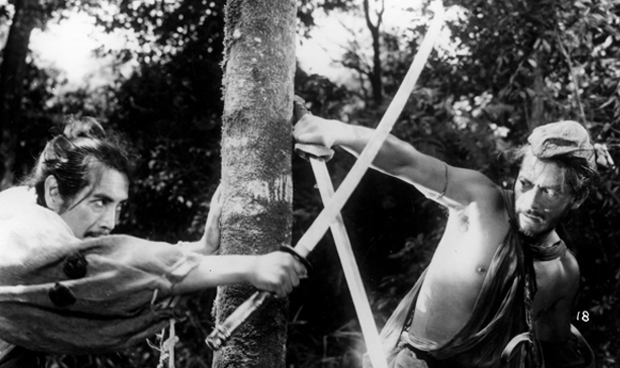 The Rashomon effect is about to hit the medium of television. – At least, that's the way it seems from our perspective.
Indeed, Rashomon, director Akira Kurosawa's 1950 breakthrough samurai-age film – a crucial step in the evolution of stylistic film narration – is getting a serial treatment from Amblin Television, which has just optioned the rights. The film, centered on a crime that saw the death of a samurai and the rape of his wife, famously unfolded its story as told from the differing perspectives of multiple characters, notably buttressing the trope of the unreliable narrator. Indeed, the term "Rashomon effect" became popularized from the subjective narration style of the film.
Amblin's plan is to adapt Rashomon as a series released in 10-episode intervals, with the (somewhat grandiose) design of using each season of the series to showcase the perspective of said crime from one character's point of view. It's certainly an increase in scale from the 1950 film, which showcased the crime through the anecdotal lenses of a prime suspect in notorious bandit Tajomaru (Toshiro Mifune), the dead samurai's wife (Machiko Kyo), the spirit of the dead samurai himself (Masayuki Mori) and a woodcutter who purportedly witnessed the crime (Takashi Shimura). Consequently, should the series follow the film's formula, then Amblin's Rashomon is being planned as a four-season affair.
The Rashomon TV project will be executive produced by Amblin Television co-presidents Darryl Frank and Justin Falvey, joined in that capacity by Mark Canton and David Hopwood of Atmosphere (which produces Starz's Power,) and Leigh Ann Burton of Opus 7. As Burton lauds in a statement:
"It has been an honor to work with the Kurosawa Estate, and to partner with Amblin Television and Mark Canton, to create a series inspired by Rashomon, written by Akira Kurosawa. I can think of no better way to introduce today's television audience to the legacy of this brilliant and esteemed filmmaker."
Frank and Falvey add:
"We couldn't be more excited to adapt this extraordinary film as the foundation for a new dramatic mystery thriller series. It will explore the boundaries of truth and how different perspectives don't often reveal the same reality. We also couldn't be happier to be in business with Mark, Leigh Ann, and David who are great producers and partners."
Canton mirrors their sentiments, adding:
"We can't wait to dig in with Justin and Darryl and everyone at Amblin as we adapt this iconic title for television. We feel this storytelling approach and the way it explores truth and reality is especially timely in today's world."
The developing Rashomon, which Amblin Television will finance, joins a production lineup that includes CBS's Bull, Netflix's The Haunting of Hill House, Apple's upcoming reboot of anthology series Amazing Stories, The CW franchise revival Roswell, New Mexico, Hulu's Animaniacs reboot and Showtime's long-mooted adaptation of video game shooter franchise Halo.
We will keep you updated here on the Rashomon TV series as things develop!
Joseph Baxter is a contributor for Den of Geek and Syfy Wire. You can find his work here. Follow him on Twitter @josbaxter.