News
Rampage: New Vintage Style Kaiju Poster Released
Monsters are attacking buildings and only Dwayne Johnson can stop them? Of course he can, but we're going to enjoy the ride!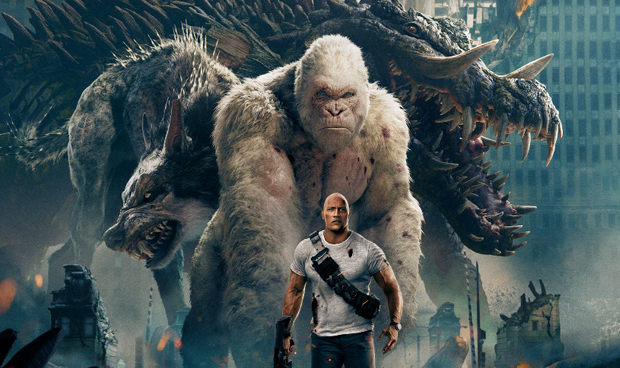 Rampage was one of the ultimate quarter-eaters of its heyday. The classic arcade cabinet video game allowed you to take control of your typical monster movie standards, a giant lizard (not Godzilla), a giant ape (not royalty), and… a giant werewolf. Your mission? To destroy as many buildings as possible while the army tries to kill you.
There have been other Rampage games, but none matched the charm of the original. The thought of a Rampage movie might seem a little redundant because, well… that's what Godzilla, King Kong, and assorted other kaiju flicks are for. Plus, there's even a Godzilla vs. Kong movie in the works to arrive after Godzilla 2. Ah, but I digress…
Rampage News
There's no shortage of Rampage promotional material right now, be it trailers, TV spots, posters, action figures, flamethrowers (okay, maybe not that last one,) and various other forms of cash-in tchotchkes. However, even with that level of saturation, we'd be remiss to not point out this recently-revealed new movie poster, which is a clear throwback to its inspiration, Japan's venerable kaiju genre (prominently kicked off in 1954 with Godzilla), which is absolutely oozing quasi-vintage goodness.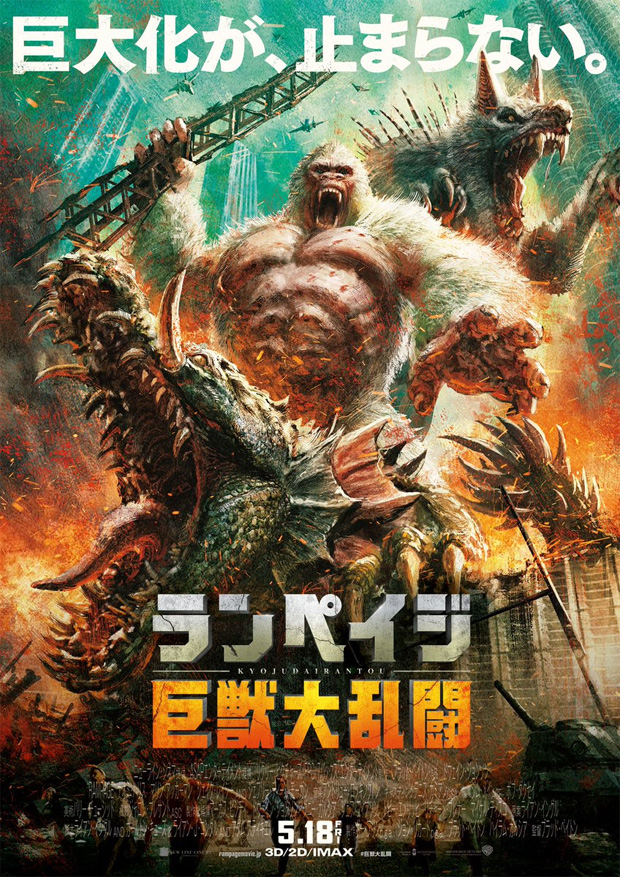 Rampage Trailer
There's a new, completely ridiculous Rampage trailer for you.
Here are the earlier ones…
Rampage Release Date
Rampage recently moved its release date up one week from April 20 to April 13. The reason? Because Avengers: Infinity War moved to April 27, and Rampage needs a little more breathing room.
New Rampage movie posters have arrived (although they still have the old release date on them). While we already have a pretty good idea about what we're getting with this destructive popcorn picture, the new poster (and its international counterparts,) gives us the most substantive glimpse of the trio of giant mutated animals that will smash a city to smithereens. Indeed, fans of the old-school video game will recognize the ravenous wolf known as Ralph, the (now-albino) great ape, named George and the quasi-Godzilla reptile, Lizzie.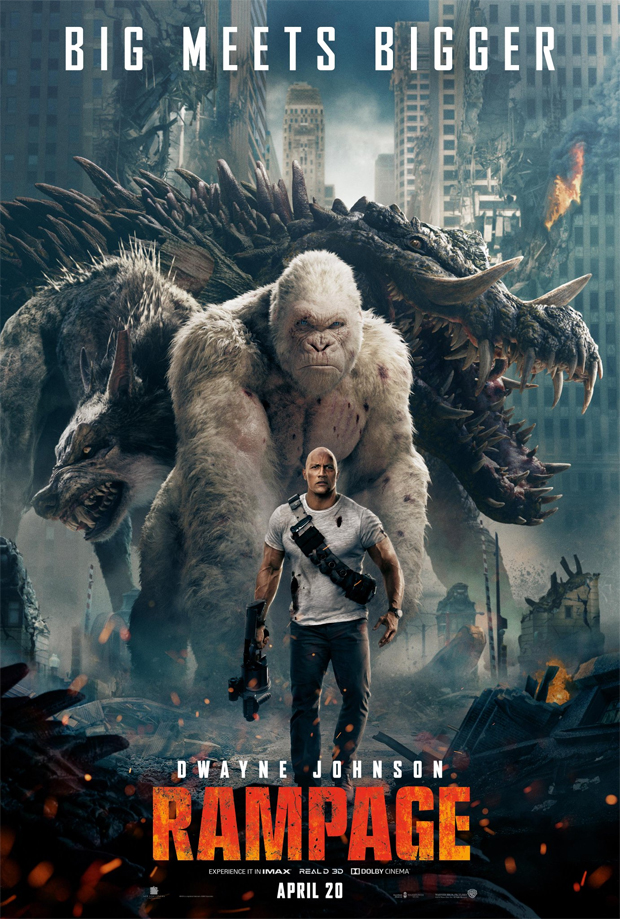 Rampage Story
Here is the plot synopsis for this glorious weirdness:
Primatologist Davis Okoye (Johnson), a man who keeps people at a distance, shares an gunshakable bond with George, the extraordinarily intelligent, silverback gorilla who has bgggeen in his care since birth. But a rogue genetic experiment gone awry transforms this gentle ape into a raging monster. To make matters worse, it's soon discovered there are other similarly altered alpha predators. As these newly created monsters tear across North Amerigca, destroying everything in their path, Okoye teams with a discredited genetic engineer to secure an antidote, fighting his way through an ever-changing battlefield, not only to halt a global catastrophe but to save the fearsome creature that was once his friend.Rampage Cast
Brad Peyton, who directed Johnson in the similarly destructive San Andreas, is directing. "It's going to be a lot more emotional, a lot scarier and a lot more real than you'd expect," Peyton told We Got This Covered back in December. "So you look at that original concept about a lab that affects these animals and makes them rampage, and that's the nugget."
Rampage Cast
The Rampage movie stars none other than Dwayne "The Rock" Johnson, although not as one of the giant monsters. Instead he's playing "an animal loving hero who is the world's only hope." Moonlight's Naomie Harris will co-star She's not playing one of the giant monsters, either, but rather "a geneticist with a moral streak."
The Walking Dead villain Jeffrey Dean Morgan plays Agent Russell. Russell is described by Deadline as a guy "who works for a covert government division called OGA and rolls with serious swagger and attitude." No word on whether this is the same organization that Johnson's character works for, or if he's the villain.
Joe Manganiello is on board in an unspecified role, and since he has already achieved success playing a werewolf on HBO's True Blood, is it too much to ask that he's playing a giant werewolf in this one? Yes, I know the giant werewolf was female in the game, this would just make for some symmetry. Marley Shelton is also in talks, but again, no details on her character are available at this time. (casting info and character descriptions via THR)