News
Rampage: Jeffrey Dean Morgan Villain Inspired by Tommy Lee Jones
We spoke with Naomie Harris, Malin Akerman, and Jeffrey Dean Morgan about Rampage, and who the latter was inspired by.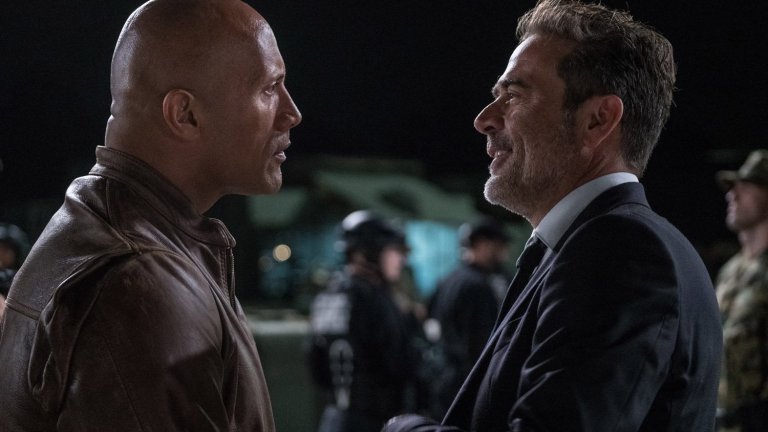 Rampage is in theaters right now, and one of my personal highlights is that in the midst of all the action, destruction, giant monsters, and pretty terrific Dwayne Johnson one-liners, is Jeffrey Dean Morgan as smiling badass Harvey Russell. While some have compared his Southern fried and broad law enforcement officer in the film to Negan, his alter-ego fiend on The Walking Dead, I totally picked up on who Morgan referenced as an inspiration to Den of Geek's Catrina Dennis.
"The only character that I ever thought of, that I vocalized, was like a Tommy Lee Jones. Like a Tommy Lee Jones character. I think he has done the vibe of that character in a lot of his films. That was my feeling going in."
Indeed, if you've seen the film (or if you haven't), Morgan plays a government agent who keeps it vague which department he works for. However, he has a thick Southern drawl and an attitude that Johnson's Davis Okoye calls an "asshole," yet it is implicitly his kind of asshole. While far more arch than any of Jones' law enforcement heroes, the relatively likable Southern good ol' boy on the trail of our heroes is the very part that won Jones an Oscar in the Harrison Ford vehicle, The Fugitive. Since then Jones has played it broader in Men in Black and with more of a deconstructionist melancholy in No Country for Old Men, but it is certainly a familiar energy he's enjoyed bringing out from time to time. And Morgan takes it to cartoonish and caricature levels (which is befitting the film) in Rampage—a movie where he must put Johnson's best friend, a giant albino gorilla growing to the size of King Kong named George, in proverbial handcuffs.
Other standouts in the film include Naomie Harris, who is fresh off her Oscar nominated work in Moonlight, as Dr. Kate Caldwell, a chief CRISPR researcher and Johnson's partner in crime. During Den of Geek's sit down at the Rampage junket, Harris also told us, "It's fantastic. Kate is this incredibly intelligent, capable woman who is used and abused by this lady's character; this evil woman over her," Harris says while pointing to a laughing Malin Akerman. (Akerman plays Claire Wyden, the film's chief villain).
Rampage is in theaters now.