News
Rampage DVD/Blu-ray Release Date and Bonus Features
Here's everything you need to know about the upcoming release of Rampage on DVD and Blu-ray
Rampage arrived in cinemas earlier this year to mixed reviews, but inevitably it still made a whole bunch of cash at the box office. Let he who can resist The Rock battling huge, genetically-altered CGI creatures in downtown Chicago cast the first stone!
In the popcorn-friendly flick, Mr Johnson stars as primatologist Davis Okoye, a simple man who just wants to hang out with the lovable gorilla in his care, George. But a nefarious genetic experiment mutates his intelligent ape into an enormous, angry one, and we soon discover that George is not the only giant creature tearing across America with a beef. It's up to The Rock and geneticist Kate Caldwell (Noamie Harris) to sort the situation out. Smashy smashy-ness, naturally, ensues.
If you were a fan of Rampage, you'll be delighted to know that the film will be available to buy on July 17, 2018.
Pre-orders are up at Amazon now if, like us, you just want to click one button to buy it, and then end up furrowing your brow at your bank statement later, mentally processing yet another impulse purchase.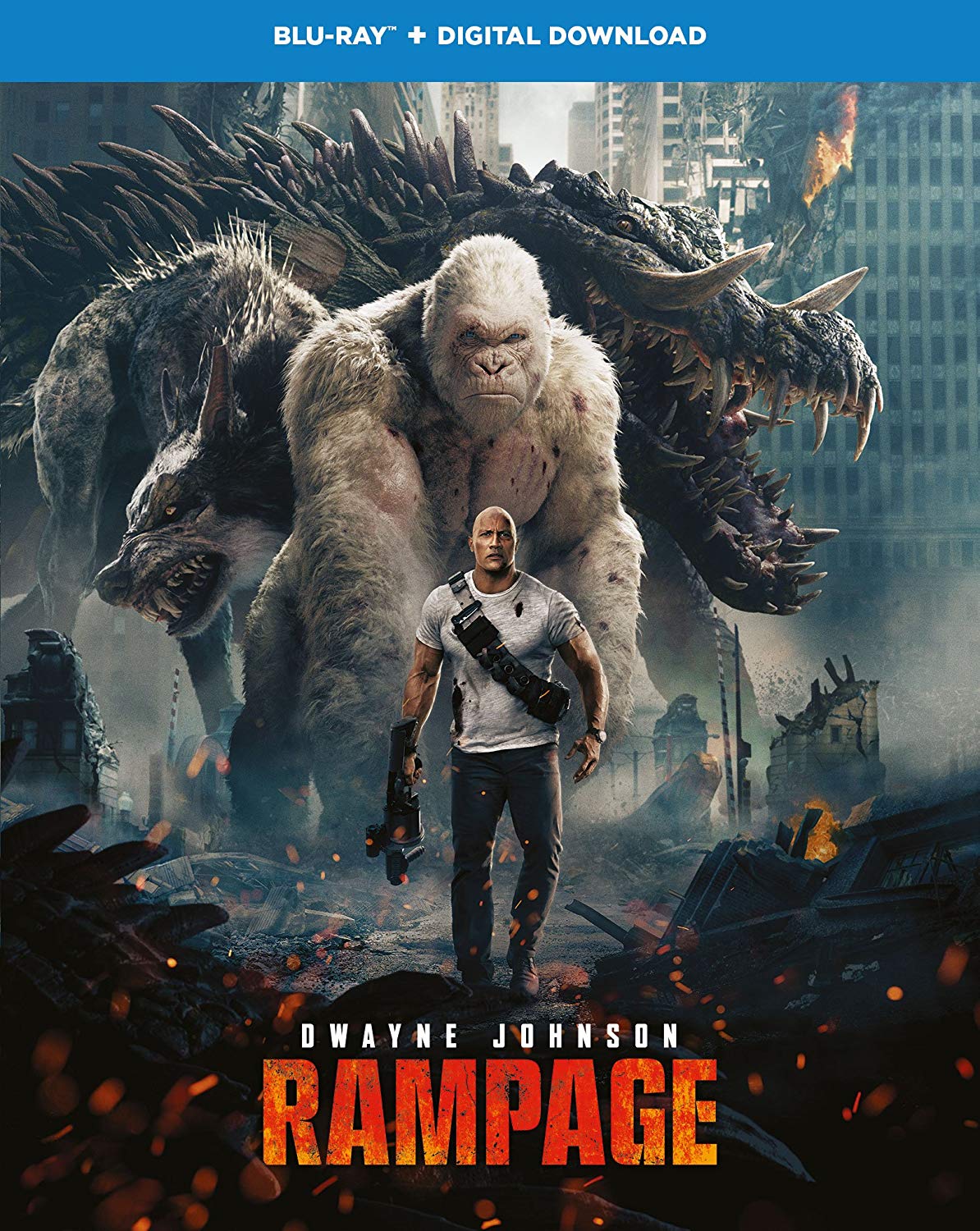 Here's the bonus content you can expect to find on the discs…
Featurettes:
Not A Game Anymore – From arcade sensation to movie monster epic, we explore how the Midway video game inspired the filmmakers to create the ultimate disaster film.
Rampage – Actors In Action: strap in for a wild ride as Dwayne Johnson, Joe Manganiello and the cast prepare for the film's demanding stunts and explosive set pieces.
Trio Of Destruction – Follow the innovative design team and the artists at Weta Digital as they bring to life the biggest and baddest monsters for the film's climactic battle royal.
Attack On Chicago – Director Brad Peyton reveales the challenges of filming on-location in Chicago and turning digital destruction into a cinematic reality.
Bringing George To Life – Discover the wonder of what it's like to be a gorilla, as movement coordinator Terry Notary teaches actor Jason Liles how to move, behave and become "George."
Gag Reel
Deleted Scenes
The DVD will just have the Not A Game Anymore featurette on it.
As always, we remind you that extra features can sometimes end up varying by retailer, territory and format.