News
Rampage Box Office Crawls Past A Quiet Place
Rampage beats past A Quiet Place and industry doomsayers by earning $34.5 million in its opening weekend.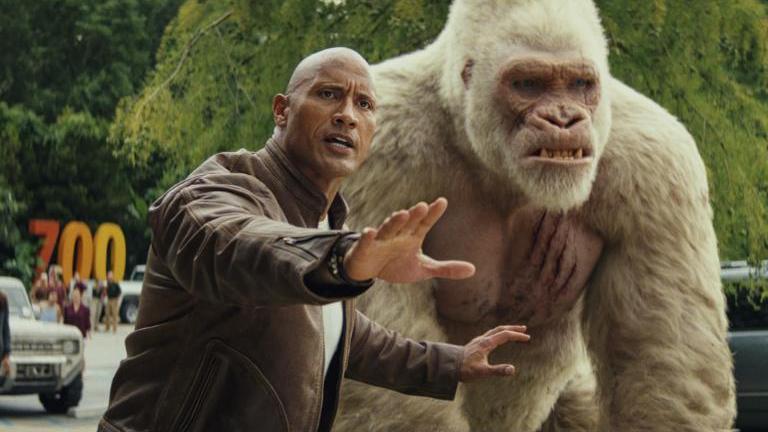 It would appear the reports of Rampage's box office demise (or at least underperformance) have been greatly exaggerated. Indeed, Dwayne Johnson's giant monster movie was at the center of a brief industry feeding frenzy on Friday after a soft opening day led industry prognosticators to panic it'd make as little as $28 million in its first three days, well below the floor of WB's projections for the film and A Quiet Place's anticipated and leggy second weekend. While the John Krasinski and Emily Blunt horror movie did still earn an impressive $32.6 million this weekend (at least per official industry estimates), Rampage defiantly smashed out of the box it was being placed in by opening at the number one spot this weekend with $34.5 million.
This is undoubtedly a boon for Johnson and Warner Bros./New Line who are releasing the picture in which the Rock teams up with a giant albino gorilla to fight a flying 200-foot tall werewolf and a crocodile the length of a football field (you read that right). WB put its official tracking estimates between $30 and $40 million last week, which wasn't exactly a high window for a blockbuster that is officially budgeted at $120 million (not including marketing costs).
Still, come Friday the 13th, and A Quiet Place trailed right behind Rampage by about $1 million (Rampage opened soft at $11.55 million on Friday). Yet the boost the horror movie got on a "spooky" calendar date was dwarfed by apparently the good, family friendly word of mouth buzz around Rampage, which rallied on Saturday to $13.9 million, up a staggering 20.3 percent from Friday. Cinemascore also indicates such Rock-solid WOM as the film was given a coveted "A" by moviegoers.
As such, Rampage is landing right in the middle of WB's projected window at $34.5 million, even though this is still not entirely splendid news for the action movie. After over $100 million in global marketing, the picture has a large price tag attached to it, and $34.5 million is still below most prognosticators' projections which before Friday were closer to $36 million. Additionally, the mere production budget cost of the rampaging goodness is likely not to be matched in the North American box office. In fact, the movie is in no danger of repeating Johnson's Jumanji Cinderella run, and will even probably struggle to reach $100 million domestic, much less $120 million domestic, with Avengers: Infinity War just two weeks away. Already the hype for Disney's latest superhero epic is consuming early box office dollars like a tsunami. Hence why Rampage is really going to have to rely on international box office to turn it into a full-fledged hit, or even turn a profit.
A Quiet Place, meanwhile, had a tremendous weekend, dropping only 35.1 percent from its monstrous $50.2 million opening weekend. At a cost of merely $17 million, the film has already made nearly six times its budget with a North American gross of $99 million. When coupled with international grosses, at this point, anything the extremely popular and WOM-friendly horror movie makes is profit.
Universal and Blumhouse's Truth or Dare also scared up $19.1 million this weekend, which is impressive considering its toxic reception from critics (it currently has a Rotten Tomatoes score of 15 percent) and a lukewarm reception from audiences, as indicated by its "B-" Cinemascore, which is actually closer to a failing grade in terms of word of mouth. Expect a heavy drop off next week, but as the movie falls under Blumhouse's famed micro-budget system (it is budgeted a $3.5 million), the matter is moot.
Ready Player One and Blockers round out the top five with a respective $11.2 million and $10.3 million take, showing remarkable staying power each with an average 54.5 percent drop for the former and a solid 49.9 percent drop for the latter comedy.