Reviews
Rachel Getting Married DVD review
Anne Hathaway's Oscar-nominated wedding movie makes for compelling viewing. Mark reviews Rachel Getting Married...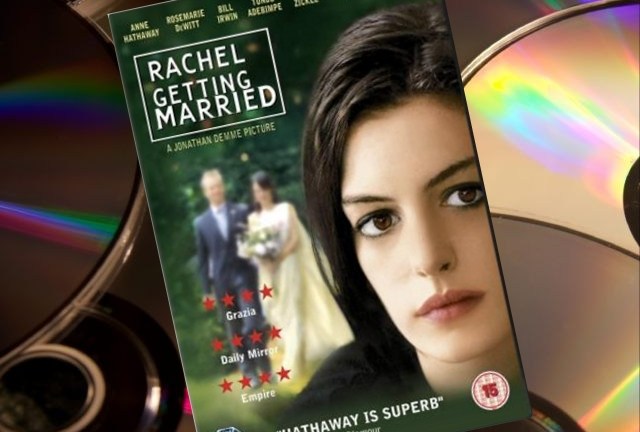 It's fair to say that this year's Bride Wars received a savaging from movie critics far and wide. I haven't seen it myself but the thought of watching a couple of privileged, prissy people arguing about having picked the same day for their wedding appealed about as much as watching my own wedding speech back again.
Anne Hathaway is one of the pair of duelling friends in that film and also stars in the distinctly wedding-themed Rachel Getting Married. While Bride Wars sounds as vacuous as they come, the complete opposite is true of Jonathan Demme's flick which covers family loyalties, addictions, tragedies and love, all over the course of a wedding weekend.
Hathaway plays Kym, sister of the Rachel of the film's title, and she's a troubled soul. Returning home for the weekend from rehab (we learn that she's been in and out of clinics for many years) to play her role in her sister's wedding to Sidney, Kym's relationships with her entire family are laid bare as she clashes with Rachel, becomes increasingly frustrated with her father and comes to blows with her mother. Tensions mount as Kym's all-too-honest approach to life causes upset all round and past mistakes and regrets begin to surface – one in particular proving pivotal to the family dynamic.
So, while Rachel might be the name on the film's title, it's clear that this movie is really about Kym (indeed the title itself is perhaps a veiled comment on how Kym and her sister have wildly different views on the weekend and their roles within their family). Fitting then that Anne Hathaway delivers a captivating performance that won her an Oscar nomination.
Roles like this are always likely to attract attention as they centre around 'serious' issues and I dare say many other actresses could have pulled it off as well as she does but that's not to take away from what is a performance I will remember for some time to come. It also demonstrates Hathaway's range as an actress as I rated her highly in The Devil Wears Prada, a light-hearted role that nevertheless required a skilled actress that you could really empathise with. Here she lays her soul bare – literally in one touching moment with her sister – and it's a brave, emotional performance that fully deserves the recognition it received.
Can a film be worthy of your time for one standout performance, though? That's a question you need to ask yourself before purchasing this, because the film as a whole doesn't really match up. It's about twenty minutes too long and while there are undoubtedly great moments in the film – Kym's father's subtle breakdown in the kitchen is a real tearjerker as is Kym's rehab confession – they are interspersed with an awful lot of filler.
Demme's directing style for the film was to effectively stage a 'real' wedding, encouraging cameramen to film actors milling about the set and instructing his actors that anything could be shot at any time. This lends the film a credible atmosphere and it really does feel like an authentic group of family and friends. The problem is that real life wedding videos can be quite dull at times and if Demme had shown the courage in the cutting room floor to take out some of his favourite wedding guest speeches and other innocuous moments surrounding the big day, I can't help but feel that it would have been a better film for it.
One aspect of the film that is improved by Demme's style is the music. Having live music on set courtesy of the wedding band and various other acts that make up the party atmosphere in the film works a treat and suggests that this is as much an ode to music as it is to families.
Rachel Getting Married is a good film that unfortunately meanders too often, swimming in the pool of ideas of its director and immersing itself in its subject matter so much that it becomes a clock-watching exercise from time to time. However, Demme's directorial style is, in the main, a great success, drawing out fantastic performances from the cast (Debra Winger, Rosemarie DeWitt and Demme regular Bill Irwin deserve particular mentions) and one barnstorming, heartbreaking one from Hathaway.
It's worth a look for those performances alone but prepare to keep your finger on the fast forward button.
Extras A couple of commentaries are quite insightful but a raft of deleted scenes only serve to further demonstrate the film's bad points. Further scenes of Hathaway's time in rehab and more wedding speeches (how could there be any more?) should have been accompanied by more scenes that made the final cut.
Two small features on the making of the film are interesting, especially The Wedding Band feature about the live music used throughout, and a Cast and Crew Q&A offers tons of insight into the making of the film and Demme's craft.
Perhaps the most interesting extra, though, is the trailer which demonstrates how a film can be mis-marketed to the public so drastically. If the trailer is to be understood, the film is pitched as a light-hearted comedy with the odd bit of family tragedy thrown in. Nothing could be further from the truth. Rachel Getting Married is tough going and whoever put this trailer together was clearly attempting to attract a wider, more mainstream audience.
Film:
Disc:
Rachel Getting Married is available now.