News
Quentin Tarantino's Star Trek Would Be Pulp Fiction in Space
Auteur director Quentin Tarantino would defy the Prime Directive if he helms a Star Trek movie.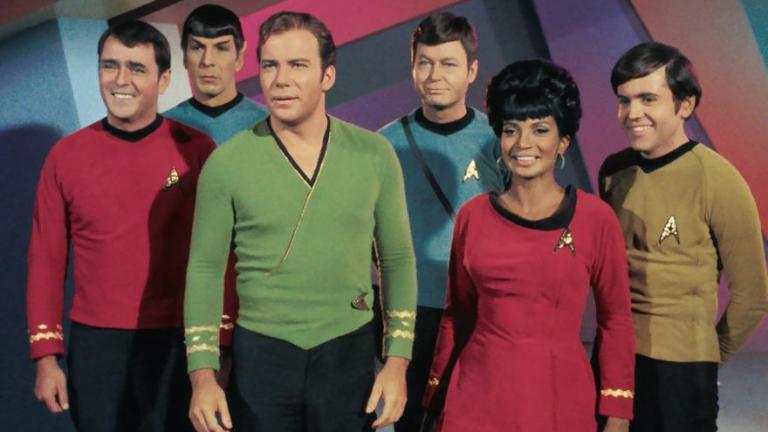 Quentin Tarantino will take the Enterprise where no Star Trek vehicle has gone before. The possible director of an upcoming installment of the stellar franchise is going to grind it down before launch. He says the project is even new for the science fiction genre. His vision of a Star Trek movie would have R-rated language, violence, dark comedy and a "gangster element" before he takes a piece of the action. In other words, it will be a Tarantino movie. The award-winning director, who's Once Upon a Time in Hollywood opens next week, told Deadline his upcoming Star Trek movie will be "Pulp Fiction in space."
And he doesn't care what engineer Montgomery Scott has to say about it. "I get annoyed at Simon Pegg," Tarantino told Deadline. "He doesn't know anything about what's going on and he keeps making all these comments as if he knows about stuff."  In a 2018 interview with Coming Soon, Pegg said "everyone sort of assumes it's gonna be like Pulp Fiction in space," but explained Tarantino is too devoted to the franchise to mess with the prime directives.
"Yes, it is," Tarantino says. "If I do it, that's exactly what it'll be. It'll be Pulp Fiction in space." The director says the screenplay, written by The Revenant's Mark L. Smith, has "that Pulp Fiction-y aspect, when I read the script, I felt, I have never read a science fiction movie that has this shit in it, ever. There's no science fiction movie that has this in it. And they said, I know, that's why we want to make it. It's, at the very least, unique in that regard."
The film will also be uniquely Tarantino. "If I'm going to do it, then I'm going to do it my way," he told Deadline. "If you've seen my nine movies, you kind of know my way is an R-rated way and a way that is without certain restrictions."
He also said he got encouragement from JJ Abrams, telling Deadline "JJ said, 'Quentin, I love this idea because I think with Star Trek we can go any way we want to." Look, I've got a situation. As long as Paramount likes the idea and the script they almost got nothing to lose right now when it comes to Star Trek. So really, even before JJ knew what the idea was, his feeling was, if it wants to be an R rating, fine. If it wants to be the Wild Bunch in space, fine."
The director of Reservoir Dogs and the Kill Bill movies says he's a "big fan of the show … but my portal into that show is William Shatner. I love William Shatner on Star Trek. I love his performance as James T. Kirk. That is my connection. That is my umbilical cord. It's why I like Star Trek more than Star Wars, because William Shatner's not in Star Wars. I think it's one of the greatest performances in the history of episodic television, of a series lead, and rightly so, because very few series leads have ever gotten the opportunity to play all the different wild, crazy things."
read more: Quentin Tarantino Star Trek Movie Still "A Very Big Possibility"
Tarantino hasn't officially committed to the project. He also is on record as saying he will retire after he completes his tenth movie. He just finished his ninth, Once Upon a Time in Hollywood, and is ready to explore strange new worlds. Tarantino told Deadline he has written five episodes of a TV series called Bounty Law, the fictional 1950s series Leonardo DiCaprio's character Rick Dalton is known for in the film, though he "can't imagine Leonardo is going to want to do it."
The Dalton character also has a Star Trek connection. Tarantino tells Deadline he wrote the character while he "was on a bit of a William Shatner kick where I was trying to watch the TV movies and the stuff he did after Star Trek, guesting on other shows. Everything before Star Trek the motion picture."
Once Upon a Time in Hollywood opens July 26.
Read and download the Den of Geek SDCC 2019 Special Edition Magazine right here!
Culture Editor Tony Sokol cut his teeth on the wire services and also wrote and produced New York City's Vampyr Theatre and the rock opera AssassiNation: We Killed JFK. Read more of his work here or find him on Twitter @tsokol.