News
Quentin Tarantino Star Trek Movie Has a Script
With the fate of Star Trek 4 up in the air, Quentin Tarantino's Star Trek movie is looking more and more possible.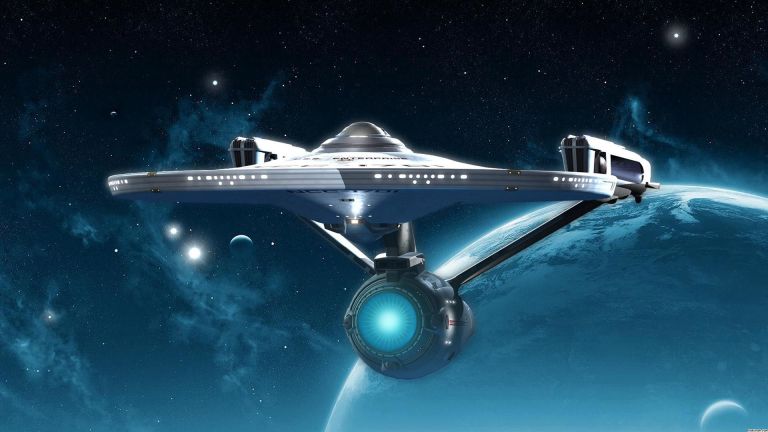 Quentin Tarantino has pitched an idea for a new Star Trek film and Paramount loves it, according to Deadline, which reports that Tarantino is in talks to explore the final frontier for the studio. While nothing is set in stone, Tarantino has already met with producer J.J. Abrams about his Star Trek idea, as well as with a writers room.
Not only that, but, apparently, a script exists for Tarantino's Star Trek film. Tarantino himself dropped that nuggest of information to Empire Magazine (via Comicbook.com), saying: "There's a script that exists for it now, I need to weigh in on it, but haven't been able to do that yet."
Deadline previously reported that Mark L. Smith (The Revenant) was set to pen the script. Lindsey Beer (Chaos Walking) and Drew Pearce (Iron Man 3) were also in the running to write the film and met with Tarantino in late 2017 to discuss story ideas. 
In January, Paramount motion-picture group president Wyck Godfrey spoke to the New York Times about the plans for the movie studio. His comments made it sound like Tarantino's Star Trek is a priority for the studio.
Mr. Godfrey's coming film lineup emphasizes big-budget, global-audience movies, known in Hollywood as tentpoles … Mr. Godfrey is working to breathe life into the tired 'Teenage Mutant Ninja Turtles,' 'Terminator,' 'Star Trek' and 'G.I. Joe' franchises …
Talking about the long-term viability of Paramount's franchise properties, Godfrey said: "Imagine, for instance, Paramount giving 'Star Trek' to Quentin Tarantino. 'Suddenly people's eyes light up,' Mr. Godfrey said. 'Yours just did.'"
If all goes according to plan, the film is shooting for an R rating, and Tarantino might direct the movie himself. This would be the first time the director has taken on a project in an existing franchise. Although he's preferred to create his own material for most of his career, Tarantino has expressed interest in working with a franchise in the past, namely a Bond movie. That said, Star Trek would be a huge departure from the rest of his work.
Back in 2015, he told Vulture that he wasn't really interested in making a sci-fi film, but that he might have an idea for one that "wouldn't involve spaceships." We'll assume he wasn't talking about Trek, which mostly involves spaceships. That said, whatever his Trek idea is, we're sure it's pretty far-out. And who's to say that it isn't a movie where the Enterprise travels back in time to the Old West for a Magnificent Seven-like adventure? 
Further reading: Quentin Tarantino's Star Trek Plans Are "Bananas"
Tarantino is making his next film for Sony. It takes place in the 1960s, right around the time of the Manson murders. Margot Robbie has been cast as Sharon Tate. Brad Pitt, Leonardo DiCaprio, and Tom Cruise are in talks for two leading roles as well. That movie is out on August 9, 2019, which means we wouldn't see Tarantino's Star Trek movie until 2021 at the very earliest. That's plenty of time to make Star Trek 4 in the interim. 
As far as Trek 4 goes, things are not looking pretty. No one seems to be budging in the salary standoff between Paramount and stars Chris Pine and Chris Hemsworth, which has left development at a standstill and the very fate of the movie in question.
In a particularly bold move, Paramount had previously already announced what Star Trek 4 would be about. Here's the synopsis from the studio:
"In the next installment of the epic space adventure, Chris Pine's Captain Kirk will cross paths with a man he never had a chance to meet, but whose legacy has haunted him since the day he was born: his father."
It remains to be seen whether this story actually gets made. Meanwhile, we'll keep you informed as we learn more about Tarantino's upcoming five year mission where no man has gone before.