Reviews
Q.I.: The B series DVD review
Rhys is very good at Trivial Pursuit and pub quizzes. Who else could we ask to review QI for us?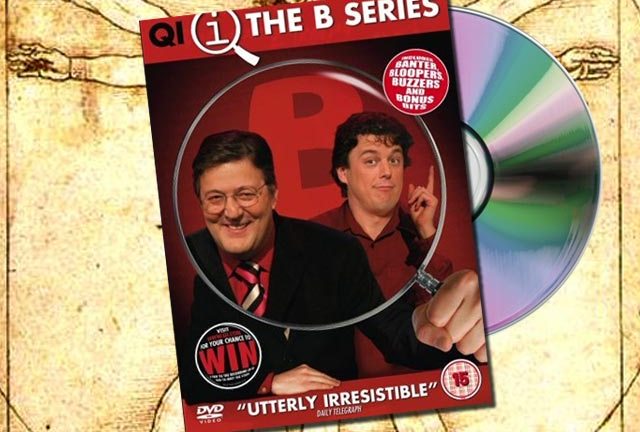 Back in my college days, I was Trivial Pursuit king. I spent the best part of my first year beating all-comers to that sixth piece of cheese/slice of pie (delete according to dietary preference), racking up victories until, in my second and third years, no-one would play me, making weak excuses to do other, less interesting things like drink beer and chase girls instead.
I always saw this as a capitulation, my friends admitting that they would forever be second best at 'Triv'. It was only many years later that one of my victims told me that it wasn't the losing that put everyone off, it was my annoying habit of answering a question (correctly, of course), and following it up with tangential fascinating facts scraped out of the darkest recesses of my mind and presented with smug self-satisfaction.
Some 15 years later, legendary comedy producer John Lloyd took my annoying habit (we've never met, but word obviously gets around) and turned it into a panel show, adding lashings of humour to keep viewers entertained rather than heading breakneck for the nearest Student Union bar.
And unlike my career as a professional know-all and all-round pedant, QI – the panel show in which contestants earn points for 'Quite Interesting' answers and lose points for blurting out the obvious – has been a roaring success. The fifth series aired late last year and the endless repeats on Dave are said to bring in the channel's highest audiences.
The DVD set of series 2 – or Series B, as it's called, every episode being themed around something beginning with 'B' – has been released more than three years after first airing in late 2004, and sees the characters established in the first series firmly bedded in, with Stephen Fry genuinely in his element as the all-knowing yet playful headmaster, Alan Davies as the class dunce and a who's who of panel show veterans, the pick of whom are Bill Bailey, Phill Jupitus and Mark Steele, joining the fun.
Of course, like Les Dawson and his off-key piano playing ("Well, he must be good to play that badly", a million grans uttered in unison), and despite losing every episode, Davies is far from being the class idiot, poking fun at Fry's upper-class affectations ("My prep school tailor was called Gorenge") and turning the tables in the final episode when, in some last-day-of-term fun, he asks the questions and watches Fry squirm as he himself comes up with the obvious-but-wrong 'forfeit' answers.
But so far so Dave. Is there anything to gain from investing in this DVD rather than switching your Sky to Series Link? Well, there's the 30 minutes of out-takes, called 'Bloopers' on the disc but mercifully less Dennis Norden and more like those extra bits they put back into the extended Have I Got News For You on Saturdays. And where else would you discover that Bernard Matthews once considered breeding turkeys with a third leg to stop them toppling over onto their over-plump breasts, that Tony Hart's sidekicks Morph and Chas were named after morphine and cocaine or that Russian WWII soldiers used to have sex with ducks.
There's also a round-up of all the different buzzer sounds used in the series' 12 episodes, which you can watch programme-by-programme or as one long montage. It's funny enough, but why you'd bother watching this sequence more than once is beyond me.
The final extra is 'Banter', a commentary with Lloyd and question wranglers John Mitchinson and Piers Fletcher. There's over 2 ½ hours of this chat spread between the two discs, comprising retractions and apologies for incorrect facts, and general discussions on how questions were devised and where they dug the facts from.
It's purely audio, with the screen displaying random stills from the series, so it'd be good to have on in the background while you were doing something else, but its dry tone does remind you why QI features some of the sharpest wits in the business rather than TV producers, wiki-worms and annoyingly smug people who just happened to good at trivia games in their late teens. Disappointingly, the banter also explodes the myth of Fry as all-knowing genius, with the producers hinting that they slip him facts through his earpiece during recordings. Pah.
QI is already an institution, and its stated if unlikely aim of being a 26-year project is already five years in, with Series F due on our screens later this year. If you're a big fan then add this DVD to your collection. If not, it'll be on an oddly branded digital TV channel near you soon anyway…