News
Pump: TV Series Based on Arnold Schwarzenegger's Bodybuilding Days in the Works
Arnold Schwarzenegger's bodybuilding and hedonistic hijinks in the 1970's will inspire a television drama called Pump.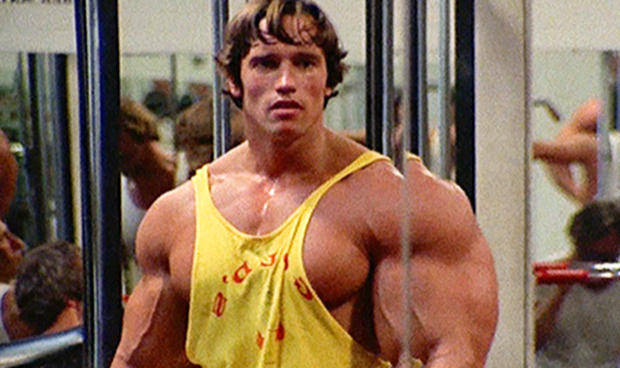 Long before Arnold Schwarzenegger became Hollywood's jacked-up, one-liner-dropping, Austrian onscreen ass-kicker, he was Venice Beach's jacked-up, hard-partying Austrian bodybuilding contest dominator; something that was documented quite prominently in the 1977 documentary Pumping Iron. While Hollywood success drove Schwarzenegger (somewhat) far from his driven, rep-heavy lifestyle, it seems that his sinuous salad days are about to become the inspiration for an upcoming television series.
According to Deadline, a deal was reached with CBS for an 8-episode hour-long drama series appropriately called Pump. Set in 1973, the show will be fictionalized, loosely based on the biographical 1970's exploits of a then-newly-immigrated Arnold Schwarzenegger, who divided his time between pumping under the sun behind the fences of Muscle Beach with an intense, sometimes robotic (/pun) focus on becoming the most famous bodybuilder in the world; something exemplified by his 7 Mr. Olympia wins and 4 Mr. Universe victories. Schwarzenegger himself will be producing the series, along with CEO's Randall Emmet and George Furla of Emmet/Furla/Oasis, along with Eric Tannenbaum of The Tannenbaum Company.
Pump reportedly had quite the circuitous journey along the developmental trail. Plans were in place at one point to develop the series for Showtime and even in the streaming circuit with Hulu before the project fell into the hands of its current crop of producers. For Schwarzenegger, Pump was both a labor of love and an elegiac (albeit indirect) examination of his past. As Schwarzengger explains:
"I knew from our first brainstorming session that Pump would be a hit. The 70's were such a colorful, transformational time, for me and for our entire country. I look forward to bringing that color to people's living rooms with the fantastic, deep characters and the multi-layered story lines of Pump. I feel so passionate about this project because today it's easy to take our gyms and culture of fitness for granted, but it all started with this wild group of bodybuilders as a tiny subculture in a little dungeon gym in Venice Beach. I can't wait to get to work with our great team."
Arnold Schwarzenegger's story remains one of the quintessential examples of an unlikely achievement of the American Dream as the cocky young, sometimes unintelligible bodybuilder would go on to reach an unthinkable altitude as one of the most recognizable people on the planet, becoming the star of Hollywood's most enduring 1980's/1990's action franchises like The Terminator, Predator, Total Recall and True Lies, later even becoming the Governor of California. However, it will be interesting to see how the vice and cultural upheaval depicted in Pump gets handled in the context of its rather obvious real-life parallels to Schwarzenegger's past and, perhaps more importantly, the heights he would eventually reach.
There's no word yet on when Pump will commence production.