News
Prospect Trailer: A Space Sci-Fi Twist on Gold Rush Movies
Indie space/sci-fi movie Prospect touts Wonder Woman 2's Pedro Pascal for a unique genre offering.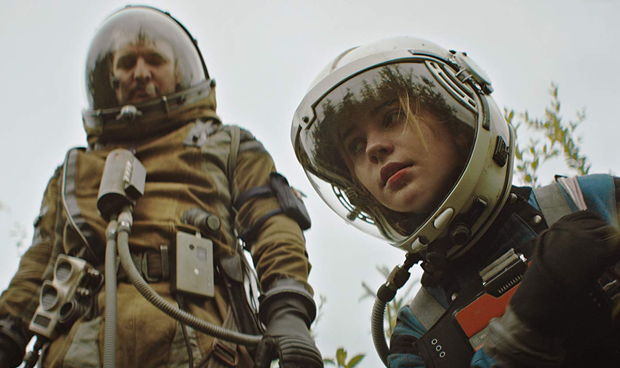 Prospect, a space-set sci-fi movie, premiered back in March at SXSW, where it garnered favorable reviews for its inventiveness and universe-building detail. Indeed, a notable quote from Variety's review made the potent evocation that "this is what the standalone Star Wars movies should feel like," which should make genre fans take heed.  
For Prospect, directors/writers Chris Caldwell and Zeek Earl present a feature-length remake of their 2014 short film of the same name. However, unlike the short, this one will be headlined by known names such as Pedro Pascal and Jay Duplass. The film is the collective production of Depth of Field, The Realm and Ground Control.
Prospect Trailer
The Prospect trailer immediately hits you with impressive space visuals, filtered through a pastel-colored lens, giving things a retro feel. Yet, the story itself takes the time-tried Star Trek practice of transplanting Western tropes into outer space, except this time using the historical premise of the Gold Rush. The film centers on space-traveling father/daughter duo Ezra (Pedro Pascal) and Cee (Sophie Thatcher), who have headed out to a toxic forest on an alien moon with designs to get rich by mining a type of gem that – apropos to gold's period table designation – is called "aurelac." However, just like in any classic Gold Rush story, greed amongst the primary characters becomes the enemy, as an encounter with another group sends Ezra and Cee's relationship down a dark path of avarice.
This is an intriguing starring role for Pedro Pascal, who's been fielding a string of movies and TV runs that are increasingly high profile in nature. The former Game of Thrones actor is coming off movie appearances in The Equalizer 2 and Kingsman: The Golden Circle and will have a major role in the highly-anticipated DCEU sequel, Wonder Woman 1984. He is joined by onscreen daughter Sophie Thatcher, a newcomer, who recently fielded TV runs on Chicago Med and The Exorcist. – Joining them in the cast are names such as Jay Duplass, Andre Royo and Sheila Vand.
Prospect Release Date
Prospect is set to arrive at theaters through Gunpowder & Sky's Dust label on November 2.
However, the film is being dangled as a major movie carrot for the BVOD (blockchain video on demand) streaming service, SingularDTV, on which it will premiere in 2019 after the theatrical run. *Edited for clarity.
Joseph Baxter is a contributor for Den of Geek and Syfy Wire. You can find his work here. Follow him on Twitter @josbaxter.