Reviews
Prisoner: Cell Block H Volume 1 DVD review
32 episodes direct from Wentworth Detention Centre? No wonder we've not seen much of Alan...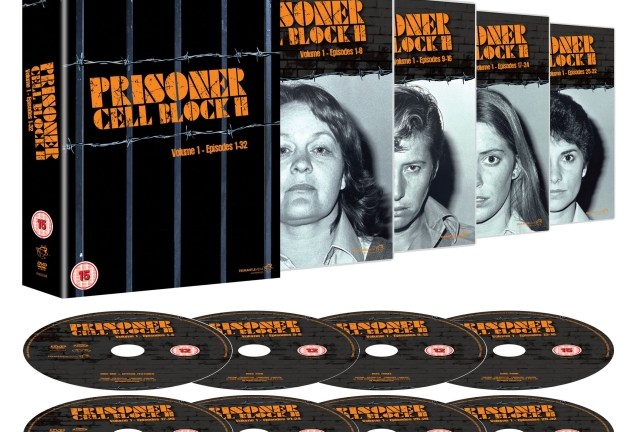 Spread across eight dual-layer discs, this compilation covers the first 32 of almost 700 episodes of the cult Australian drama set in Wentworth Detention Centre.
There's a whirlwind introduction to a fairly large cast of prisoners and wardens, or 'screws', largely seen through the eyes of newcomers Karen Travers and Lynn Warner, both behind bars for the first time.
On the first disc alone you'll find lesbian advances, a short-lived siege and a couple of killings thrown in for good measure. A glut of other characters is quickly introduced, including some of the most memorable faces of the show's run such as Bea, Lizzie, Doreen and lovable tart, Chrissie. Backstories are revealed in flashbacks, and it's hard not to develop an affinity for at least a couple of the murderers, thieves and prostitutes as you get to know them.
Not all of the action takes place behind bars, though. The release of a couple of long-serving inmates gives you an opportunity to see them adjust to life outside – or fail to – and you even get to visit the homes of the wardens, which seem barely any less drab than the prison itself. Maybe that's why they become so tied up in their work and relationships with the prisoners.
Though it's too early for series icon Joan "The Freak" Ferguson to be seen, deputy governor, Veran Bennett, is luckily on board to cause a bit of mischief among the prisoners, making a nice contrast against the much softer Meg Jackson and the school mistress leanings of Erica Davison.
Prisoner dates back to a more innocent time when subjects were only alluded to in dialogue, and there's some deliciously hammy acting as the women deal with drug addiction and suicidal feelings.
The production values seem low budget but that's a part of the show's charm, and the indicental music is easily as melodramatic as the acting. Infamous for wobbling sets that the prisoners could easily punch their way through, the show is oddly compulsive even now, due to the sheer amount of scheming.
The DVD release even retains the cheesy freeze frames and thunderous rolling of prison bars where the ad breaks used to be, reminding you that, no matter how lovable members of the rogues gallery seem, they're in there for good reasons. Well, most of them.
This set covers a tiny fraction of the show's total run, but it crams in plenty of drama by cramming in multiple shootings, stabbings, murder and sexual shenanigans. Keep an eye out for a young Anne Charleston, too, the first of a string of future residents of Ramsay Street to appear in the series.
Menu presentation is suitably low budget and uses the memorable theme song, On The Inside, to whet the appetite of old fans. Each disc is dual-layer so you won't find that each group of four episodes is horribly compressed.
Longtime fans will enjoy every moment, but you're bound to be frustrated if further volumes aren't quickly made available. That's the trouble with releasing a long-running and prolific series on DVD, as a chronological release means favourite episodes are some way off. My own, the great fire of Wentworth, the first episode that I saw, is several years down the line from here, but this really is the mother of all camped-up women's prison dramas. Fans of Bad Girls should definitely take a look.
---