Reviews
Primeval Series 3 DVD review
Wooden acting, cheesy lines and unoriginality aside, Primeval still manages to be a good old romp that sucks you in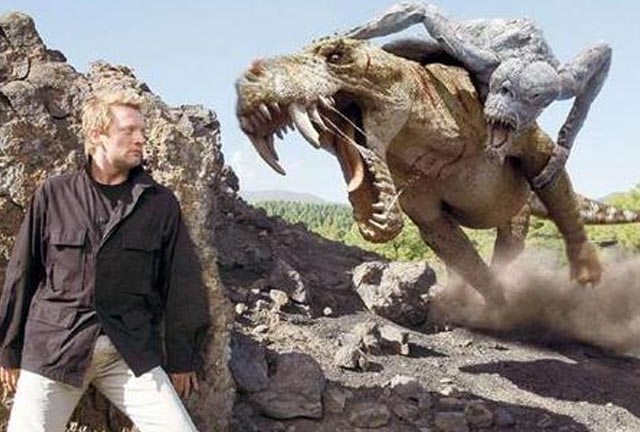 To be honest, I never watched the first series of Primeval when it was originally shown. I saw trailers for it. I didn't like the look of it. I relented only last year when I spied the complete series in a DVD bargain bin in my local supermarket. For £3, I really didn't think I could go wrong. And do you know something? I was right. So much so that I had to go buy series two all on DVD at a slightly less attractive price than under a fiver, having completely missed every episode of series 2 when it was transmitted. Yet I was still taken, quite by surprise I must admit, at how much I enjoyed it – even with the continued wooden acting, the clichéd set pieces and the clunky dialogue.
So imagine my delight (and trepidation!) when series three came along. And yes, I still managed to miss the whole lot on initial broadcast. So it was straight to the DVDs to view the third outing from scratch of Adrian Hodges and Tim Haines' monster-fest.
Robert's already reviewed each episode individually elsewhere on DoG – so I'm not going to go into plot-lines in any great detail here.
Repercussions of a character's actions are elements of drama that some series occasionally forget to include. However, that's less prevalent in modern-day fantasy programmes and certainly it appears obligatory that huge story arcs are developed around them (Lost, Heroes, DS9 and modern Doctor Who to name but a few) – so it's no surprise that Primeval follows this trend right from season one, episode one.
Yes, we have the obligatory monster-of-the-week…but that is the point of the series – there are anomalies across time that allow creatures to step through, so what else would we expect? And yes, there is the argument that surely more anomalies would open to more closer times – such as the 19th century or a little further back – and they've touched on that briefly this series with the medieval hamlet, the house of 14 years ago and the 1930s-era cabin (although, admittedly, the latter was not reached via an anomaly).
The success of seasons one and two led to the subsequent run to have an increased episode count of ten. As a result, rather than outstaying its welcome, the writing team was able to include wider characterisations and expand the conspiracy story thread to greater heights.
Certainly the main impact on the characters and their actions was felt initially by the demise of Stephen Hart at the finale of S2 and this was exacerbated further by the death of the main character, Nick Cutter in the third episode here. Interestingly, as well as showing the surviving characters mourning the loss of their leader and mentor, the series was also savvy enough to show that, without Cutter, the team was initially without guidance and prone to make mistakes.
The Abby and Connor double-act (brought to life by Hannah Spearritt  and Andrew Lee-Potts) spent most of the series apart and their interaction was sorely missed. It was a relief then when they glided back together towards the end, their platonic relationship a little more delicate but, in contradiction, their friendship stronger as a result.
Jenny's departure was a necessity (after Nick's death) and was clearly going to happen – she was ousted from the Arc's cosy nest by Sarah Page (played by the delectable Laila Rouass), acharacter sharing more similarities than not with Jenny, so one had to go. Not really a shame, because Claudia had more life to her than Jenny but one did get the impression that Lucy Brown had more fun with Jenny than she did with Claudia. (I have to change the subject briefly here, though, to ask why, if no one believed Nick's assurances that Claudia did exist, did he not show anyone her photo before? And furthermore, if evolution changed to remove her from existence, how is it that a photo of her still survived anyway?).
Jason Flemyng's Danny Quinn really didn't fit in with the established team the moment he appeared – but that could be because, as Cutter's eventual successor, his methods and back-story were markedly different to that of the professor's. Quinn thought with his emotions, knee-jerk reacted to situations as they were presented to him and because of that, successfully added a new element to the team: more hands-on, more action and more set-pieces you could shake an anomaly detector at. But I'm not sure his swift appointment to leading the team rang true in light of his colleagues' initial reluctances to follow him.
A character that didn't work for me was Abby's brother. While Connor becoming Lester's short-term flat-mate gave those two characters good screen time together and some amusing asides, Jack brought nothing to the group except becoming a liability. But that said, he did help further develop Abby's relationship with Connor.
Captain Becker (Ben Mansfield), another new face, neatly replaced the Hart-shaped gap – almost clone-like, you might say…
…which leads nicely to the ongoing Helen Cutter story. I'm not sure if it's explained exactly how she manages to duplicate the Cleaner (or her own husband) so perfectly and so quickly – and I'm not sure it really matters – but I was hoping for more sending in the clones. If Helen had any sense, she would have infiltrated the entire Arc with duplicates of Abby, Connor, Jenny et al and usurped James Lester (Ben Miller) far more successfully than the somewhat clichéd Christine Johnson (Belinda Stewart-Wilson). While that may have encroached BSG territory of guessing who the hell really was who, it would have added a new dimension to the conspiracy thread.
But alas, the idea of any new clones died with Helen back in Pliocene Africa.
And with the deaths of both Mr and Mrs Cutter (Douglas Henshall and Juliet Aubrey) and no open anomalies, we're left to wonder exactly how S4 will resolve the climax of this current series.
As far as the series as a whole went, it worked exactly as intended. Yes, some of the set-pieces are blatantly lifted from other past productions in the genre (Aliens and Doctor Who to name but two) and yes, some of the dialogue still remains a little cheesy and clumsy – but what the hell…it's fun, enjoyable and a good old romp for Saturday night television.
It took the characters we have got to know for the last couple of years and threw challenges at them that would make them suffer and strive. We lost many friends on the way and gained new ones and ultimately the series isn't limited by the story constraints of shows in a similar genre. It's already demonstrated that things can change in the blink of an eye and that no character is invulnerable – and all that is what will keep me watching when/if it comes back for a fourth year.
The only DVD extras, on disc three, include: Cutter's Odyssey – a 20 minute behind-the-scenes which charts the character's development and Henshall's own opinions on the making of the programme. It tells us nothing that we don't already necessarily know but the one thing it does do is make us miss Nick Cutter; Genesis of a Creature – 20 minutes focusing on the competition winner who created the Megaoptra and its development into a pretty awesome addition to the Primeval menagerie!
Episodes:
Disc: