News
Pratfall Master Ken Berry Dies at 85
F Troop's Commander of Fort Courage Ken Berry was given his first assignment by Mr. Spock when he was a lowly sergeant.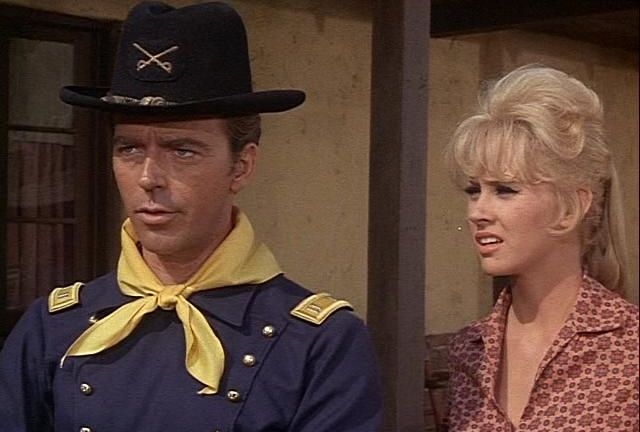 Ken Berry, best known for his role as Captain Wilton Parmenter on the TV comedy series F Troop, died Saturday at age 85, according to Variety.
"Dear friends. We are sad to let you know our beloved Captain, Mr Ken Berry passed away tonight," Larry Storch, who played F Troop's Corporal Agarn, wrote to Facebook. "We just spoke with Jackie Joseph who confirmed the devastating news. We are at a true loss for words. Ken, we hope you know how much you were loved. Goodnight Captain. We miss you already."
Berry could deliver lines, but his forte was physical comedy. Trained as a dancer since he joined the Horace Heidt Youth Opportunity Program traveling performance ensemble at age 15, Berry was often assigned long, seemingly impossible takes walking through the every day landmines of Fort Courage. His dexterity made him look like a cartoon character, yet his concentration never broke.
Berry was born in Moline, Illinois, on November 3, 1933. Deciding he wanted to be a dancer and singer when he was 12, he started tap dance class lessons, and never went anywhere without his tap shoes. By 15 he was on tour with television big band leader Horace Heidt.  The future scourge of the west got his first assignment from the logical science officer of the USS Enterprise. Berry volunteered for the Army straight out of high school, spent a year in the artillery, and won a dance contest which landed him on the Arlene Francis' Soldier Parade TV show  in New York City. When he got back he was assigned to Special Services, under Sergeant Leonard Nimoy, Star Trek's Mr. Spock, who encouraged Berry to go professional after service. Nimoy sent telegrams to studios and talent agents on behalf of Berry.
After the military Berry had an agent and made a screen test at Universal Studios and became a contract player. He also studied jazz dance, ballet, vocal, and acting classes under the GI Bill of Rights. Berry was released from Universal in 1956, and acted, sang and danced in Abbott and Costello Las Vegas stage act.
Berry's early television roles included appearances on NBC's The Bob Newhart Show, which ran from October 1961 through June 1962 on NBC, Dr. Kildare, No Time for Sergeants, and The Dick Van Dyke Show, where he played choreographer Tony Daniels. Berry went through development from Lucille Ball's Desilu studios and played Woody the bell hop in CBS's The Ann Sothern Show and went on to guest star on The Lucy Show in 1968.
Berry was cast as Captain Parmenter, who was awarded command of Fort Courage after retreating into victory at the Battle of Appomattox while only a private in the Quartermaster. F Troop ran from on September 14, 1965 until April 6, 1967. It also starred Forrest Tucker as Sergeant O'Rourke and head of O'Rourke Enterprises, Storch, Frank de Kova as Hekawi Chief Wild Eagle, and Melody Patterson, as Wrangler Jane, who had a crush on the captain, but not in front of the troops.
Further reading: F-Troop Actress Melody Patterson Dies at 66
Ken played Sam Jones on The Andy Griffith Show and its spin-off  Mayberry. In the 80s, he played Vinton Harper opposite Vicki Lawrence on the Carol Burnett Show spinoff series Mama's Family. He also appeared on variety shows like The Andy Williams Show and in episodes of The Love Boat, Fantasy Island and The Golden Girls. He also starred in the 1969 musical comedy film Hello Down There, Disney's Herbie Rides Again (1974) and The Cat From Outer Space (1978), the 1976 film Guardian of the Wilderness, the story the man who created Yosemite National Park.
Berry appeared on Broadway in The Billy Barnes Revue, where a cast recording led to a solo album backed by a full orchestra, Ken Berry RFD. He played George M. Cohan in the musical George M!
Berry is survived by his ex-wife Jackie Joseph, and daughter Jennifer Kate. His son John Kenneth, from the Indie rock band Idaho, died in 2016 of brain cancer.
Culture Editor Tony Sokol cut his teeth on the wire services and also wrote and produced New York City's Vampyr Theatre and the rock opera AssassiNation: We Killed JFK. Read more of his work here or find him on Twitter @tsokol.