News
Point Blank Trailer: Release Date for Anthony Mackie and Frank Grillo Actioner
Netflix actioner Point Blank, a remake of 2010 French film, teams Marvel movie stars Anthony Mackie and Frank Grillo.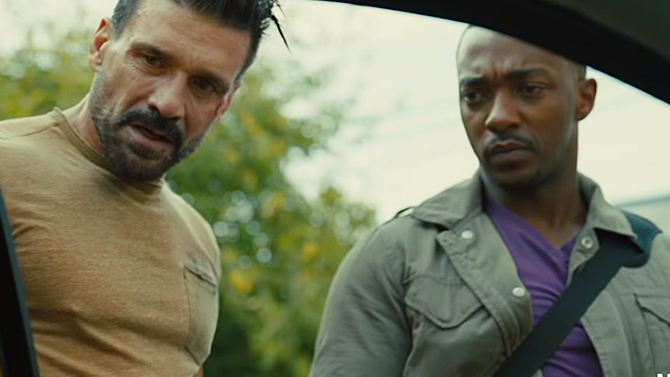 Point Blank, an upcoming Netflix movie, will showcase the onscreen, high-impact buddy-actioner team-up of Avenger Falcon and unscrupulous assassin Crossbones – well, the actors who played them in the Marvel Cinematic Universe movies, anyway, Anthony Mackie and Frank Grillo.
The film is a remake of the 2010 film of the same name (À Bout Portant), touting the novel idea that its protagonist – in the case of the American remake, an ER nurse (Mackie) – is not some untouchable badass slayer of hapless goons, but just an ordinary person who's thrust into some deadly circumstances when on the run, joined by an injured murder suspect (Grillo).
Point Blank Trailer
The trailer for Netflix's remake of Point Blank has arrived!
Point Blank Release Date
Point Blank will premiere on Netflix on Friday, July 12.
Point Blank Details
As the official synopsis for Point Blank reads:
When his pregnant wife is kidnapped and held as collateral, Paul, an ER nurse, must team with the badly injured career criminal and murder suspect under his charge in order to save the lives of his wife and unborn child. Pitted against rival gangs and a deadly ring of corrupt cops, the unlikely duo find a way to survive together in the fight of their lives.
Anthony Mackie, who recently reprised his Sam Wilson/Falcon role in megahit Avengers: Endgame, already has a few Netflix irons in the proverbial fire, since he's starring in the second season of sci-fi series Altered Carbon, having appeared in the streaming giant's film, IO, and conversation-spawning episode of Black Mirror, "Striking Vipers."
Frank Grillo, the former star of Audience Network MMA drama Kingdom, also fielded a role reprisal – via a tinge of timey-wimey – as Brock Rumlow/Crossbones in Endgame, has several action projects lined up, notably a role opposite Ryan Reynolds and Samuel L. Jackson in the 2020-scheduled action sequel The Hitman's Wife's Bodyguard. He'll next be seen in an August-scheduled sci-fi film – opposite names like Mel Gibson and Naomi Watts – titled Boss Level.
Joining Mackie and Grillo in the cast are Marcia Gay Harden, Boris McGiver, Teyonah Parris, Christian Cooke and Markice Moore.
Joe Lynch serves as director here, bringing feature experience from films such as 2017's Mayhem (which stars The Walking Dead alumnus Steven Yeun and Bill & Ted 3's Samara Weaving), 2014 Salma Hayek-headlined actioner Everly, and 2013 comedic adventure ensemble Knights of Badassdom. Lynch works off a script – adapting writer/director Fred Cavayé's characters – by Adam G. Simon (Synapse, Man Down), who's notably attached to the script of the long-gestating American remake of The Raid.
Joseph Baxter is a contributor for Den of Geek and Syfy Wire. You can find his work here. Follow him on Twitter @josbaxter.