News
Plastic Man Movie in Development
Is the world ready for a Plastic Man movie? They had better be, because Warner Bros. is working on one.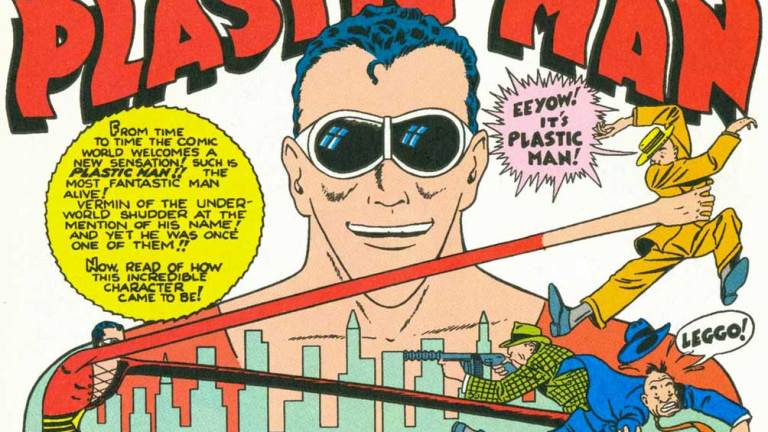 There's a Plastic Man movie in the early stages of development at Warner Bros. Deadline reports that Amanda Idoko (ABC's The Mayor) is working on a Plastic Man screenplay at the moment. If you're not familiar with the character, he has been around since 1941, the creation of brilliant cartoonist Jack Cole. The character is a former criminal, Patrick "Eel" O'Brian, who after a robbery gone wrong, finds himself doused in chemicals that leave him with the ability to form his body into nearly any shape imaginable. He's a wise-cracking, comedic character, who has remained a semi-regular presence in comics since his creation.
This is far from the first time Plastic Man has flirted with the screen. The character had a middling animated series in the 1980s, very nearly had an animated series of his own in the early 2000s, and was a welcome regular on the excellent Batman: The Brave and the Bold animated series (where he was voiced by SpongeBob Squarepants himself, Tom Kenny). But there were other attempts to bring Plastic Man to theaters, including an Amblin project, and in the late '90s a script by the Wachowski made the rounds. It didn't get very far.
Plastic Man has fared better in recent comics. While he is often used for excellent comic relief in the pages of assorted Justice League comics, and he has been a key figure in DC's The Terrifics series. Plas has also had a handful of solo series to his name this century. The first was a spectacular series from writer/artist Kyle Baker, which was routinely the best comic on the stands each month it was released. More recently, there was a fun Plastic Man limited series from Gail Simone and Adriana Melo, which, like the Baker series, is a perfect and self-contained introduction to the character.
As for casting? Well, considering this movie doesn't even have an official green light yet, it's a little early for that, although Ben Schwartz immediately threw his hat into the ring on Twitter. The most perfect Plastic Man imaginable would be Bruce Campbell circa 1994, so they'll need to find someone who can channel the kind of Looney Tunes meets the Three Stooges vibe that the character requires.