Reviews
Plastic Man DVD review
ITV stalwart John Thaw is the top-flight plastic surgeon tempted off the straight and narrow by Frances Barber in this 80s mini-series...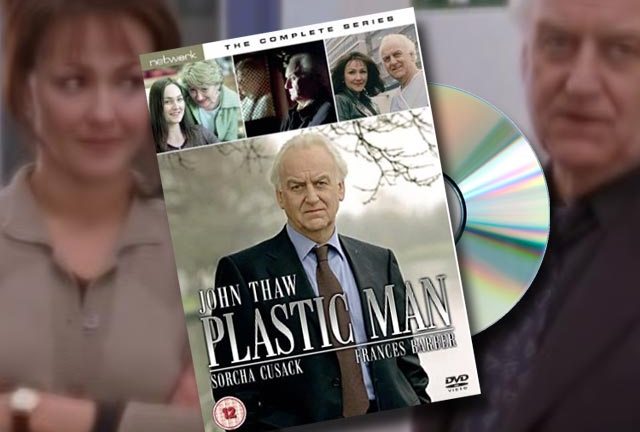 Robin Mukherjee is no stranger to the 'kitchen sink' drama (are such productions still called that, these days?), having written scripts for EastEnders as well as Casualty, Medics and The Bill.
Plastic Man, from 1999, came mid-way though his career, drawing together aspects of similar frameworks from across his various scripts, for the late lamented John Thaw to characterise.
This two-part mini-series establishes Thaw as Joe McConnell, a God-fearing, successful consultant plastic surgeon, weary of his stable, family life and the routine that it brings. To his patients he acts as counsellor as well as surgeon but it is interaction with them and their own problems that sheds light on his own unhappiness.
Certainly our first insight into his thought patterns are through a confessional with his priest about his unhealthy desires for a colleague – at that point unnamed – but who we soon get to meet when Frances Barber (Hustle, Casualty, Red Dwarf) opens the next scene. Even as a clinical psychologist, Barber is her usual smouldering, sexy self, but in this role, she handles Thaw's attentions professionally and warily, and makes for a nice double act as the story unfolds.
The McConnell family is run by the wife and mother, played gracefully by Sorcha Cusack (daughter of the late Cyril Cusack). It is her, really, that the story of her husband's descent revolves around. Their three children, two of which follow their dad into the medical profession (the other still at school), are perhaps a little clichéd in their positioning within the family unit and the roles they play, but ultimately, it is the actions of one of them that has devastating consequences on the parents – the mother desperate to hold everything together while the father is embroiled in his own selfish wrong-doings.
It's fair to say that it won't be a major spoiler to reveal that Thaw and Barber start an affair – not exactly torrid…but an affair is an affair. This reviewer's sensibilities come into play whenever such events unfold in drama and Thaw's character, no matter how unhappy he is or how successful he may be, becomes immediately less palatable. The whole adultery concept angers me as it does to most people, of course, but it certainly makes for great TV drama!
Thaw's spiral into lies and deceit to himself, let alone his wife, are played with such conviction and guilt that the initial distaste of what his character idealises are watered down to ultimately show him as a pathetic man who has less control in life than a plastic surgeon at the top of his profession should have.
The supporting characters – a homeless man assaulted on the street, played by Eddie Marsan (Miami Vice, MI3), a married couple (Sophie Stanton of EastEnders) and Martin Marquez (The Bill, Hotel Babylon), whose time together is on the brink of collapse following Stanton's character's mastectomy, and a colleague of Barber's, played by Moses Jones' Shaun Parkes (who also appeared in Doctor Who) – allow aspects of Thaw's character to be reflected back on himself.
Certainly Eddie Marsan's character is in many ways a direct parallel to Thaw's. Thaw uses Marsan as a punch-bag (not literally) to express his own frustrations about his life and life in general, and Marsan shows Thaw where and why he's going wrong.
It's all the underplayed, great character pieces from everyone involved that make up this realistic and beautifully shot drama. At just 100 minutes, it doesn't out-stay its welcome and deals with Thaw's guilt and struggles in a nice neat package. Arguably, the resolution may come a little too soon and there is a little clumsiness in places regarding the mastectomy plot-line. Yet, because the two episodes run at a steady pace (a gentle canter rather than a gallop), it allows all the participating players to have ample screen time and the different story strands don't feel as if they're shoe-horned in to support the main narrative.
Plastic Man is a little-known entry into John Thaw's considerable body of work and is well-worth a viewing. Certainly, fans of Thaw will relish his grasp of a man who is losing control of his emotions and his family – but it's for the sensitive writing and execution that this drama should be seen. Actors of Thaw's calibre make such programmes rise above the norm and it's a great shame that he is no longer with us to continue to raise the bar for his peers.
Extras The DVD has none but it feels like it's missing a commentary from the production team at least.
Plastic Man is out now.