News
Pirates of the Caribbean 5 Release Date, Keira Knightley Trailer, Casting, Plot Details & Everything Else
Pirates of the Caribbean: Dead Men Tell No Tales is Johnny Depp's belated return as Jack Sparrow. And here's a video to make that nostalgic.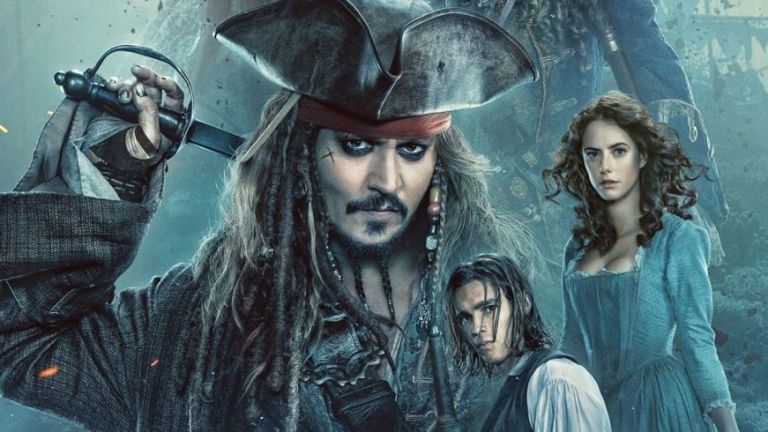 It's been six years since the not-great Pirates of the Caribbean: On Stranger Tides arrived in 2011 and promptly gobbled up more than $1 billion at the global box office. But the fifth film in the series — Pirates Of The Caribbean: Dead Men Tell No Tales — finally arrives this summer after a long sabbatical following production.
Filming's been done for a good long while on this one — even with a few delays and production issues in the mix — so there is plenty to know about and even more to write of. So join us, but be warned, here there be monsters.
Latest Pirates of the Caribbean 5 News
It is time to get swept up in nostalgia for the past Pirates of the Caribbean movies with this retrospective that takes you from the ride all the way to this summer's Pirates of the Caribbean: Dead Men Tell No Tales. With that said, we did notice that almost all of its clips from movies gone by were of the original classic, Pirates of the Caribbean: Curse of the Black Pearl. Meanwhile, On Stranger Tides seemed lucky to get a meager title card. Coincidence?
Pirates of the Caribbean 5 Trailer
The latest trailer gives us a glimpse of Kaya Scodelario's character Carina Smyth. The film's would-be coupling, putting Carina opposite a fellow franchise newcomer in Brenton Thwaites's Henry, will be anything but a saccharine starry-eyed romance with Carina being a strong-willed and essential component in helping Johnny Depp's Jack Sparrow stop the revenge-obsessed Captain Salazar (Javier Bardem). Initially incredulous of the situation, the intellectual Carina says that she considers herself a "woman of science" who chooses not to believe in "ghosts," just as Salazar's undead water-walking pirates show themselves.
The international trailer for Dead Men Tell No Tales gives us some new footage. Watch it here!
The latest full-length trailer for Pirates of the Caribbean: Dead Men Tell No Talesis filled with CGI Young Jack Sparrow, plenty of references to Pirates of the Caribbean: 1-4, and a better understanding of the plot. Check it out…
Well, Johnny Cash makes everything cooler, and this Pirates of the Caribbean: Dead Men Tell No Tales Super Bowl trailer has plenty of that.
Check out the earlier trailer here…
Perhaps intentionally, the first Pirates of the Caribbean: Dead Men Tell No Tales teaser features no Johnny Depp or Jack Sparrow. However, it has music that is certainly Hans Zimmer-esque, offering a foreboding tone as we glimpse a world of new gnarly beasties in (rotting) flesh. In this case, enter Capitán Salazar, and as played by Javier Bardem.
Pirates of the Caribbean 5 Release Date
Pirates of the Caribbean: Dead Men Tell No Tales will be setting sail to a theater near you on May 26, 2017.
Pirates of the Caribbean 5 Keira Knightley
Normally, there would be little to get excited about in a new international trailer for a major blockbuster. Often, they recut familiar footage for simply a larger global audience. Yet, the latest Japanese trailer for Pirates of the Caribban: Dead Men Tell No Tales is different… not least of all because it reveals the long awaited return of Keira Knightley as Elizabeth Swann, one crucial third of the original triumvirate that made the 2003 Pirates of the Caribbean classic such a success. We have repeatedly heard rumors that Ms. Knightley would at least cameo as Elizabeth Swann (or technically Elizabeth Turner due to her marriage to Orlando Bloom's Will Turner at the end of the third movie), but we did not expect the cameo to be confirmed in a trailer.
Nonetheless, here it is in the below video…
Pirates of the Caribbean 5 Story
In other news, we have on the horizon a brand new Pirates of the Caribbean: Dead Men Tell No Tales synopsis which reveals many-a-thing about the fifth entry in the series, including just why Javier Bardem's Captain Salazar is chasing Jack Sparrow… as well as the fact that Jack has apparently lost the Pearl again. Aye, he is once more stuck sailing on shabby vessels like The Dying Gull. We're in for a visual treat there, no doubt.
"Johnny Depp returns to the big screen as the iconic, swashbuckling anti-hero Jack Sparrow in the all-new Pirates of the Caribbean: Dead Men Tell No Tales. The rip-roaring adventure finds down-on-his-luck Captain Jack feeling the winds of ill-fortune blowing strongly his way when deadly ghost sailors, led by the terrifying Captain Salazer (Javier Bardem), escape from the Devil's Triangle bent on killing every pirate at sea – notably Jack. Jack's only hope of survival lies in the legendary Trident of Poseidon, but to find it he must forge an uneasy alliance with Carina Smyth (Kaya Scodelario), a brilliant and beautiful astronomer, and Henry (Brenton Thwaites), a headstrong young sailor in the Royal Navy. At the helm of the Dying Gull, his pitifull small and shabby ship, Captain Jack seeks not only to reverse his recent spate of ill fortune, but to save his very life from the most formidable and malicious foe he has never faced."
The official synopsis of the franchise is as follows:
Captain Jack Sparrow is pursued by an old rival, Capitán Salazar, who along with his crew of ghost pirates has escaped from the Devil's Triangle, and is determined to kill every pirate at sea. Jack seeks the Trident of Poseidon, a powerful artifact that grants its possessor total control over the seas, in order to defeat Salazar.
However, more than the villain or MaGuffin they chase, the film appears to be about building a new set of stars in the series to carry the saga forward. Orlando Bloom hinted as much to IGN in 2014 prior to the film's shoot, saying, "Basically, they want to reboot the whole franchise, I think, and do something with me and the relationship with my son."
This is especially curious when you consider the fact that all signs point to Dead Men Tell No Tales following a much older son than the young lad fans saw in the post-credits stinger of 2007's Pirates of the Caribbean: At World's End….
Pirates of the Caribbean 5 Cast and Crew
Indeed, the entire casting of the film, and its approach raises many eyebrows. Shot over 95 days in Australia in 2005, Dead Men Tell No Tales has been long finished for Disney, but its process has been a long voyage at sea from the beginning. Ultimately being written by Jeff Nathanson (Indiana Jones and the Kingdom of the Crystal Skull), the picture was previously almost penned by Terry Ross who worked on all four of the previous movies. However, Alan Horn, the chairman at Walt Disney Studios, had been reluctant to sign off as he hadn't been thrilled with earlier scripts.
The final version though landed Joachim Rønning and Espen Sandberg as the directors, fresh off the indie darling, Kon-Tiki.
And to tell its story the film unsurprisingly reassembled Johnny Depp as Jack Sparrow, Geoffrey Rush as Hector Barbossa, and Kevin McNally as Mr. Gibbs. However, it is also returning Orlando Bloom as Will Turner to the saga after seemingly concluding his narrative in At World's End. If you do not recall that film, Will Turner ended his story eternally stuck at the helm of the Flying Duchman, condemned to guide the souls of those who die at sea to the afterlife.
But now we also have two new characters, Kaya Scodelario as Carina Smyth and Brenton Thwaites as a character simply known as "Henry." Scodelario's Carina is an astronomer who wishes to go to university, but is denied the opportunities for being a woman. However, what we know about Henry is much more vague, save that he wants "to reconnect with his father. He struggles to break a curse that is preventing him from doing so."
For the record, that describes Will Turner to a tee. And while previously we thought only Mr. Turner would return, it seems his wife Elizabeth Swann is also rumored to at least a cameo. Indeed, the rumor (which you should take with a grain of salt) was first broken by TooFab, stating that Ms. Knightley filmed several scenes in secret in the film. If so, the franchise could be on the cusp of a reunion with the original cast.
Pirates of the Caribbean 5 Images and Poster
Here is the first image for Pirates of the Caribbean: Dead Men Tell No Tales!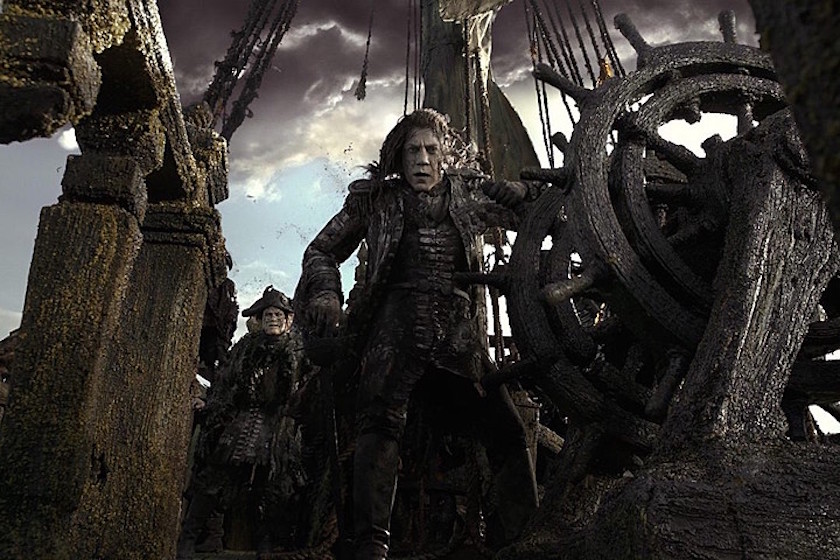 And here is the poster: