Reviews
Picnic At Hanging Rock Deluxe Edition DVD review
A triple-DVD set for Truman Show director Peter Weir's finest film. And it's tricky to come up with anything they've left out...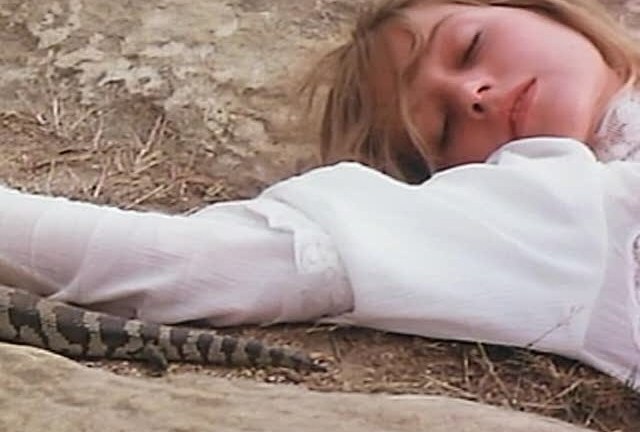 Based on a book by Joan Lindsay, this 1975 film was the first major directorial success from Peter Weir who went on to work on Gallipoli, Dead Poets Society and Master and Commander: The Far Side of the World.
This story, however, is harder to categorise than any of those films and the impossibility of slotting into any genre is one of its greatest strengths.
Set at the turn of the century in the hot, wild, dusty climes of the Australian plains, the story revolves around the female students and teachers of a prim British private girl's school, a Victorian island in the Outback.
For the first third of the film, the focus is firmly on a few girls in particular, girls that are destined for a devastating fate that will forever effect everyone involved.
The film opens with these words, displayed before the opening credits:
On Saturday 14th February 1900 a party of schoolgirls from Appleyard College picnicked at Hanging Rock, near Mt. Macedon in the State of Victoria. During the afternoon several members of the party disappeared without a trace …
We then meet the girls in their heavily flower-patterned bedrooms full of porcelain bric-a-brac and the telltale Valentines cards that signal this is special day at Appleyard. They're to travel to the natural phenomenon of Hanging Rock formed from siliceous lava deposited after a volcanic eruption where they'll have a leisurely lunch and celebrate the day away from schoolwork, by reading and relaxing at the rock's base.
These are beautiful, perfect girls, silky-skinned, rosy-cheeked and wrapped in crisp, white linen dresses with lace trim buttoned tightly at the neck. They barely speak above a whisper and spend their free time, gossiping, giggling and pressing flowers.
The most perfect of these girls is Miranda, friend to all the girls, but especially admired by Sara, an orphan whose tuition payments have fallen behind. Sara's the subject of some of the girls' gossip and these few comments and scenes might lead some desperate to find more overt titillation into believing the movie suggests romantic physical aspects to the girls' relationships. But you'd have to have been a 12 twelve year old girl with a 'best friend' at some point in your life to understand how pointless that search and assumption is.
The girls certainly possess a surfacing sexuality that, for the moment, is controlled and contained in corsets. Still it hasn't gone unnoticed. Two boys, one a local employed by the English uncle of the other, are also spending the day in the area. From a distance they watch Miranda and three other girls who've wander off from the main party on the rock to explore.
Back at the school, Sara is chastised by the governess, Mrs Appleyard, a severe woman in a hornet's nest of a hairdo, who's more concerned with school fees than students' feelings. Sara's been excluded from the trip, kept behind to memorise a miserable poem, presumably as punishment for her guardian's non-payment.
Two of the girls, along with a teacher, will never come down from the winding, cavernous recesses hidden in the heights of the rock. One, Irma, will be discovered alive later, after other exhaustive searches found no trace, and Sara has her own horrors to face, in a separate story of ill-treatment that, for me, is more poignant than the main.
The saved girl's rescue triggers one of the most disturbing scenes in the film. Her inability to remember what's happened and explain events to everyone's satisfaction causes former friends to react with a pack mentality, untrusting and vicious in their demands for an answer and someone to blame.
Anyone else hoping to find an explanation for the disappearance never will.
You're left to your own personal thoughts and fears to decide what might have become of those who went missing. Obscure curiosities – watches stopping at midday, the wandering girls falling asleep and rising in unison, a strange red cloud, and cryptic comments all add to the mystery.
This is a movie of immense mood intensely induced through gorgeous soft focus photography and a haunting score of a Beethoven piano concerto and the especially effective use of evocative pan pipe music flowing throughout the film.  
The score, together with subtle natural sounds of the environment, shrill-edged whispers of the girls and shocking unnatural staccato sounds that shriek danger, are like an ever-present other character, one you barely notice and then come to dread.
The camerawork, sometimes slowed to effect an otherworldly feel, is faultless and manages to draw you in until you feel the heat of the midday sun and warmth of baked rock on bare feet, even on a small screen.
Sounds and images blend perfectly to create a dream-like film that taunts and hints at fantasy, mystery, thriller, even possible science fiction elements but isn't any one of those in the end.
The pace of the film leading up to the disappearance is deliberate and languid. It won't be loved by impatient people. The unhurried reveal of events for many of its minutes are absolutely essential as the girls' fate transpires like a nightmare chase scene where the pursued's feet are encased in lead and running through thick mud.
The reactions of the students, their teachers, the townspeople, and the boys, the last to see the girls before they effectively fell off the surface of the earth, are all telling in their frustrations or determination to deal with the events at Hanging Rock. Some want to ease their consciences, others fear only for themselves and the stigma, accusations and financial ruin that will follow. Still others are doomed to wonder whether they missed clues, doubt their neighbours or pine for a girl they only glimpsed once before she was gone forever.
The conclusion is open to interpretation, and might frustrate some, but the route there is stuffed full of metaphors, allusions, symbolism and imagery. Victorian societal sensibilities – uprooted and transplanted – are constantly evident in extremes. Details of the age are displayed on highly-polished ornate vanity tables, stashed in drawers and cut-up for cards. That's not to say you need to look for or be aware of these things to enjoy the film. Despite it being wholly unforgettable, there's a lot to justify repeated viewings.
I was disappointed, at first, to find there's no director's commentary track. I thought that would be better than having to piece together information from the extras. But, I can see how this type of movie would probably be the least likely to benefit from that (much more so than other definable genres),as it would detract from the surreal quality of major parts of the film. Any director emotionally involved in a project of this sort, as Mr Weir sounds to have been, would be silent through those scenes anyway, and try a fast-talking catch-up during less mood-saturated scenes. Fortunately, interviews satisfy the need to hear from the man himself about his choices and challenges on the film.
The Director's Cut disc is more unusual than in its lack of a commentary or absence of a language track or subtitles other than English. Rather than adding to or rearranging scenes, this cut simply slices out 8 minutes Mr Weir believed slowed the film. The axed bits are mostly the small segments showing interaction between Michael and Irma, after her rescue, and I have to agree that seen this way the main threads do stay cleaner and weave a tighter more immediate story. Included, they don't substantially add to it all, although they certainly don't ruin the film in its intact version.
A few years back the cut version was released on its own and drew outcries of criticism from a well-established fan base that was very familiar with every second of every scene, either from memory or old and failing VHS copies. This release rectifies that with a full theatrical version in addition to the shorter Director's Cut, although a notice at the beginning warns the full version contains slight cropping.
The best of the extras is a full-length film in itself, at nearly two hours runtime, with interviews from both cast and crew and fascinating details about the filming and the strong reactions to it, lifelong consequences for some involved with the project.
There's some extraordinary scandal exposition about Rachel Roberts, who played the rigid, iron ruling Mrs Appleyard, and her behaviour on and off the set, including her insistence that none of the girls were actually present in any of her scenes with them. Although conduct like that befits the story's character, somehow I doubt the reason was dedication to her craft, based on other actors' comments on the subject.
Other extras are less interesting by comparison, such as Then & Now, which shows film footage (silent except for the pan pipe score) alongside recent shots taken at Hanging Rock as well as the grounds and interior of Martindale Hall which serves as the Appleyard College. Hardly thrilling, they're actually more successful in demonstrating how the filmmakers managed to inject so much menace into immovable objects.
The story of the mansion, and how it ended up where it did, is nearly as odd, romantic, and ill-fated as the film's narrative, leaving me wanting to learn more about it. Now that I know not to try and find the truth behind the disappearances, that all the online speculation is just that, tracing the history of Martindale Hall might be worth some spare time research.
This is very pretty film, even if the outcome is ugly, and it's not let down by attractive menus with curlycue lace flourishes and more haunting pan pipes. The three discs are stored in a nice tri-fold holder in a slim hardcover sleeve with sepia toned images of the girls and the picnic scene. It's perfect packaging for an expertly-achieved artistic film that feeds the imagination and infuses the senses.
Film:    
Extras: