News
Philip K. Dick's The Great C Arrives for VR Platforms
Secret Location's adaptation of Philip K. Dick's The Great C brings a cinematic virtual reality experience to VR users.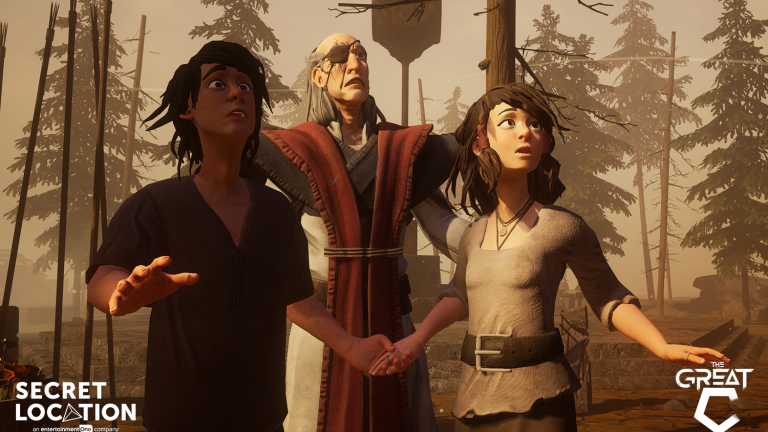 The Great C, the first Philp K. Dick adaptation for VR platforms, is now available on Oculus Go, Samsung Gear VR and Google Daydream thanks to Entertainment One's Emmy award winning studio, Secret Location. In addition to HTC Vive and Oculus Rift owners, millions of mobile VR users can now experience the 37-minute dramatic sci-fi adventure featuring a poignant storyline, stunning visuals and powerful soundtrack.
The Great C expands upon Dick's original story, which saw a man making the long journey to visit the computer that destroyed the world and which demands three questions each year, absorbing anyone who can't stump its powerful intelligence. Secret Location's version follows Clare, a young woman who finds her life upended when her fiancé is summoned for the latest pilgrimage. Forced to leave the safe confines of her village, Clare must now decide whether to accept the rules of this harsh society or fight against the oppressive reality of her world.
Related: Black Mirror Bandersnatch and Its Philip K. Dick Influences
"Philip K. Dick's cautionary tale on the pitfalls of worshiping technology is especially relevant in today's society and our adaptation of The Great C stands strong as an example of how a VR narrative can be riveting while still conveying an important message," said Ryan Andal, president of Secret Location. "We hope to introduce The Great C's truly cinematic production value and storytelling to the millions of mobile VR users seeking a new sci-fi adventure to experience."
Secret Location utilizes traditional filmmaking techniques throughout The Great C in areas such as editing, composition, and story structure, bringing a uniquely robust and visceral narrative to VR. This cinematic language is melded with real-time, room scale, characters and environments to engage audiences in a fully realized, next generation-level of storytelling that seems tailor-made for Philip K. Dick, who is the author behind stories such as The Man in the High Castle and Do Androids Dream of Electric Sheep? – the inspiration for Blade Runner.
The Great C premiered last year at the Venice Film Festival with additional screenings at the Chicago Film Festival, and FEFFS in France. It is available for $5.99 for mobile as well as on PC VR stores such as Steam and Viveport.
Listen to the latest Sci Fi Fidelity podcast:
Subscribe: Apple Podcasts | Spotify | Stitcher | Acast | RSS
Michael Ahr is a writer, reviewer, and podcaster here at Den of Geek; you can check out his work here or follow him on Twitter (@mikescifi). He co-hosts our Sci Fi Fidelity podcast and voices much of our video content.