News
Peter Rabbit 2 Release Date Delayed Because of Coronavirus Fears
Peter Rabbit 2: The Runaway is happening, with James Corden and the rest of the main cast returning in time for Easter.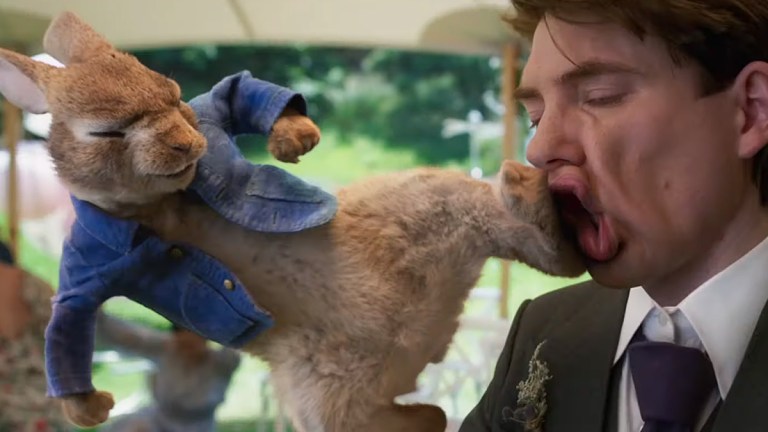 Peter Rabbit hit theaters in February 2018 as a hybrid live-action/CGI franchise reboot that injected the classic stories of Beatrix Potter with contemporary energy. The result was a film that – akin to the stealthy precision of Peter in Farmer McGregor's garden – quietly banked $115 million domestically, totaling $351.2 million globally, and was even the U.K.'s top family film of 2018, out-grossing Pixar's Coco.
Consequently, it didn't take Sony Pictures long to consider Peter Rabbit 2, giving it the official greenlight and a 2020 release date; a move made just one month after the original's release. Indeed, main cast members such as the voice of the larcenous lepus himself, James Corden, as well as Domhnall Gleeson and Rose Byrne, are set to return, as will director Will Gluck, who, just as with the first film, wrote the script with Patrick Burleigh.
Peter Rabbit 2 Release Date
Peter Rabbit 2: The Runaway was originally scheduled to arrive in theaters on April 3, a week before the similarly bunny-themed Easter holiday would have hopped up. But because of escalating fears surrounding the coronavirus outbreak, Peter Rabbit 2 has now been delayed until Aug. 7.
Peter Rabit 2 Trailer
Check out this trailer for Peter Rabbit 2: The Runaway, which shows more CGI slapstick and a story about Peter's panic over prospective lifestyle changes due to Thomas and Bea's family planning.
The first teaser trailer, released back in October, shows James Corden's eponymous patch pilferer going through a bit of an identity crisis, albeit to the same kinds of zany hijinks as the first film.
Peter Rabbit 2 Plot
The official synopsis for Peter Rabbit 2: The Runaway reads:
In PETER RABBIT™ 2: THE RUNAWAY, the lovable rogue is back. Bea, Thomas, and the rabbits have created a makeshift family, but despite his best efforts, Peter can't seem to shake his mischievous reputation. Adventuring out of the garden, Peter finds himself in a world where his mischief is appreciated, but when his family risks everything to come looking for him, Peter must figure out what kind of bunny he wants to be.
Peter Rabbit 2 Cast
In addition to the returning James Corden in the title role, Peter Rabbit 2 added David Oyelowo to the cast for an unspecified role, as Variety reported back in February 2019. Oyelowo, the Oxford-born actor, broke big as Dr. Martin Luther King in 2014's Selma. He subsequently fielded starring roles in movies like Five Nights in Maine, Captive, A United Kingdom, Queen of Katwe, Netflix's The Cloverfield Paradox and Amazon's Gringo. He recently appeared in the BBC/Masterpiece Les Misérables miniseries, and will appear alongside Tom Holland, Daisy Ridley and Mads Mikkelsen in director Doug Liman's 2020-scheduled dystopian sci-fi epic, Chaos Walking. Additionally, fans of acclaimed animated franchise series Star Wars Rebels know him as the voice of Agent Kallus, a character who experienced a unique arc on the movie-canon-adherent series.