Reviews
Peter Kay: Stand Up Ukay DVD review
Some people hate Peter Kay, so this DVD clearly isn't for them. But according to Simon, you'll be feeling ripped off even if you love him...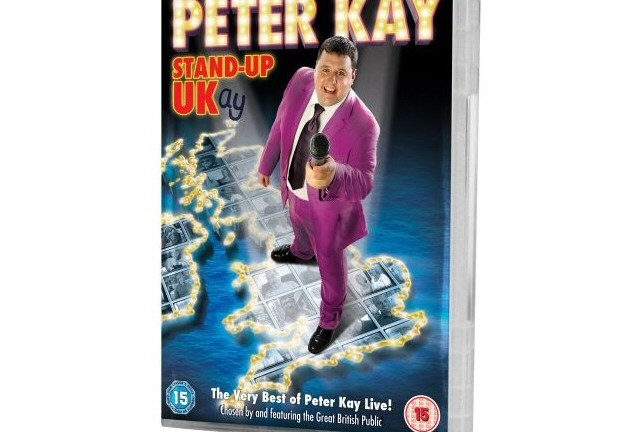 The great British public clearly love Peter Kay. You can tell this, as Peter Kay: Stand Up Ukay is interspersed with vox pops and interviews with them, where they tell you so. So you find out his legion of fan's views on Bullseye, on the truth behind the many catchphrases, and at times introducing routines that chances are you've already heard a few times before.
Sadly, whether that many of these people will remain fans after been relieved of £21.99 for this disc is a question of debate. Because these interviews are, in the main feature of just over an hour and ten minutes, the only fresh content. That's right: this is a best of Peter Kay disc, where the material is insultingly cut short by these tepid interviews and thoughts.
What makes it even more insulting is that the routines chosen for this Best Of compilation tend to be truncated a little, too. Kay will tell a gag, then it will cut back to some more interviewees invariably laughing at his gags. In some cases, they even – staggeringly – explain them, or tell them themselves. It's bizarre: presumably people who buy a Peter Kay disc want Peter Kay content, not people talking about their thoughts on his content. Real life dinnerladies saying "It's spitting" really is as good as these interviews get with the exception of some brief contributions from Jim Bowen. Bizarrely, flip over to the outtakes of the recording of these interviews – one of the DVD's two extra features – and that's where it works best. The British public being interviewd about Peter Kay can be funny. Peter Kay is funny. It just works best if you keep them apart.
The material of Kay himself then is taken from his two live shows – Live At The Top Of The Tower, and the two DVDs of the Mum Wants A Bungalow Tour. It's cracking material too, and the gags are those that this reviewer has enjoyed a lot many times before. Bullseye on a Sunday afternoon, the British abroad, the aforementioned dinnerladies, Rola Cola and weddings are the main laughter fuel, and even many years later, the routines still work.
But they worked better in the context of a full stand-up gig, and the reality here is that Kay's many fans are being more cyncially fleeced than ever before with this DVD. There is, of course, the old addage of if you don't like it don't buy it, but how many will receive this disc for Christmas from people who simply don't realise what they're (not) getting.
Kay is one of the most talented and outright funny stand-ups of his generation. But if he's to put out another official DVD with his name on it, it needs new material. This is the third trip to the well for some of this stuff, and it really isn't right.
Oh, and the second extra feature? The music video to his take on the Proclaimers' hit (I'm Gonna Be) 500 Miles. Bargain.