News
Paul Rudd Joins the Cast of Ghostbusters 3
The long-awaited 2020 Ghostbusters threequel adds the inimitable Paul Rudd.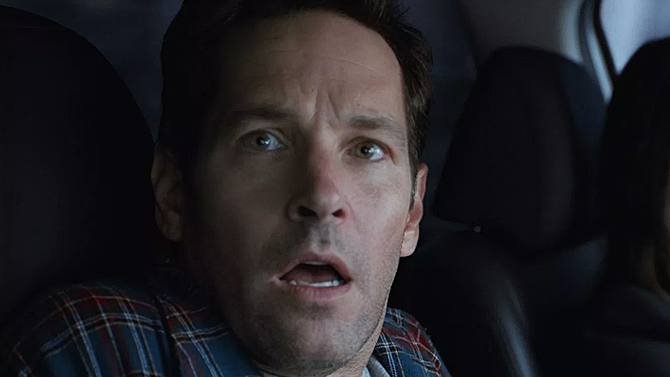 Paul Rudd is about to enter the world of the Ghostbusters film franchise, set to trade Ant-Man's Quantum Realm for the threshold of the spiritual plane.
Sony Pictures, the studio behind the yet-to-be-titled Ghostbusters 3, is in final negotiations to procure Paul Rudd for its cast, reports Variety. Should said negotiations pan out (as seemingly likely), Rudd would prospectively play a character who is – ambiguously – described as "a teacher." For now, it remains to be seen if the film will see Rudd strap on a proton pack and discover if – as Ray Parker Jr. famously sung – bustin' makes him feel good. A tweeted video from the official Ghostbusters account, showing Rudd outside a familiar locale, confirms the notion as reality.
Rudd would prospectively join a cast that, besides the return of surviving originals Bill Murray, Dan Aykroyd, Ernie Hudson and Sigourney Weaver, already consists of newcomers Finn Wolfhard (Stranger Things), McKenna Grace (The Haunting of Hill House) and Carrie Coon (The Leftovers). Additionally, the new Ghostbusters will manifest as a familial legacy, with Jason Reitman, son of original director Ivan Reitman, stepping into the director's chair this time, working off a screenplay he co-wrote with Gil Kenan.
The Ghostbusters 3 role is yet another coup for Rudd, a veteran film actor mostly residing in the comedy genre, who's seen his stock rise since making his debut in the Marvel Cinematic Universe starring in 2015's Ant-Man, which he reprised in 2016's Captain America: Civil War and 2018 solo sequel Ant-Man and the Wasp, as well as this past April's ($2.75 billion worldwide and counting) Avengers: Endgame. Moreover, it's also the fulfillment of fan-led dream-casting for the threequel that goes back well over a decade, seeing as Rudd's everyday schlub comic styling has long made him the perfect fit for a Ghostbusters role.
While plot details for the new Ghostbusters film are few and far between, it has been made clear that it will serve as a passing of the torch from the beloved original team – of 1984's Ghostbusters and 1989's Ghostbusters II – to a new wisecracking coterie of ain't-afraid-of-no-ghosts ectoplasmic exterminators.  
Ghostbusters 3 (title to be revealed) is currently scheduled to arrive at theaters on July 10, 2020.
Joseph Baxter is a contributor for Den of Geek and Syfy Wire. You can find his work here. Follow him on Twitter @josbaxter.