News
Patrick Stewart Teases Return as Picard if Tarantino Directs Star Trek
With Quentin Tarantino circling Star Trek, Patrick Stewart thinks a return as Captain Jean-Luc Picard is possible.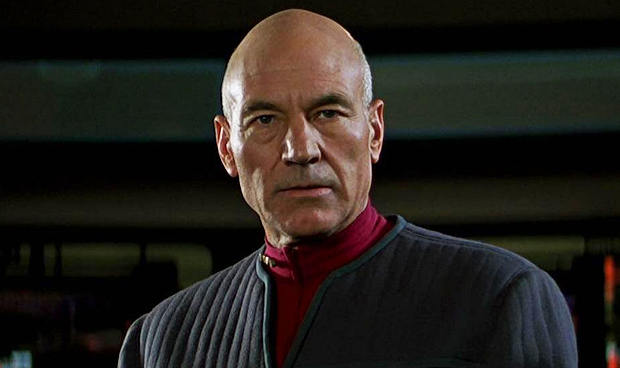 Star Trek recently set the news cycle to stun, thanks to the possibility that irreverently ultraviolent director Quentin Tarantino might jump aboard the film franchise for a project that has potential to become its most radical reinvention since J.J. Abrams's 2009 movie relaunch. Consequently, one of the franchise's onscreen captains, Patrick Stewart, seems to be inspired for a return to his iconic role of Captain Jean-Luc Picard.
Stewart has expressed in the past that his days in the captain's chair as Star Trek: The Next Generation skipper Jean-Luc Picard have concluded. It's an understandable notion for the 77-year-old knighted English actor, who also became an onscreen icon as Professor Charles Xavier in the X-Men film franchise. However, he happens to be a fan of Quentin Tarantino and sees his prospective tenure for a Star Trek film as the perfect opportunity to work with the helmer.
As Stewart explains to THR:
"People are always saying to me, 'Will you be Jean-Luc Picard again?' And I cannot think that would be possible, but there are ways in which something like that might come about. But, one of my dreams is to work with Tarantino. I admire his work so much, and to be in a Tarantino film would give me so much satisfaction. So, if he is going to direct something to do with Star Trek and there was the possibility of dear old Jean-Luc showing up again and doing that for Mr. Tarantino, I would embrace it."
Stewart debuted as Jean-Luc Picard in Star Trek: The Next Generation pilot "Encounter at Farpoint" on September 26, 1987, kicking off a seven-season run (178 episodes,) that lasted to 1994. From there, the Star Trek film franchise passed the proverbial baton from William Shatner's Captain Kirk to Stewart's Picard and his crew in the 1994 film, Star Trek Generations, starting a big screen run that continued with 1996's Star Trek: First Contact, 1998's Star Trek: Insurrection, concluding with 2002's Star Trek: Nemesis in which Picard battled Shinzon, a younger gene-modified clone of himself, played by then-upstart Tom Hardy. – The entirety of Stewart's run as Picard lasted over 15 years.
Of course, Tarantino has yet to be confirmed for the Star Trek gig and we don't even know how any such project could possibly involve Picard, since the current film franchise, last represented by 2016's Star Trek Beyond, showcases actors portraying the original U.S.S. Enterprise crew. Moreover, another sequel – the prospective fourth film in the series – is very much in the works. Yet, the idea of Star Trek: The Next Generation returning to the big screen in rebooted form – using 2009's Star Trek Spock dynamic, with universe-crossing new players opposite their older original doppelgangers – is an exciting possibility, especially if Tarantino is in the director's chair (and if Tom Hardy comes back to play young Picard).
Indeed, Stewart affirms that idea, stating:
"The one thing that characterizes all of his movies is that frame by frame, it always challenges, always demands your attention, always demands a very kind of open and generous response to what he does. I also love his sense of humor as a filmmaker. So yes, he would be my first choice."
For now, Trekkies and Tarantino fans alike will have to wait and see how this most intriguing of potential collaborations takes shape.