News
Patrick J. Adams & Troian Bellisario to Star in Sci-Fi Film Clara
Has Arrival ushered in a new era of quieter science fiction film?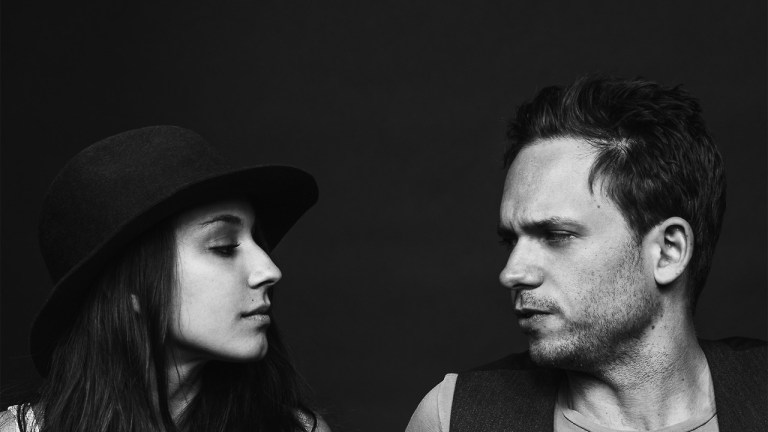 Suits' Patrick J. Adams and Pretty Little Liars' Troian Bellisario are teaming up for a quiet science fiction drama. The real-life couple will star in Clara,a debut feature from writer-director Akash Sherman. According to Deadline, Clarawill also star Kristin Hager (Wanted) and Ennis Esmer (Miss Sloane).
Clarais the story of astronomer Issac Bruno (played by Adams), a man obsessed with finding extraterrestrial life while his personal life collapses around him. Enter Clara (played by Bellisario), a young, "spirited" research assistant. As Clara brings more balance to Issac's life, the two work together to uncover a "profound scientific discovery." What do you think: aliens or no?
It sounds a bit like Contact, with a dash of Arrivalthrown in. The recent success of the latter perhaps influenced the greenlighting of a project like Clara. As writer-director Sherman notes:
Over the last few years we have entered a new era of science fiction storytelling whereby scientific accuracy and plausibility have superseded pure fantasy as the convention which audiences have come to expect from the genre. Clara is a film which aims to deliver on these elevated expectations, while telling a distinctly human and emotional story of self-discovery and love which we can all relate to.
Have we entered an era of science fiction film driven by emotion and character? I hope so. The world could use a bit more thoughtful genre fare to go along with the action-driven blockbusters. (Though, to be clear, I don't want to have to choose.) Producer Ari Lantos added of the project:
Akash and I first began this collaboration while he was a freshman in film school. Three years ago this project began as nothing more than an one paragraph idea, so seeing it now come to fruition is a remarkably satisfying feeling. The film balances both scientific discovery and spiritual exploration in way that is distinctly unique and original and I can't wait for the world to see it.
Definitely a project to keep an eye on. Production has already begin on Clara.