News
Paris Can Wait is a Foodie's Delight
We sit down over lunch to discuss Paris Can Wait with its director and stars, including Eleanor Coppola and Diane Lane.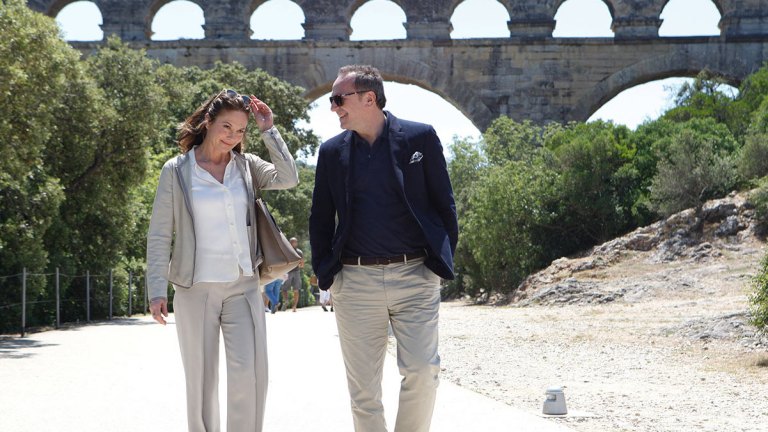 It was on her third viewing of Eleanor Coppola's Paris Can Wait that the film's full aromas revealed themselves to Chef Maria Sinskey. The artisan of the kitchen, who also hails from a Napa Valley vineyard, has been a longtime friend of Coppola and sees many familiar subtleties in the picture to the woman she knows. But it was only upon twice revisiting Paris that it all finally clicked.
"This movie is a seduction," she tells a room full of journalists on a sunny Manhattan afternoon. "It's a seduction by food." Could there be anything sweeter?
Indeed, Paris Can Wait is a foodie's delight as the entire picture is centered around the conceit of Diane Lane's Anne taking a road trip across the south of France with a passionate carnivore and sommelier named Jacques (Arnaud Viard). In theory, it's a good natured and platonic drive. After all, Anne is married to an often-absent big shot Hollywood producer (Alec Baldwin). But then again, and as Baldwin's Michael slowly realizes, "Jacques is a Frenchman." As such, everything Anne encounters in the movie, including the food, is not necessarily as it seems.
To celebrate the Tribeca Film Festival premiere of the movie, Coppola and Sinskey held a cooking demonstration in downtown New York to the benefit of about a dozen journalists. At a picturesque long table dotted with orange napkins, a group that included Eleanor Coppola, Diane Lane, Arnaud Viard, and of course Den of Geek, gathered to sample several dishes inspired by Paris Can Wait's unique culinary affectations.
Over bottles of French wine that I could not name, we were invited by Sinskey to sample red mullet fillet and potatoes in a tarragon sauce, lamb and baby carrots*, and of course French bread and Californian strawberries (once again, the chef is from Napa Valley).
"This movie is about an older France," Coppola explains over a toast—one from an era where classical foods (such as lamb or, for that matter, chocolate crème brûlée) were signs of hospitality and respect, kindness and tradition. Coppola is making her feature narrative debut with Paris after a lifetime as a documentarian, including when she recorded her husband Francis' own bout with obsession on the set of Apocalypse Now in Hearts of Darkness.
This sense of nostalgic reflection not only drove her first narrative feature but also inspired the meals she presents in the film. It is a movie about a long, winding drive between Cannes and Paris that is punctuated by many a drained bottle of wine. Along the way, Jacques seems to keep to his pledge to never even grab Anne's hand, but while reminiscing about lost loves and children who didn't survive infancy, they also confess their own weaknesses. For Jacques it is the past, and while Anne whispers hers is chocolate, one imagines that it is actually much closer to her French guide's own vices.
Lane, who like her onscreen character savored the fava bean appetizers, was taken back to one of the first times she ever recalled cooking herself. "I was a latchkey kid," she muses with a smile, recollecting her eight-year-old self. In an attempt to impress her father, she attempted to cook a piece of spam which at the time struck her to be a piece of bread, yet somehow miraculously was also meat. "I remember his shock" she said of her father opening the door to find spam on the stove.
Needless to say she was quite pleased in 2017 to applaud Sinskey for a relatively more complicated three-course meal—particularly as nearly every aspect of the lunch, including an appetizer spread, featured fava beans to some extent. "That's when I realized they were in love," Sinskey argues about the characters in Paris Can Wait. For according to the chef, preparing fresh fava beans (i.e. not out of a can) is a painstaking process of individually peeling each bean. "And you only do that for someone you care about. So Eleanor is bringing fava back."
She just might be, as one of the more amusing scenes of the movie is foodie Jacques waking up to be impressed by Anne's own skills with a fava spread on toast. Audiences with a certain palate can discover this for themselves when Paris Can Wait opens on May 12.
*These were actual full-sized carrots that Sinskey carefully shorn to resemble baby carrots like in the film because, as according to the chef, many restaurants prefer the flavors of full-sized adult carrots over their immature alternative.