News
Parasite: Bong Joon-ho Movie Trailer, Release Date, Cast, and Story Details
Bong Joon-ho's new thriller just won the Palme d'Or at Cannes and seems like a loaded "tragicomedy" we cannot wait to experience.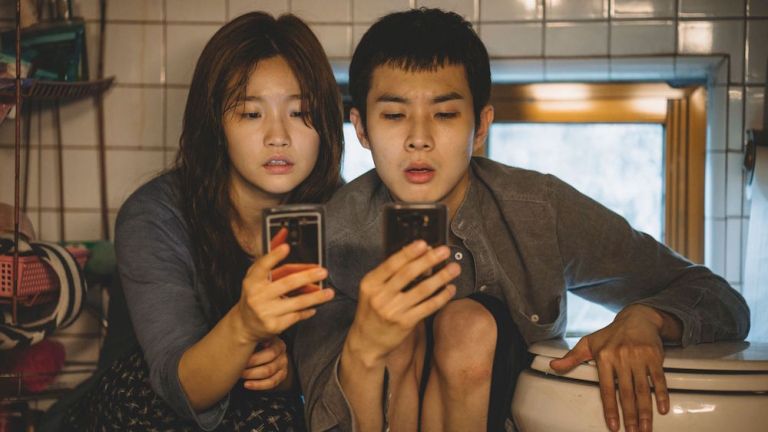 Bong Joon-ho has emerged as one of the most impressive cinematic voices of the early 21st century. A South Korean filmmaker who has successfully turned his name into a distinctive brand that's shorthand for highly stylized, socially conscious films with eclectic tonal shifts, his first two (partially) English language films, Snowpiercer and especially Okja, remain two of the finest science fiction films of this decade. However, his latest movie returns to Seoul and dispenses with genre elements to make Parasite by all accounts a harrowing experience about class warfare and late stage capitalism. After all, not every horror-thriller-comedy wins the Palme d'Or at the Cannes Film Festival. But here we are.
With the film gearing up for an awards season push, here is everything we so far know about what is instantly one of the must-see movies of 2019.
Parasite Trailer
A new Parasite trailer has arrived just ahead of the movie's release. Watch it below!
And here's the first trailer:
And here is what was more of a sizzle reel for Cannes and international markets.
Parasite Release Date
Parasite will be released on the U.S. beginning on Oct. 11, 2019. This initial window will see it bow only in New York and Los Angeles, but other cities and communities can expect an expanded and platformed release in the weeks that follow. Given this film clearly has an eye on the Best Foreign Language Film Oscar (if not more), chances are you'll see it at your local indie cinema this fall. At some point.
Parasite Story
The film is said to be a tale of two families, the Kims and the Parks. While the Kims live in complete squalor in a basement apartment in Seoul, the Parks live in a gilded house in the hills with spacious windows. Whereas the Kims struggle to steal a few bars of Wi-Fi from a neighboring business, the Parks have more servants than they know what to do with. Which is perhaps why they hire the Kim son Ki-woo (Choi Woo-shik) as a tutor for their privileged and distracted daughter Da-hye (Jung Ziso). Little do they realize that Ki-Woo comes from a very enterprising family, who he is soon helping infiltrate every position of service to the Park family, without the wealthier half being aware that "the help" is entirely related.
Thus one family is latching itself onto the economic extravagance of another for survival, which might begin with humorous tangents but is sure to end in tragedy as a story about the "haves" and "have nots" always seems destined to.
Parasite Director
Parasite is directed by Bong Joon-ho, the South Korean filmmaker behind exceedingly clever giant monster movie The Host and the Chris Evans-starring post-apocalyptic sci-fi allegory, Snowpiercer. The latter was about income inequality between the poor toiling away at the back of a miles-long train and the elite they serve but never see at the front. Its themes, as well as those of industrial capitalist vultures in Okja, will be revisited in a much less fantastical fashion via Parasite.
Parasite Cast
The film stars Song Kang-ho, who already has appeared in The Host and Snowpiercer, as Ki-taek, the father of the Kim family who knows his way around fleeting opportunity. Chang Hyae-jin will be playing his wife, Chung-soon, while his young adult son and daughter are played by Choi Woo-shik (Okja) and Park So-dam.
The Park family is led by Mrs. Park (Cho Yeo-jeong) who with her nouveau rich husband, Mr. Park, always away, begins hiring tutors for their children alone. Those children include a wild daughter named Da-hye (Jung Ziso) and young lad Da Song (Jung Hyeon-jun). The family also has a longtime housekeeper who is closer Mrs. Park than any, Moon-gwang (Lee Jeong-eun). Moon-gwang will be quite an obstacle for a family looking to move in.
Read and download the Den of Geek SDCC 2019 Special Edition Magazine right here!