News
Papillon Remake Trailer: Charlie Hunnam and Rami Malek Plan a Prison Break
The upcoming remake of the classic film, Papillon, teams Charlie Hunnam with Rami Malek.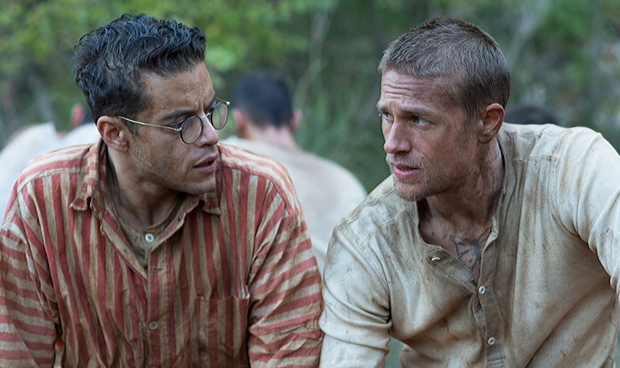 Papillon is yet another classic Oscar-nominated film that's inspiring a remake. The upcoming adaptation of the 1973 Steve McQueen-starring biographically-adapted prison escape drama will center on an intriguing duo of peak television favorites, with Sons of Anarchy alum Charlie Hunnam brandishing a butterfly tattoo on his chest to play the titular role that McQueen made famous, joined by Mr. Robot star Rami Malek as his escape-partner, Dega, the role made famous in the original film by Dustin Hoffman.
Danish director Michael Noer steps up here, working off a script by Aaron Guzikowski who's known as the writer of the 2013 Hugh Jackman/Jake Gyllenhaal abduction drama Prisoners and the Jason Momoa-starring backwoods crime series The Red Road. The film is also under the production stewardship of Red Granite Pictures (The Wolf of Wall Street), and is being produced by Joey McFarland, David Koplan, and Ram Bergman and Roger Corbi.
Papillon Trailer
The Papillon trailer simultaneously showcases a conventional synopsis of the famous framed-for-murder plot while also teasing some hallucinogenic point-of-view view scenes. Yet, the classic fact-based story seems to remain intact, focused on the story of safecracker Henri 'Papillon' Charrière (Hunnam), who's wrongfully convicted of murder and sent to an especially brutal prison in French Guiana, were he eventually strikes up a partnership with Louis Dega (Malek) to implement an escape plan; one that will eventually become far more lengthy, circuitous and perilous than they could have possibly imagined.
Hunnam and Malek are joined in the Papillon cast by names such as Tommy Flanagan (Guardians of the Galaxy Vol. 2) and Eve Hewson (Bridge of Spies). Plus, as the trailer shows, Jake Gyllenhaal appears to be doing a solid for his Prisoners writer, Guzikowski, fielding an uncredited role.
Papillon Details
The 1973 original Papillion film was based on Henri Charrière's 1970 biography of the same name, which was adapted as a screenplay by Dalton Trumbo and Lorenzo Semple Jr., directed by Franklin J. Schaffner. Set in the 1930's Steve McQueen plays Charrière, a thief that is unjustly accused of murder and sentenced to life in a harsh French penal system where he is subjected to torturous treatment, food deprivation and months in dark isolation. However, after befriending a forger named Lois Dega (Dustin Hoffman), Henri participates in an escape plot with him and a few others. For those who haven't seen the film, let's just say that said caper didn't end up improving his circumstances and even more grueling tasks will be required to achieve Henri's escape.
Papillon would certainly be an interesting project for the former Son of Anarchy television star Charlie Hunnam, albeit under the unmistakably massive shadow of McQueen. Hunnam has been attempting to break into the realm of big screen blockbusters for some time at this point to mixed success. While a prestige role starring in Fifty Shades of Grey slipped through his fingers, a role in Guillermo del Toro's Crimson Peak in 2015 saw his acting chops properly stretched to Victorian proportions, along with 2016's The Lost City of Z and (his last film,) 2017's King Arthur: Legend of the Sword, all of which underwhelmed at the box office.
For the Mr. Robot star, Rami Malek, this role arrives amidst enormous buzz generated from the recent first trailer for the November-scheduled biopic, Bohemian Rhapsody, which showcases his eerily accurate portrayal of the late Queen frontman, Freddie Mercury.
Papillon Release Date
Papillon will be set free at theaters this summer on a date to be revealed.
While August 24 is being touted, the trailer itself, from distributor Bleecker Street, remains ambiguous about the official release date, only specifying "this summer."
The film premiered at the Toronto International Film Festival back on September 9, 2017.