News
Pacific Rim Uprising Trailer, Release Date and More
Here's everything you need to know about Pacific Rim 2, and the new trailer looks pretty great.
Sweet merciful Gamera, this is good news! Pacific Rim 2, the sequel to the giant robots vs giant monsters movie that has been dead and alive and dead and alive more times than Godzilla himself (the character, not the franchise, although that's appropriate, too) is actually, finally happening. The film dropped its original title of Pacific Rim: Maelstrom title in favor of Pacific Rim Uprising.
Steven S. DeKnight, who helped make Daredevil season one so special (and who has an extraordinarily genre-friendly resume in general), directed the film, working off a screenplay by Derrick Connolly (Jurassic World), who reworked an earlier draft by Jon Spaihts (Prometheus, Doctor Strange). This is quite a project for someone to make their big screen directorial debut with, especially when following in the footsteps of someone like Guillermo del Toro. Mr. del Toro will produce alongside Thomas Tull, Mary Parent, Jon Jashni, Femi Oguns, and John Boyega.
Pacific Rim Uprising Trailer
Pacific Rim Uprising probably won't have to work too hard to convince audiences – personal preferences notwithstanding – that it will showcase an awesome onscreen spectacle of epic proportions. However, the latest trailer makes a special effort to drive home its heart-pounding, eye-popping aesthetics, promoting the film's digitally remastered release in IMAX.
…Here's the previous trailer.
While Pacific Rim: Uprising has already released a few posters that herald its humongous arrival, this latest one fits the "definitive" category. With the poster showcasing a quartet of jaegers, the clear centerpiece is Gipsy Avenger, the ultra-upgraded namesake of the first film's Gipsy Danger, which will be piloted by John Boyega's Jake Pentecost, son of Idris Elba's martyred legend, Stacker Pentecost.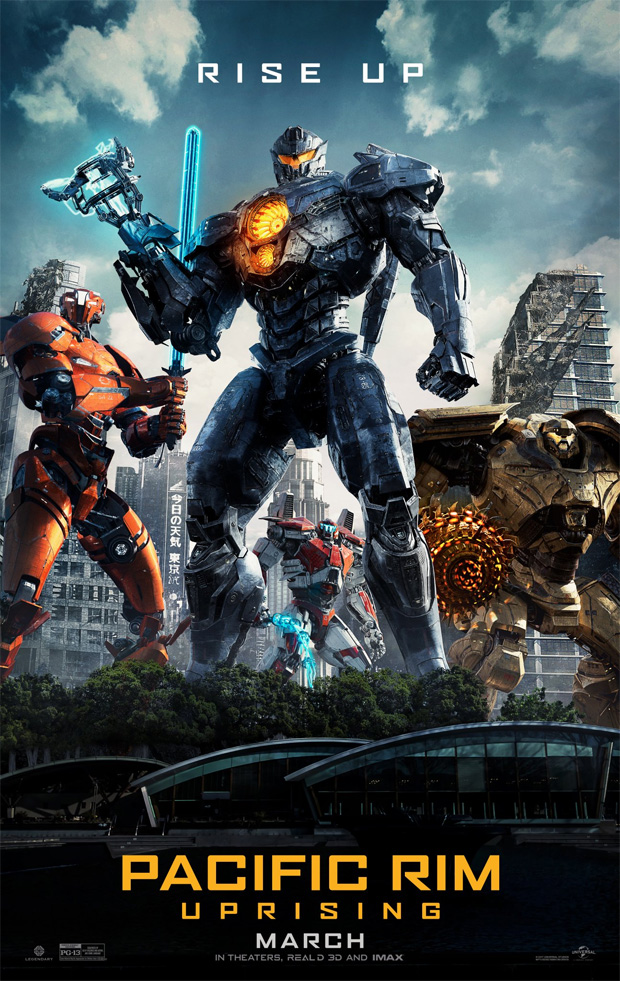 Check out the official synopsis: 
"The globe-spanning conflict between otherworldly monsters of mass destruction and the human-piloted super-machines built to vanquish them was only a prelude to the all-out assault on humanity in Pacific Rim Uprising.

John Boyega (Star Wars: The Force Awakens) stars as the rebellious Jake Pentecost, a once-promising Jaeger pilot whose legendary father gave his life to secure humanity's victory against the monstrous "Kaiju." Jake has since abandoned his training only to become caught up in a criminal underworld. But when an even more unstoppable threat is unleashed to tear through our cities and bring the world to its knees, he is given one last chance to live up to his father's legacy by his estranged sister, Mako Mori (Rinko Kikuchi)—who is leading a brave new generation of pilots that have grown up in the shadow of war. As they seek justice for the fallen, their only hope is to unite together in a global uprising against the forces of extinction.

Jake is joined by gifted rival pilot Lambert (The Fate of the Furious' Scott Eastwood) and 15-year-old Jaeger hacker Amara (newcomer Cailee Spaeny), as the heroes of the PPDC become the only family he has left. Rising up to become the most powerful defense force to ever walk the earth, they will set course for a spectacular all-new adventure on a towering scale."
Pacific Rim Uprising Trailer
The Pacific Rim Uprising trailer is positively filled with jaeger and kaiju fighting goodness.
Pacific Rim Uprising Release Date
Pacific Rim Uprising will open on March 23, 2018. Universal is planning a 3D release. The better to spotlight kaiju with. 
Check out these posters!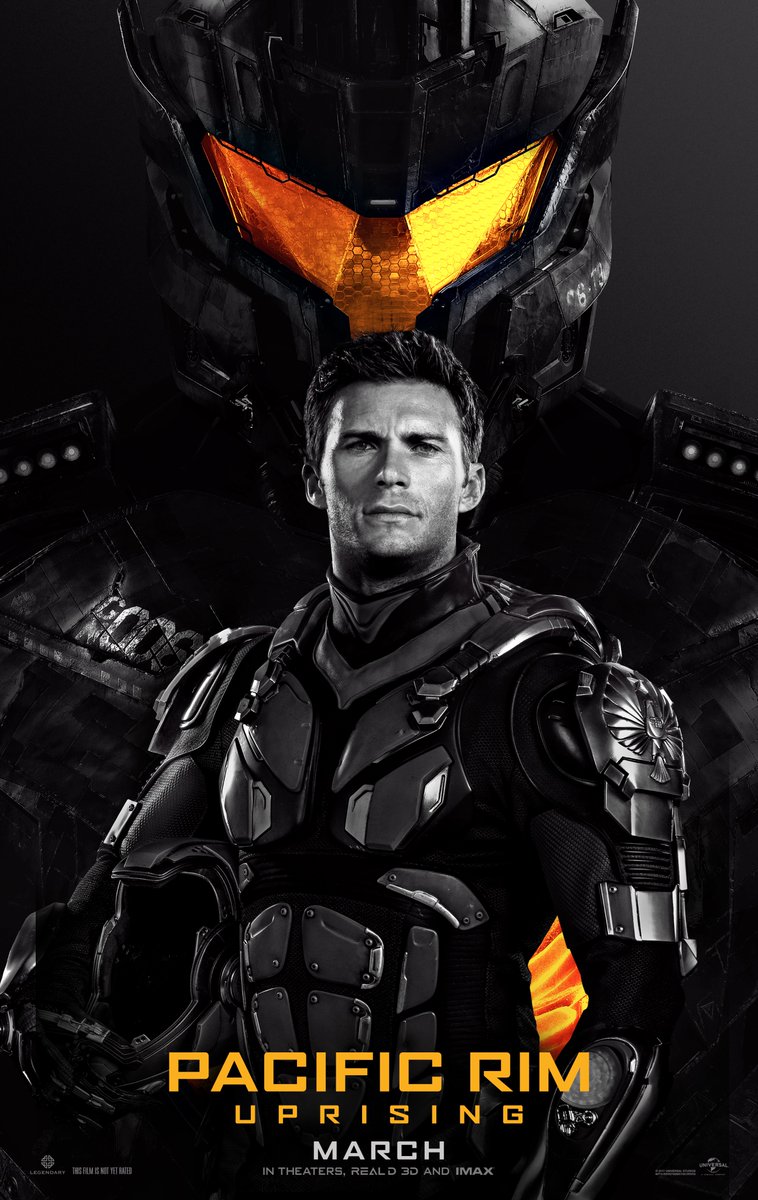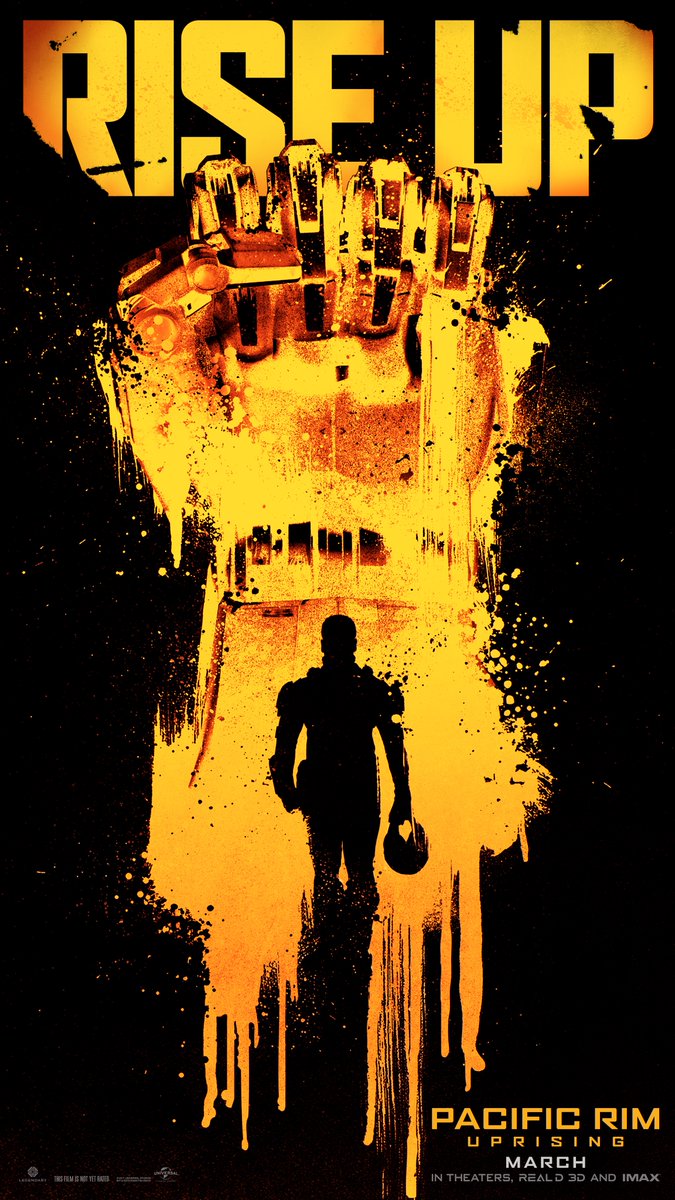 Total Film has a bunch of new photos, too.
Pacific Rim Uprising Cast
Star Wars: The Force Awakens' John Boyega will play the son of Stacker Pentecost, Idris Elba's character from the first film. 
"I am very proud and happy to welcome John into a fantastic sandbox," Guillermo del Toro told Deadline. "The Pacific Rim universe will be reinforced with him as a leading man as it continues to be a multicultural, multi-layered world. 'The World saving the world' was our goal and I couldn't think of a better man for the job."
Relative newcomer Cailee Spaeny is the female lead in Pacific Rim: Uprising, according to Variety. Other details about her character are being kept under lock and key for the moment.
Jing Tian (New Police Story, as well as the upcoming Kong: Skull Island) has an undisclosed role (via Deadline). She joins John Boyega, Cailee Spaeny, and Scott Eastwood. 
Variety reports that Levi Meaden (Aftermath) has another undisclosed role.
Adria Arjona has another undisclosed role. No details about her character are available. 
Nick Tarabay (Spartacus) is also in the cast, along with Rahart Adams (via Deadline).
Shyrley Rodriguez has joined the cast (via Deadline) as has Zhiang Jin (via Variety).