News
Overboard Trailer: Anna Faris Plays Kurt Russell's Role
The gender-swapped remake of the 1987 Kurt Russell and Goldie Hawn romcom, Overboard, stars Anna Faris and Eugenio Derbez.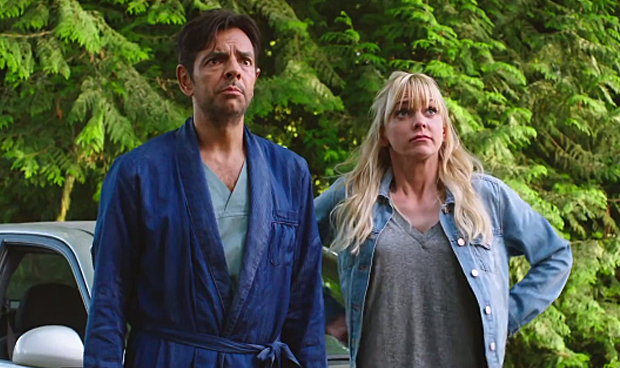 Overboard, a prominent example of 1980s cinematic absurdity, is the next property from the heavily-picked pop-culture pasture of a decade to get the reboot treatment. Director Garry Marshall's original 1987 film, which starred real-life couple Kurt Russell and Goldie Hawn, brandished a zany amnesia-addled premise that could be interpreted as sinister with today's sensibilities. Consequently, the stars of the reboot will reverse the roles of their original counterparts.
Overboard Trailer
The Overboard trailer is pretty much what we have come to expect after news of the gender-swapped reboot first hit. Anna Faris's female lead, Kate, is a working-class carpet cleaner and Eugenio Derbez's male lead, Leonardo, is a yacht-partying Mexican aristocrat who hires and subsequently mistreats her. However, karma seemingly intervenes after Leonardo takes an accidental amnesia-imbuing plunge, allowing the overwhelmed single mother Kate to seize the opportunity to claim him as an ersatz husband and co-habitant in her heaving hovel.
By (thin) contrast, the original 1987 film centered on the unlikely romance between wealthy heiress Joanna (Hawn) and blue-collar carpenter Dean (Russell). After initially mistreating Dean on a job, Joanna accidentally falls off her yacht, later found with no memory of her identity. However, motivated by both revenge and love, Dean tricks Joanna into believing that she's "Annie," his wife and mother to his four young rowdy sons; a awkwardly difficult, labor-intensive setup that she eventually embraces. Meanwhile, Joanna's real husband, Grant (Edward Hermann), sees her possible death as a fortuitous turn of events and does little to aid the search efforts. That dynamic, however, is clearly rearranged in the reboot.
It could be argued that the original film's premise in which a man tricks a woman into thinking she's his wife – watching her raise his children and eventually leading her into his bed – is kind of a creepy concept on paper. While the reboot's gender reversal doesn't exactly mitigate that idea, it should be interesting to see how the dynamic is approached.
Overboard Details
For Anna Faris, current star of CBS sitcom Mom and longtime cinematic comedy superstar of the Scary Movie parody film series and The House Bunny, there's a bit of "six degrees" with this project, since original Overboard star Kurt Russell played the father of her (recently estranged) husband Chris Pratt's character in this past May's Marvel sequel, Guardians of the Galaxy Vol. 2.
For Eugenio Derbez, the veteran Mexican comedy star of long-running sitcom La Familia P. Luche, notably seen playing two roles in the 2011 Adam Sandler comedy Jack and Jill, this role represents a proper coming out project in the U.S. Another noteworthy item on Derbez's docket will see him voice the iconic mouse Speedy Gonzales in an upcoming revival movie. – Eva Longoria (Telenovela), Swoosie Kurtz (Man with a Plan), Josh Segarra (Arrow) and John Hannah (Agents of S.H.I.E.L.D.) also appear in the film.
In the director's chair for Overboard is the duo of Rob Greenberg (How I Met Your Mother, Happy Endings) and Bob Fisher (Wedding Crashers, We're the Millers), who both wrote the script. Co-star Eugenio Derbez is also onboard as a producer alongside Ben Odell by way of their 3Pas Studios label. MGM and Pantelion Films are the primary producers, with Lionsgate handling domestic distribution.
Overboard Release Date
Overboard will arrive at theaters, amidst a presumably busy day for dispensaries, on April 20, 2018.
Those who are unfamiliar with the original film can (and should,) check out the trailer below.