News
Our 2014 Oscar Predictions
We examine some of the biggest categories and predict just who is bringing home the gold in our 2014 Oscar predictions...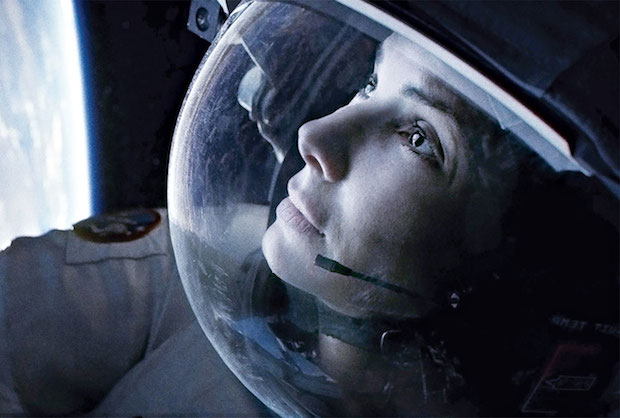 In case you didn't notice every entertainment journalist from the Dolby Theatre all the way to Radio City Music Hall getting out their black ties or sparkling sequins, allow us to announce that it's Oscar Weekend! This Sunday, Hollywood is uncorking the champagne, unrolling the red carpet, and tripping the light fantastic as the Academy of Motion Picture Arts and Sciences honors what they deem the most worthy of taking home those little, auspicious, nude men. And if you don't have an invitation to the Elton John after-party, then chances are you are looking for any last minute tips with the office pool. So, here are our last fateful predictions to help you with all things Oscar.
NOTE: These predictions will primarily be focused on the heavy hitters for Oscar's big night, and which we predict will win (not which is best).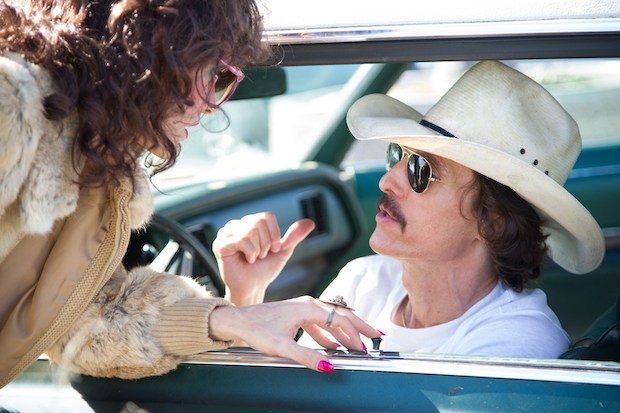 PERFORMANCE BY AN ACTOR IN A LEADING ROLE
Christian Bale in "American Hustle"
Bruce Dern in "Nebraska"
Leonardo DiCaprio in "The Wolf of Wall Street"
Chiwetel Ejiofor in "12 Years a Slave"
Matthew McConaughey in "Dallas Buyers Club"
In a no-brainer win, Matthew McConaughey has been riding a wave of critical acclaim since Dallas Buyers Club premiered at the 2013 Toronto International Film Festival. Easily one of the best movies of the year, Dallas features McConaughey at the height of his career following a five-year long crescendo to McConaissance glory. Yes, there is undoubtedly a school of thought that says it is finally DiCaprio's year, however as per usual, the Academy will punt on that again. McConaughey has the bigger "Cinderella story" that plays well into Oscar ballot casting and political campaigns, as he has transformed himself over several years from a supposed lightweight to one of the most respected leading men in Hollywood who is about to be awarded for his entire body of staggering work in 2013, including impressive turns in Mud and his film-defining cameo in The Wolf of Wall Street. Also losing 47 pounds to play a real-life hero from the AIDS epidemic is far easier to get behind than playing a scummy Wall Street broker who swindled millions from clients to fuel his drug habits.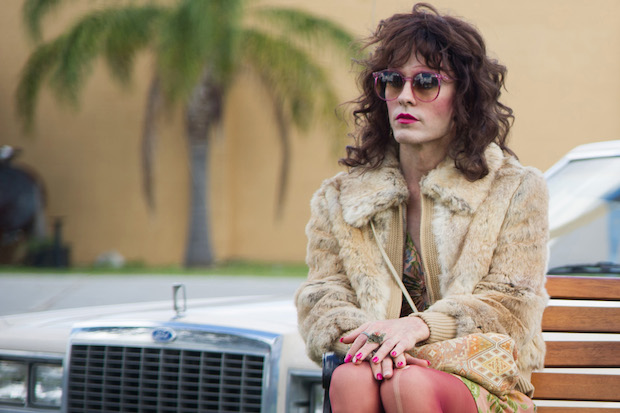 PERFORMANCE BY AN ACTOR IN A SUPPORTING ROLE
Barkhad Abdi in "Captain Phillips"
Bradley Cooper in "American Hustle"
Michael Fassbender in "12 Years a Slave"
Jonah Hill in "The Wolf of Wall Street"
Jared Leto in "Dallas Buyers Club"
And the other acting lock for Dallas Buyers Club comes from a performance that is far more transformative than the name above the credits. As "Rayon," Jared Leto proves that he can also be one of the loveliest ladies on film when Rayon goes into business with McConaughey's initially homophobic Ron Woodroof to smuggle life-saving AZT medication across the Mexican border. Another political performance, this one pushes viewers, including the older skewing and more traditional voting Academy, into seeing things from another perspective, even if it is in the form of a cross-dresser who has a very unglamorous cocaine habit to go along with HIV. Rayon demands that Ron puts a face to the AIDS nightmare. And soon, the AMPAS will put an Oscar to Leto's.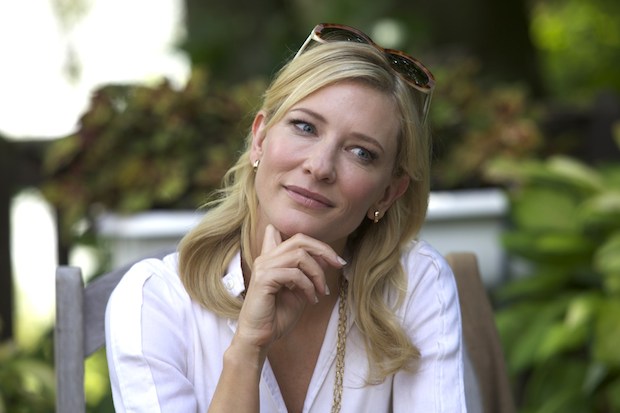 PERFORMANCE BY AN ACTRESS IN A LEADING ROLE
Amy Adams in "American Hustle"
Cate Blanchett in "Blue Jasmine"
Sandra Bullock in "Gravity"
Judi Dench in "Philomena"
Meryl Streep in "August: Osage County"
Cate Blanchett is going to easily walk away with a much-deserved Oscar for her stunning performance in Blue Jasmine. Whatever controversy may be swirling around writer-director Woody Allen, he can undeniably write great female characters, and he and Blanchett have crafted the most memorable fallen socialite this side of Blanche DuBois. Pain is relative, so for the titular Jasmine—the newly penniless widow of a Wall Street conman (Alec Baldwin) who committed suicide in prison—being suddenly whisked into the West Coast working class with her hapless sister (Sally Hawkins) is akin to waterboarding. Blanchett captures every contour of mental anguish and ultimate destruction in Jasmine's delicately refined features as they fade away on the muddied streets. The definition of all dolled up with no place to go, the only thing left for Blanchett's Jasmine is Oscar gold.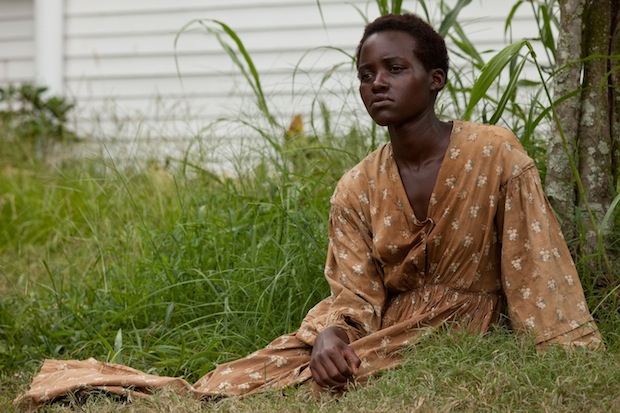 PERFORMANCE BY AN ACTRESS IN A SUPPORTING ROLE
Sally Hawkins in "Blue Jasmine"
Jennifer Lawrence in "American Hustle"
Lupita Nyong'o in "12 Years a Slave"
Julia Roberts in "August: Osage County"
June Squibb in "Nebraska"
Jennifer Lawrence may have won the Golden Globe, the BAFTA, and every single American's heart, but she didn't win the SAG. And when the Screen Actors Guild, the voting body that anointed American Hustle the best ensemble of 2013, can't bring themselves to give it to her two years in a row, neither will the Academy with its plethora of actors, and even more non-acting members. Lupita Nyong'o was fantastic in 12 Years a Slave through a character type that is often glossed over in big screen cinema. Also, it has a nice bit of progressive symbolism for the Academy to go from awarding Hattie McDaniel for her lovingly deferential Mammy in Gone with the Wind to Nyong'o's haunting Patsey. Plus, this permits the Academy to reserve more Lawrence adoration for the years to come.
ORIGINAL SCREENPLAY
"American Hustle" Written by Eric Warren Singer and David O. Russell
"Blue Jasmine" Written by Woody Allen
"Dallas Buyers Club" Written by Craig Borten & Melisa Wallack
"Her" Written by Spike Jonze
"Nebraska" Written by Bob Nelson
Still, SAG did love American Hustle overall, and the movie's one opportunity to enjoy a really "major" above the line award this year will probably be in the Original Screenplay category. Like many, I found Spike Jonze's screenplay for Her to be nothing short of extraordinary with its Rorschach-like ability to either be a charming 21st century romance or a terrifying parable for the iPhone generation. However, the picture's intentional ambiguity, and sometimes apathy, about the role of technology or the even more intangible horror—love—makes it slightly too obtuse for a voting body that tends to look back more than forward. And just as last year's Argo found suspense in the glam and garish of the 1970s, so too does Eric Singer and David O. Russell's frantic screenplay, which never sits down long enough for the characters to realize that they're in so over their heads that they can touch ocean floor. It's a snappy, witty piece of writing with enough goodwill from its terrific acting ensemble to make Academy voters consider this an excellent consolation prize.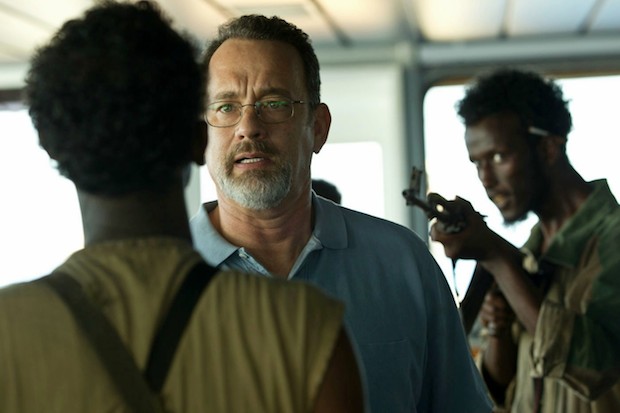 ADAPTED SCREENPLAY
"Before Midnight" Written by Richard Linklater, Julie Delpy, and Ethan Hawke
"Captain Phillips" Screenplay by Billy Ray
"Philomena" Screenplay by Steve Coogan and Jeff Pope
"12 Years a Slave" Screenplay by John Ridley
"The Wolf of Wall Street" Screenplay by Terence Winter
And if one movie is looking to pick up a consolation prize, it's Captain Phillips. A seeming lock for direction and lead acting nominations for Paul Greengrass and Tom Hanks, respectively, the movie has surprisingly had to accept a token Best Picture nomination and a well-earned Supporting Actor nod for first-timer Barkhad Abdi. Yet, the picture still stands an excellent chance in the category of Adapted Screenplay to get its much missed Oscar love, as the biggest competitor, Steve Coogan and Jeff Pope's lovely Philomena, never enjoyed the kind of exposure necessary to topple the Captain. More feel good than 12 Years or Wolf, and less challenging (and indie) than Before Midnight, it is Captain Phillips' to lose.
ACHIEVEMENT IN CINEMATOGRAPHY
"The Grandmaster" Philippe Le Sourd
"Gravity" Emmanuel Lubezki
"Inside Llewyn Davis" Bruno Delbonnel
"Nebraska" Phedon Papamichael
"Prisoners" Roger A. Deakins
What should be one of many, many good omens for Gravity on Oscar night, Cinematgoraphy will be part of its technical sweep. Emmanuel Lubezki outdid himself with a confounding, brilliant, and utterly hypnotic visual style that tricked the eye into often believing the camera was simply floating through real space around the actors for dozens of minutes at a time. A technical marvel, cinematography is one of the many things that stand out about Gravity.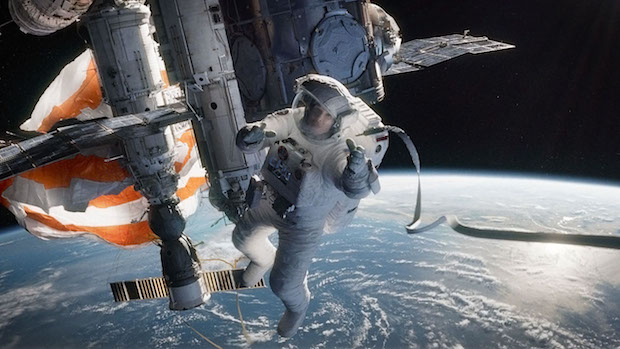 ACHIEVEMENT IN VISUAL EFFECTS
"Gravity" Tim Webber, Chris Lawrence, Dave Shirk and Neil Corbould
"The Hobbit: The Desolation of Smaug" Joe Letteri, Eric Saindon, David Clayton and Eric Reynolds
"Iron Man 3" Christopher Townsend, Guy Williams, Erik Nash and Dan Sudick
"The Lone Ranger" Tim Alexander, Gary Brozenich, Edson Williams and John Frazier
"Star Trek Into Darkness" Roger Guyett, Patrick Tubach, Ben Grossmann and Burt Dalton
Another is the equally seamless visual effects that made that orbital dreamscape possible. One of the most jaw-dropping spectacles of the last decade, Gravity never once allows viewers to doubt anything less than their complete surrender into the film's reality. The highest compliment to be paid is that most forget that it is a visual effect while watching the movie. Many more still don't realize that even the helmets in Gravity are completely CGI!
ACHIEVEMENT IN MUSIC WRITTEN FOR MOTION PICTURES (ORIGINAL SCORE)
"The Book Thief" John Williams
"Gravity" Steven Price
"Her" William Butler and Owen Pallett
"Philomena" Alexandre Desplat
"Saving Mr. Banks" Thomas Newman
In a year where few musical scores were truly out of this world, Steven Price's Gravity will also likely benefit from the movie's technical majesty. Indeed, the final orchestral march of the film, after a certain character reaches their long-awaited destination, is enough to shake any viewer into submission to the sheer grandeur of what has just been endured.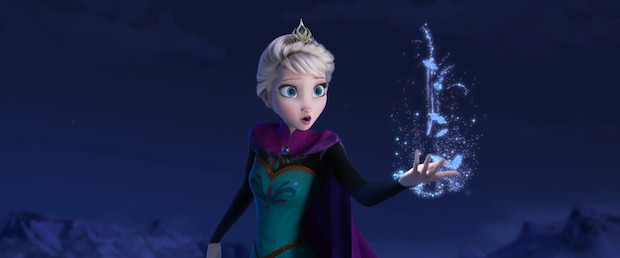 ACHIEVEMENT IN MUSIC WRITTEN FOR MOTION PICTURES (ORIGINAL SONG)
"Alone Yet Not Alone" from "Alone Yet Not Alone"
"Happy" from "Despicable Me 2"
"Let It Go" from "Frozen"
"The Moon Song" from "Her"
"Ordinary Love" from "Mandela: Long Walk to Freedom"
Also in one of the night's safest bets is Robert Lopez and Kristen Anderson-Lopez's anthem to self-empowerment via the best Disney musical number in at least a decade. "Let It Go," which will hopefully bring down every speaker in the Dolby Theatre when Idina Menzel takes the stage Sunday evening, is a power ballad that embraces Broadway like rarely seen in multiplexes. It may not have won the Golden Globe, but the Academy has been itching to award Disney like it's still the Menken-Ashman days for a long time now, and this might be a return to that glory.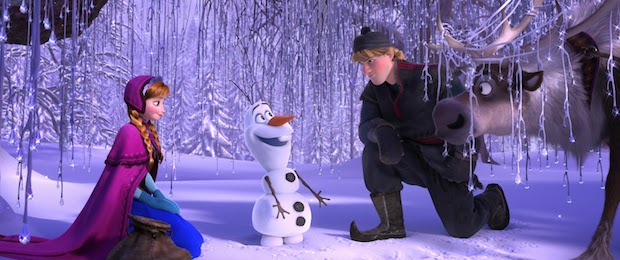 BEST ANIMATED FEATURE FILM OF THE YEAR
"The Croods"
Chris Sanders, Kirk DeMicco and Kristine Belson
"Despicable Me 2"
Chris Renaud, Pierre Coffin and Chris Meledandri
"Ernest & Celestine"
Benjamin Renner and Didier Brunner
"Frozen"
Chris Buck, Jennifer Lee and Peter Del Vecho
"The Wind Rises"
Hayao Miyazaki and Toshio Suzuki
The one award Frozen has locked up tighter than the harbor of Arendelle is the Best Animated Feature category. Not only is Frozen the most successful animated film of 2013, it is also about to cross $1 billion as a global phenomenon. This Disney fairy tale has captured the imagination of everyone from 3-years-old to 93-years-old. Returning to the magic Disney has not seen since the proverbial renaissance of hand-drawn animation, the movie has supplanted all the competition for this easy victory. The closest rival, The Wind Rises, has way too much political baggage for romanticizing the man who crafted the planes that bombed Pearl Harbor. It may be Miyazaki's last film, but it is Walt Disney Animation Studio's first to capture the imagination of the Academy since the creation of the Best Animated Film category. And as the Academy once famously gave Beauty and the Beast a Best Picture nomination (before there were 10 slots available), this is their chance to finally recognize that classic style with a win for more than just song or score. Indeed, it may mark a whole new world for Disney.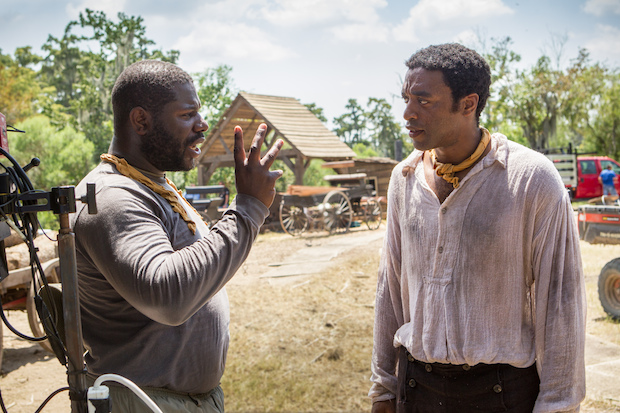 ACHIEVEMENT IN DIRECTING
"American Hustle" David O. Russell
"Gravity" Alfonso Cuarón
"Nebraska" Alexander Payne
"12 Years a Slave" Steve McQueen
"The Wolf of Wall Street" Martin Scorsese
Yes, I know that Alfonso Cuarón is the frontrunner for his superb work on Gravity. I also realize that he has already picked up the DGA, the Golden Globe, and the BAFTA, the latter of which he beat out English-born Steve McQueen for. And yet, this is still the Academy of Motion Picture Arts and Sciences, and this is still the award for Achievement in Directing. Genre filmmaking, particularly the science fiction genre, just does not win one of the highest prizes. It took Peter Jackson three consecutive films and a combined $2.8 billion global grossing to warm the institution to the idea of crowning a fantasy achievement, and that one featured more than two characters. Despite all indications pointing to Cuarón, the truth is the Academy rarely has split years. Last Oscar night was a fluke anomaly when the directing branch of the AMPAS made a special slight at Ben Affleck, whose snubbing became a campaign cry for Warner Brothers all the way to the Best Picture circle. If Affleck had been on the wider ballot to compete against Ang Lee after his picture had won the top prizes at the DGA and PGA, things might have gone differently. More often than not, the Academy ties Best Director to Best Picture like an anchor, and the AMPAS absolutely will not give Best Picture to a sci-fi film…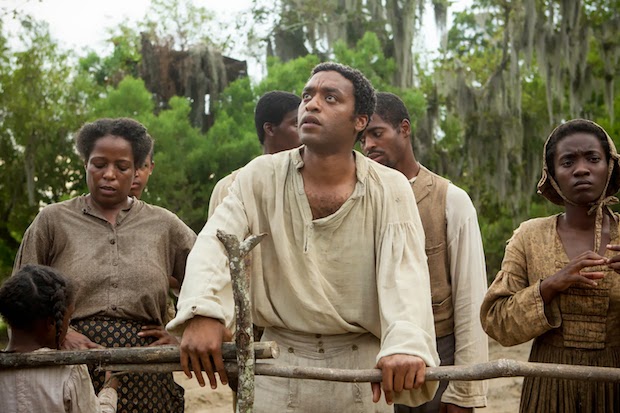 BEST MOTION PICTURE OF THE YEAR
"American Hustle"
A Columbia Pictures and Annapurna Pictures Production
"Captain Phillips" A Columbia Pictures Production
"Dallas Buyers Club"
A Voltage Pictures, R2 Films, Evolution Independent Production
"Gravity"
A Warner Bros. UK Services Limited Production
"Her"
An Annapurna Production
"Nebraska"
A Paramount Vantage Production
"Philomena"
A Pathé, BBC Films, BFI, Canal+, Cine+ and Baby Cow/Magnolia Mae Production
"12 Years a Slave"
A River Road, Plan B, New Regency Production
"The Wolf of Wall Street"
A Red Granite Production
…Because 12 Years a Slave is going to win Best Picture. Despite the increased competition from Gravity as of late, gathering steam from its varied guild wins, the picture will not dethrone a period piece dealing with one of America's greatest sins. There is a contingency that suggests 12 Years is too harrowing to even be viewed by some of the more squeamish Academy members, much less win their votes. But just as pictures like Schindler's List overcame the grimness of its subject matter through historical relevancy, so too will this movie, even from voters who may turn their heads at McQueen's most visceral depictions of institutionalized barbarism and human suffering. There is a compelling argument for Gravity's ascendance due to the preferential voting tally for this category, which theoretically will allow it to bypass 12 Years and the more conventional American Hustle. However, this theory makes the assumption that American Hustle is a spoiler for 12 Years, when Gravity could truthfully end up in just as many "third spots" as second place picks. When we first analyzed the nominees during the day of their announcement, American Hustle seemed to be in a much more robust position than it currently holds. However, it still sits pretty with SAG and much of the Academy's voting body, which while threatening to the equally impressive acting ensemble for 12 Years, also constitutes many voters who may consider genre as a viable choice for Best Picture.
At the end of the day, Hustle doesn't have the juice to beat Gravity, and yet Gravity doesn't have enough of its title's namesake (at least as decreed by the narrow, unwritten parameters of Academy consideration) to carry the top prize. Thus, it will be 12 Years this Sunday.
Those are our predictions for tomorrow's big dance. Agree with them? Disagree with them? Think that Her can win it all? Let us know in the comments section below!
Like us on Facebook and follow us on Twitter for all news updates related to the world of geek. And Google+, if that's your thing!