News
Oscars 2019 Best Moments Including Speeches, Winners, and More
The highlights of the 2019 Oscars handily digested including speeches, songs, and all the best parts of the night.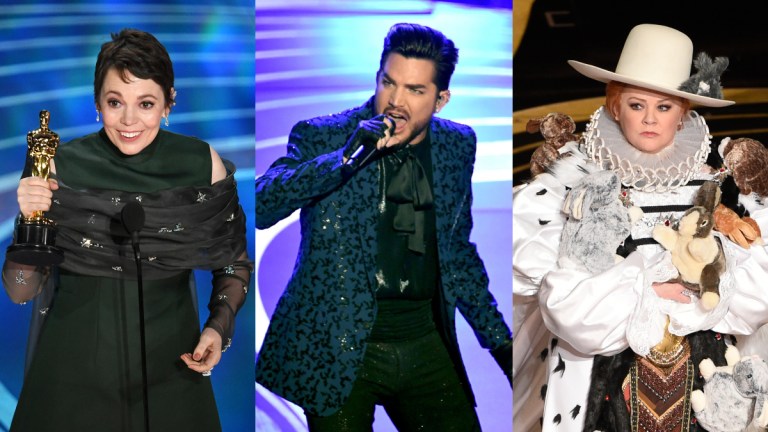 This article comes from Den of Geek UK.
The 91st Academy Awards ceremony is complete, bringing with it some surprises, some great speeches, a bit of controversy and some awesome dresses and such.
For all the big winners and a bit of analysis of the awards check out our results round-up. But if you weren't able to stay up for the show, here are all the best moments from the night.
Here are some favorite moments.
Queen opens the ceremony
Fronted by Adam Lambert, Queen opened the show starting with "We Will Rock You," and following up with "We Are The Champions." Rousing and a great way to kick things off.
The crowd went… well not wild, but mildly animated.
read more: What the Bohemian Rhapsody Era of Rock Was Really Like
Lady Gaga was shown loving Brian May's solos and Bohemian Rhapsody stars Rami Malek and Lucy Boynton were seen cheering along. It was an energetic opener to the show, before the traditional montage of the year's best films, not all of them nominees. There was a nice picture of Freddie Mercury in the background, too.
Tina Fey, Amy Poehler and Maya Rudolph's opener
OK, there was no host this year but the show opened with Tina Fey, Amy Poehler and Maya Rudolph who were cool and funny announcing the Best Supporting Actress category, prompting the thought: why not let them host the whole thing?
"There's no host, there won't be a popular movie category and Mexico won't be paying for the wall," they began, after a list of other gags they wouldn't be making, including: "These pants are so tight they're entered my Spider-Verse", "Chadwick Boseman, Wakanda plans you got later?" and "Everyone look under their seats, you're all getting one of those cheese sandwiches from Fyre Fest."
They would have rocked it. A total here's what you could have won.
Elsie Fisher from Eighth Grade presents an award
Eighth Grade should have had a nomination or two, so it was great to see Fisher presenting the award for Best Hair and Make-Up with which was won by Greg Cannom, Kate Biscoe and Patricia Dehaney for Vice. The winners were charmingly thrown, reading off a piece of paper and eventually getting played off…
They weren't the only ones who were played off and people weren't happy.
Elise was looking cool in a tux and people were comparing her outfit to that of Billy Porter, who won the red carpet… 
So the men are wearing the gowns, and the women are wearing the pants. I like it, Billy Porter and Melissa McCarthy.
#Oscars
pic.twitter.com/h76t0foVKx
— Vanessa Friedman (@VVFriedman)
February 24, 2019
Melissa McCarthy's dress

Co-presenting with Brian Tyree Henry, McCarthy swept onto the stage dressed in a gown that was a pastiche of Olivia Colman's Queen Anne from The Favourite with a train covered in cuddly bunnies, and she looked awesome. Holding a rabbit puppet and talking about how good costume design doesn't distract from the story, McCarthy was straight-faced and brilliant, even though The Favourite didn't actually win. The costume award actually went to Black Panther.
Spider-Man: Into the Spider-Verse takes home Best Animated Film
It's not like the Academy had a choice. This was hands down the best Animated Film of the year, and maybe the last five years on top of that. But still seeing it happen was a delight. The best superhero movie of 2018 took home the top prize in its medium.
Black Panther wins three awards

The winner for costume design was Black Panther and costume designer Ruth E Carter, who talked about honoring African royalty in her designs and how women can look and lead on screen, thanking Ryan Coogler for trusting her vision. She's the first African American costume designer to win this award.
read more: Complete Guide to Marvel Easter Eggs in Black Panther
Winning production designer Hannah Beachler couldn't walk easily in her fabulous red dress when she steps up to accept the award and she had to put on glasses to find her speech in her phone. But her speech was inspiring. She's the first African American woman nominated for this award and she said, "I stand here with agency and self-worth because of Ryan Coogler," before thanking a range of influences. Unlike a lot of the other winners, she's not played off stage and the speech is lovely.
Mike Myers and Dana Carvey reunite
It was great to see the Wayne's World duo back together, as they came on stage to present the showreel for Best Picture nominee Bohemian Rhapsody (in which Myers also has a role). They instantly resumed Wayne and Garth's iconic repartee: "If you honk I'll spew!" "If you spew I'll blow chunks!" The pair, who famously headbanged along to Queen's operatic rock anthem in the 1992 movie (yes, the film is nearly 30 years old), then declared "We're not worthy" in the direction of Brian May and Roger Taylor. Party time. Excellent.
The short film category speeches have positive messages
Winning the animated short category was gorgeous, moving Bao. Director Domee Shi said: "To the nerdy girls who hide behind their sketchbooks, don't be afraid to tell your stories to the world." The doc short went to Period. End of Sentence where filmmaker Rayka Zehtabchi started her speech joking that she wasn't being emotional because she was on her period, but continued: "I can't believe a film about menstruation just won an Oscar!" with producer Melissa Berton adding, "a period should end a sentence, not a girl's education." Krysten Ritter and Kiki Layne (from If Beale Street Could Talk) presented the award to Skin for best live action short. Accepting it were director Guy Nattiv and producer Jaime Ray Newman, who talked about "teaching our kids a better way."
Lady Gaga and Bradley Cooper's performance of Shallow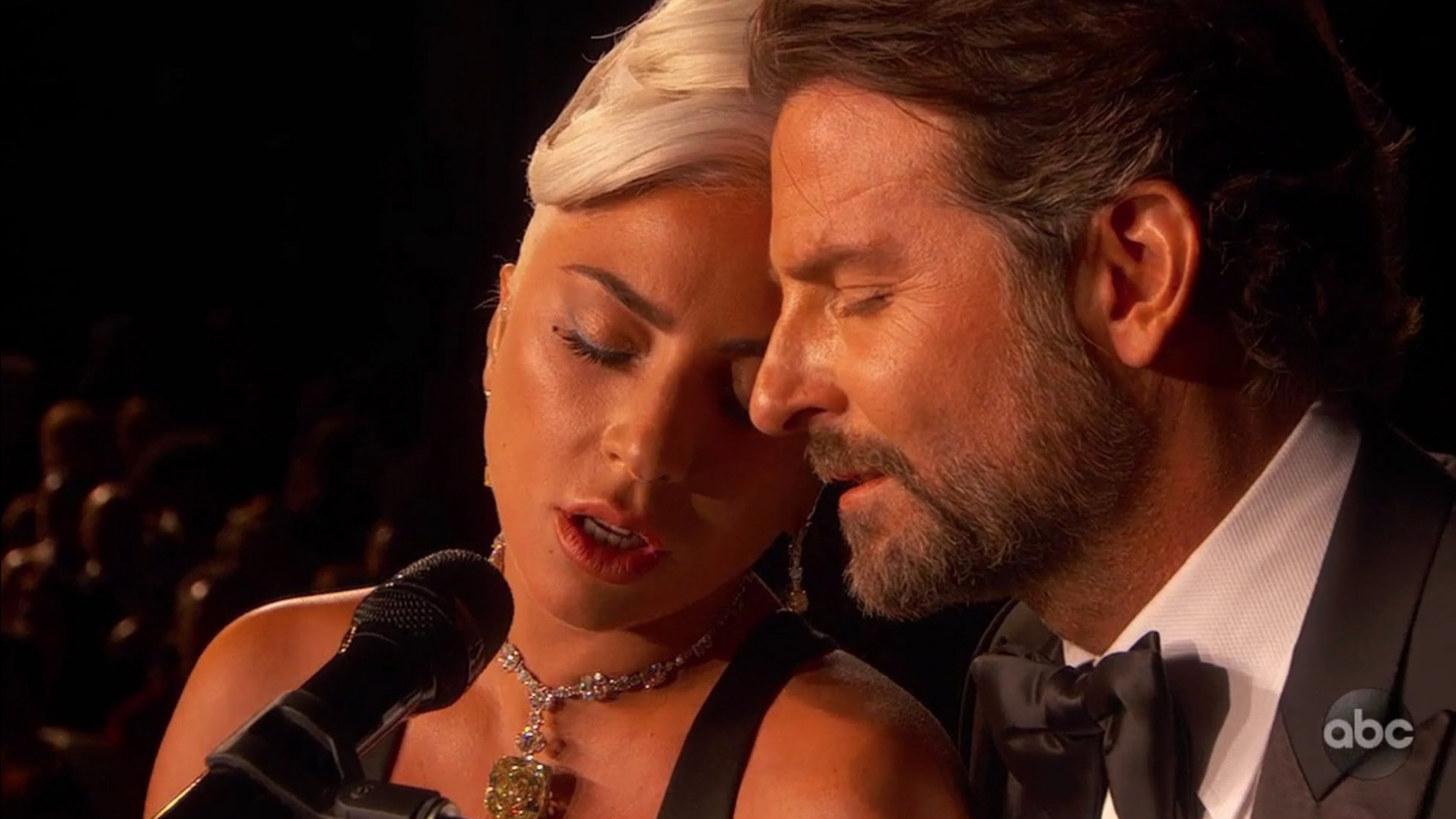 He helps her up the steps and they sit by the piano. He sings. Then she sings and plays. Easily the best performance of the night, no surprises. And the chemistry. The chemistry! The meme of the night came from the performance of the song "Shallow," which won the award for best original song. We wish someone would look at us like that. Jennifer Hudson knows.  
Jennifer Hudson is all of us watching Gaga's speech
#Oscars
pic.twitter.com/xOum9JDwkf
— Lindsey Kupfer (@Lindseykupfer)
February 25, 2019
Olivia Colman's speech
Olivia Colman looked genuinely shocked when her name was read out by Frances McDormand as the recipient of the Best Actress award – almost as shocked as her castmate and seat neighbor Emma Stone, who just kept saying "Oh my God," and hugging her over and over again. Colman went on to continue her run of awards-show stealing speeches, charming the room with her humor, humility and just general, well, British-ness. "It's genuinely quite stressful," she said as she got to the stage. "This is hilarious. I've got an Oscar!" She also had the night's best riposte to the overzealous cut-off music players – blowing a raspberry. A standing ovation was inevitable.
Spike Lee wins Best Adapted Screenplay
Thirty years ago, the Academy failed to even nominate Spike Lee for Best Picture or Best Director after his seminal Do the Right Thing. He then also lost Best Original Screenplay too. At least last night, the Academy partially atoned when Lee (who still lost Picture and Director again) took home Best Adapted Screenplay for BlacKkKlansman. The only thing that could make it better? That the legendary filmmaker was called to the stage by longtime friend and collaborator Samuel L. Jackson.
read more: Spike Lee Explores Racism in Classic Hollywood with New Movie
Jackson first worked with Lee on Do the Right Thing (and then again in Jungle Fever), so it was fitting that Lee brought the film up when contextualizing his win in the American story of slavery and race relations… and then telling viewers to embrace Love over Hate in the 2020 U.S. elections, a la Radio Raheem. "Let's do the right thing! You knew I had to get taht in there!"
Alfonso Cuaron is first to win Director and Cinematography together
Really says it all right above. Congratulations to Alfonso Cuarón for his beautiful memory in Roma, told with cinematic clarity. In a better ceremony, he would have taken home Best Picture too. At least he made history for a startling vision that can now age more gracefully than Green Book ever will. That he thanked Mexico in Spanish at the Oscars in these times is also a true triumph.
Oh… and they actually telecast the Cinematography category. That counts for something too!